Disability 101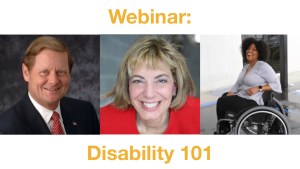 Get an overview of who makes up the more than 60 million people who live with some form of physical, cognitive, sensory, mental health or other disability in America. Gain a basic understanding of how disability intersects with multiple content areas, from employment and poverty to criminal justice reform and education. You also will receive 10 key tips on how you can welcome, respect and include people with disabilities in your important work.
Disability History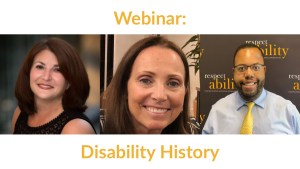 How has disability been defined in different historical eras? What has it meant to be disabled in the 20th century? How and why did disability movements for social and political change develop? Who have been the major national and local leaders? What are the major acts of legislation that have defined the rights of disabled Americans? What are equal access and universal design? How do these concepts depart from previous American ideas about civil rights and equality?
Inclusion as a Jewish Value

If you are in the nonprofit sector, you live your values in your work every day. For many of us, those values spring deeply from our Jewish identity. We all know that the Torah calls upon us to be just, and to be charitable, but did you know that it also calls upon us to be inclusive? Join us for yet another connection between your work and your values, as you learn about how the inclusion that you already believe in as deeply Jewish roots.
How to Ensure Accessible Events: Both Live and Virtual Across All Platforms

Making your event accessible is easier than you think. This session gave a simple accessibility checklist, as well as the processes and confidence that you need to make all of your events accessible, both virtual, and in person!
How to Recruit, Accommodate and Promote People with Disabilities for Volunteer Leadership, Board Positions and Paid Employment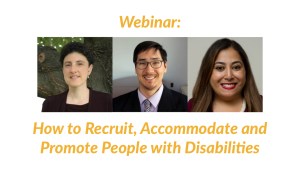 More than 1 in 5 people in the US report having a disability. Yet, people with disabilities are underrepresented in key civic leadership positions. For example, only one percent of the Chicago region's nonprofit board seats are filled by people with disabilities. A large percentage of nonprofits RespectAbility surveyed agree that the best way to ensure inclusion of all identities in programming, people with lived experiences must have a seat at the table. As a natural part of the human experience, disability is part of any diversity commitment. This session was for nonprofit professionals engaged with both board and volunteer relations and HR management to start the journey from recruiting to promoting people with disabilities starting with volunteer positions of leadership including board members.
How to Ensure a Welcoming Lexicon, Accessible Websites and Social Media and Inclusive Photos

Today's website is the front lobby of an organization, and social media is fast supplanting the more traditional ways that our organizations connect with the public. We can't help you decorate your lobby, but we can make sure that it is warm and welcoming for Jews of all kinds, including Jews with disabilities. Learn from our dynamic and expert team everything you need to know to open your digital door to all!

How to Ensure Legal Rights and Compliance Obligations

While our main focus is on doing inclusion right, at some point your organization may need to know little bit about its legal rights and obligations. This session covered those topics, including the special sensitivities and limitations applying to religious organizations.