RESPECTABILITY FIGHTS STIGMAS AND ADVANCES OPPORTUNITIES SO PEOPLE WITH DISABILITIES CAN FULLY PARTICIPATE IN ALL ASPECTS OF COMMUNITY.
WHO WE ARE
RespectAbility is a diverse, disability-led nonprofit that works to create systemic change in how society views and values people with disabilities, and that advances policies and practices that empower people with disabilities to have a better future. Our mission is to fight stigmas and advance opportunities so people with disabilities can fully participate in all aspects of community.
RespectAbility knows that most people with disabilities can and want to fully participate in – and contribute to – all aspects of society. RespectAbility shifts narratives and creates progress by centering people with lived disability experience in leadership roles, ensuring authentic representation in entertainment and news media, advancing successful public policy, and pushing for faith-based and other inclusion. The following are RespectAbility's core programmatic areas:
THEORY OF CHANGE
The following represents RespectAbility's theory of change, capturing how our core programmatic activities intersect to drive long-term impact.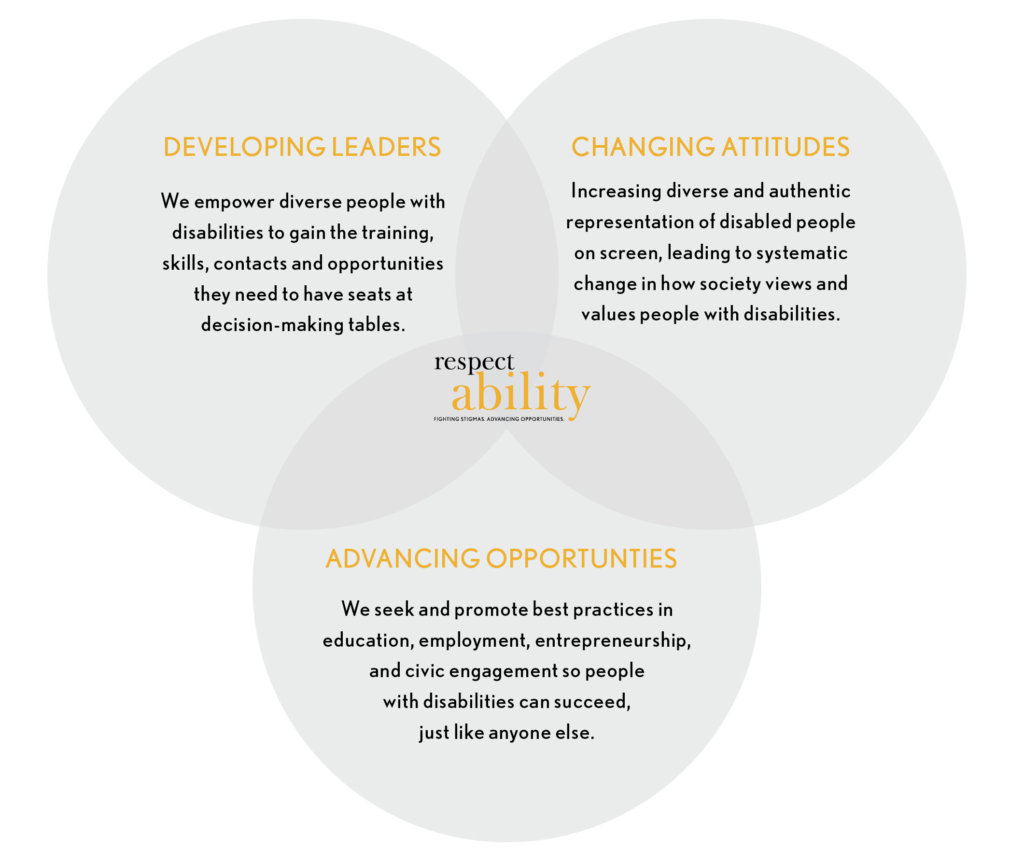 DEVELOPING LEADERS: We empower diverse people with disabilities to gain the training, skills, contacts and opportunities they need to have seats at decision-making tables.
CHANGING ATTITUDES: Increasing diverse and authentic representation of disabled people on screen, leading to systematic change in how society views and values people with disabilities.
ADVANCING OPPORTUNITIES: We seek and promote best practices in education, employment, entrepreneurship, and civic engagement so people with disabilities can succeed, just like anyone else.
LEARN MORE
COMMITMENT TO EQUITY & ACCESSIBILITY
RespectAbility knows we are stronger and better when we are accepting, welcoming and respectful of all people. Since day one, RespectAbility had board-approved intentional diversity and equality policies. We are a "Nothing About Us Without Us" organization.
| | | | | | | |
| --- | --- | --- | --- | --- | --- | --- |
| Organization Level + number | People of Color | White | Disability | LGBTQIA+ | Women/Non-Binary | Male |
| Board (30) | 53% | 47% | 50% | 6% | 50% | 50% |
| Staff (17) | 35% | 65% | 87% | 12% | 53% | 47% |
| Senior Staff (7) | 29% | 71% | 86% | 0% | 57% | 43% |
| Apprentices (229 alumni) | 46% | 54% | 90% | 22% | 62% | 38% |
RespectAbility provides equal employment opportunities (EEO) to all employees and applicants for employment without regard to race, color, religion, gender, sexual orientation, gender identity or expression, national origin, age, disability, veteran status or genetics. In addition to federal law requirements, RespectAbility complies with applicable state and local laws governing nondiscrimination in employment. This policy applies to all terms and conditions of employment, including recruiting, hiring, placement, promotion, termination, layoff, recall, transfer, leaves of absence, compensation and training.
RespectAbility has a commitment to individual and organizational efforts to build respect, dignity, fairness, compassion, equality and self-esteem in order to create an environment that is inclusive of all throughout our organization and the disability community. We acknowledge and honor the fundamental value and dignity of all individuals. We pledge ourselves to creating and maintaining an environment that respects diverse traditions, heritages and experiences.
People with disabilities make up the largest minority group in the United States. In fact, one-in-five people in America has a disability, and this includes people from all genders, races, sexual orientations and other minorities. In addition, due to accident, aging or illness, disability can impact anyone at any time. RespectAbility believes all people with developmental, physical, sensory, mental health and other differences deserve to be able to achieve their hopes and dreams, just like anyone else.
Learn More: What is RespectAbility's commitment to diversity, equity, inclusion and accessibility?
FINANCIAL AND OTHER REPORTS
RespectAbility is recognized by GuideStar at the Platinum level for our inclusion, transparency and excellence. We have been recognized by Slingshot as an organization at the highest level. RespectAbility was recognized at the United Nations for innovation.
2021: Annual Report – 990 Form – Audited Financial Statement
2020: Annual Report – 990 Form – Audited Financial Statement
2019: 990 Form – Audited Financial Statement
2018: 990 Form – Audited Financial Statement
2017: 990 Form – Audited Financial Statement
2016: 990 Form – Audited Financial Statement
2015: 990 Form – Audited Financial Statement
2014: 990 Form
2013: 990 Form
JOIN US
RespectAbility is looking for more volunteers and partners to end stigmas and enable people with disabilities to achieve success. We invite you to join us as we champion a better future for all of us.
If you would like more information about RespectAbility, email us at [email protected].