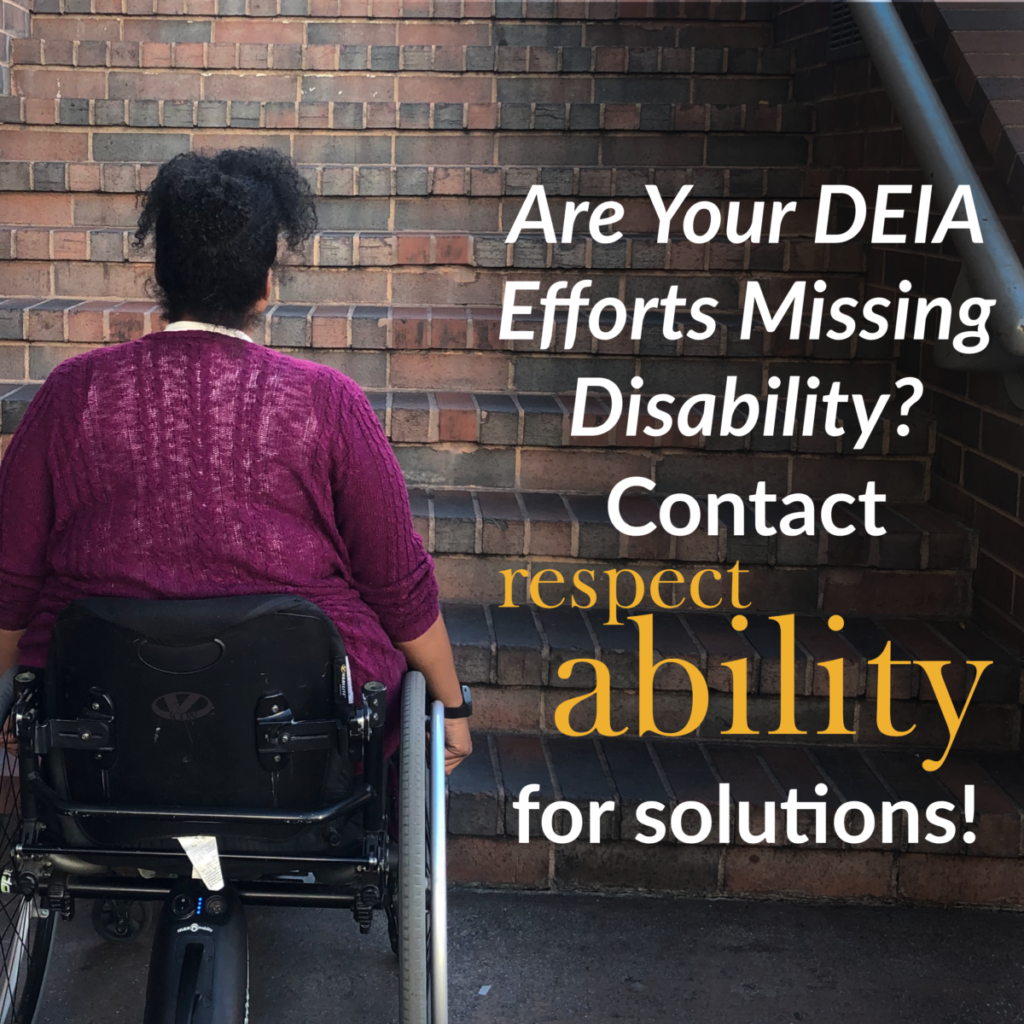 RespectAbility's Disability Training and Consulting Bureau is a key tool in making your organization welcoming and inclusive of people with physical, sensory, cognitive, mental health, or other disabilities! Our focus is a Big IDEA (Inclusion, Diversity, Equity, and Access). We want to help you grow and reach your goals.
With our Big IDEA, you can count on us for:
Authentic and knowledgeable voices of people with disabilities speaking to your teams and Employee Resource Groups.
Trained experts from diverse disability and intersectional backgrounds who bring their lived experience and insight to trainings and discussions that will advance your ability to create intentionally accessible places and communities.
RespectAbility customizes sessions to meet your unique needs, issues, and audiences. All of our speakers have disabilities and offer specific relatable stories and easy solutions. Many of our expert speakers are members of BIPOC and/or LGBTQ+ communities and reflect on intersectional experiences. We are happy to customize a session for you!
Great entertainment requires authentic stories, and authentic stories require the creativity and talent of people with a variety of lived experiences. In the entertainment media industry, the impact of working with people with disabilities behind and in front of the camera can lead to systemic change in how society views and values people with disabilities. While 1-in-4 adults in the U.S. have a disability, only 3.5% of onscreen characters have a disability. Furthermore, 95% of these representations are casted by nondisabled actors. The need for inclusion in the industry is more important and recognized than ever before, and it is crucial for authentic storytelling that the disability lens is applied to all aspects of the process.
Comprised of diverse people with disabilities, RespectAbility's entertainment media consultants partner with studios, production companies, writers' rooms and news organizations to create equitable and accessible opportunities to increase the number of people with lived disability experience throughout the overall story-telling process. These initiatives increase diverse and authentic representation of disabled people on screen, leading to systemic change in how society views and values people with disabilities. Since 2015, RespectAbility has consulted on more than 100 TV episodes and a dozen films by partnering with studios and productions from development all the way through production, promotion/publicity and impact/outreach campaigns, often from the very early stages of a writers' room, in addition to ad hoc requests.
RespectAbility team members have conducted trainings for and consulted on projects with A&E, Bunim-Murray Productions, CAA, DreamWorks, NBCUniversal, Netflix, Sony Pictures Entertainment, ViacomCBS, The Walt Disney Company and others.