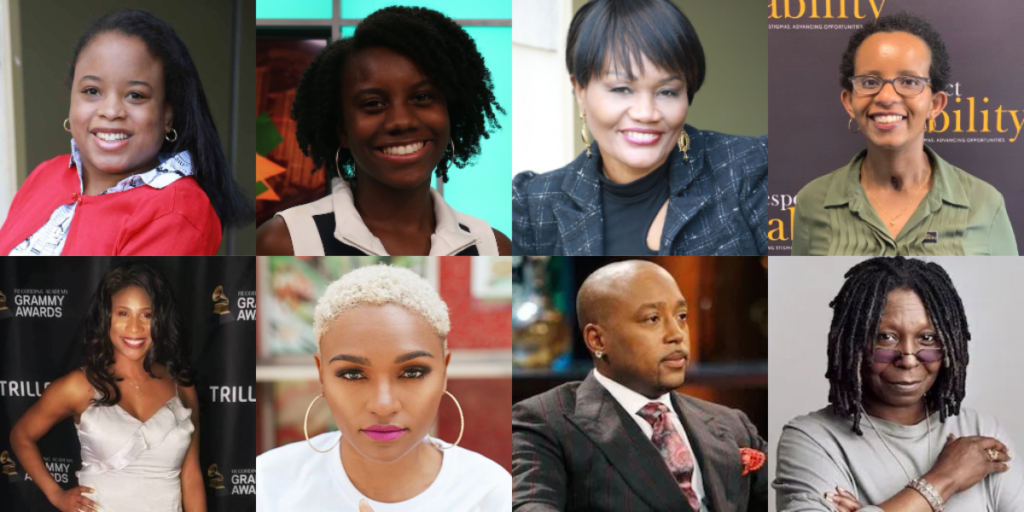 Washington, D.C., Feb. 16 – As we celebrate Black History Month, which takes place every February, RespectAbility recognizes the contributions made and the important presence of African Americans in the United States. It is important to note this includes more than 5.5 million African Americans living with a disability.
Some celebrities and business leaders are using their voice to share their stories, educating people about both visible and nonvisible disabilities. They are defying the statistics and have remained highly successful with their disabilities. These role models make a big difference in setting high expectations for youth with disabilities. People with disabilities of all backgrounds can be amongst the highest achievers on earth. Harriet Tubman had Epilepsy, actress Halle Berry lives with diabetes, business leader and Shark Tank superstar Daymond John is dyslexic and Stevie Wonder is blind. Poet laureate Amanda Gorman, who had a speech impediment, recently shared her genius both at the inauguration and at the Super Bowl. Each of them is a positive role model for success. They are perfect candidates for RespectAbility's #RespectTheAbility campaign, which is shining a light on individuals with disabilities who are succeeding in their chosen careers.
There are 3.2 million working-age African Americans with disabilities, most of whom face structural barriers to success. Therefore, we would like to reflect on the realities and challenges that continue to shape the lives of Black people with disabilities.
In the economic expansion prior to the COVID-19 pandemic, 32 percent of working-age percent of working-age African Americans with disabilities had jobs, compared to 75.5 percent of working-age African Americans without disabilities. Even before the coronavirus disproportionately impacted the Black, Indigenous and People of Color (BIPOC) communities, fully 32 percent of African Americans with disabilities lived in poverty, compared to 20.9 percent of African Americans without disabilities.
In an interview with NPR, Samantha Artiga, director of the Disparities Policy Project at the Kaiser Family Foundation noted that "the findings very consistently show that people of color are really bearing the heaviest burden of COVID-19 at every stage, from risk of exposure, to access to testing, to severity of the illness and eventually death." This creates even greater risk considering the intersectionality between the disability community and the BIPOC community.
The pandemic has made clear that the nation must transform itself to advance racial justice and make equitable opportunities a reality. Achieving that reality must begin by improving educational outcomes for students of color with disabilities. In public schools across the nation, there are 6.5 million students with disabilities. Out of that number, fully 3.5 million are BIPOC students with disabilities. In addition, 11.4 percent of students with disabilities nationwide (almost 720,000) also identify as English language learners.
For many of the 1,158,862 Black students (K-12) with disabilities in America today, the deck is stacked against them. A key part of that is because, due to structural racism, schools are funded by local property taxes which perpetuates a cycle of poverty. Moreover, the Individuals with Disabilities Education Act (IDEA), the most central law which gives students with disabilities rights to special education, was never fully funded. President Biden has pledged to fund fully IDEA and bills to do just that are moving in the U.S. House and Senate. However, without that funding, currently nonvisible disabilities such as ADHD are not diagnosed, and even students who do have a diagnosis and Individual Education Plan (IEP) do not get the supports they need to achieve. Frustrated, they can act out and become suspended. Black students with disabilities are disproportionately impacted by suspension in schools, with more than one in four boys of color with disabilities — and nearly one in five girls of color with disabilities — receiving an out-of-school suspension.
Statistics show that unmet disability needs are a critical factor for many justice-involved youths. Researchers have found that one-third of incarcerated youth need special education services and that in some cases, up to 70 percent of justice-involved youth disclosed a learning disability. As documented by the National Council on Disability, fully "85 percent of youth in juvenile detention facilities have disabilities that make them eligible for special education services, yet only 37 percent receive these services while in school." Youth of color, including English Language Learners (ELLs), are disproportionality trapped in the school-to-prison pipeline.
Overall, only 67 percent of students with disabilities graduate high school compared to 85 percent of students without disabilities. However, Black students with disabilities face significantly greater challenges receiving a good education from the American educational system. As noted by Education Week in a piece on the 30th Anniversary of the ADA, "Black students with disabilities are 1.5 times more likely to drop out of school than white students with disabilities" and "Black students with disabilities face disproportionately harsher discipline" than white students with disabilities.
Moving the nation to become more equitable for underrepresented communities and dismantling systems that create marginalization requires a transformation in culture, practice and the economy. It requires the courage and commitment of every American, the adoption of policies to end disparities, as well as a culture that embraces diverse stories that reflect the full the African American experience and the intersectionality of the disability community.
View more #RespectTheAbility profiles:
We also invite you to read these personal reflections from RespectAbility Staff and Fellows and members of RespectAbility's National Disability Speakers Bureau.
Everyone mentioned above are especially important to acknowledge during Black History Month. However, their work should be valued and appreciated year-round. RespectAbility will be highlighting additional Black Americans, including those who have made important policy advancements, with disabilities throughout the entire month.
View https://www.respectability.org/africanamericanswithdisabilities for more information.