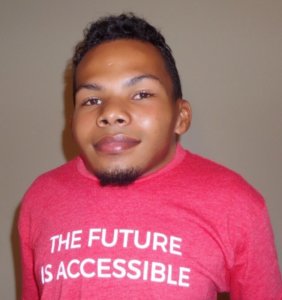 Rockville, Maryland, Feb. 28 – When Quasimodo, nicknamed "Quasi the great," a German Shepherd, was discovered as a stray in Kentucky, he was scheduled to be euthanized because he has short spine syndrome. Fortunately a family decided to give him a second-hand home. He is described as a dog who does normal dog things but has a certain need for accommodations to help him do daily activities. Quasimodo represents one of just 15 dogs worldwide living with short-spine syndrome. He quickly became an internet sensation because of his disability, gaining more than 50,000 followers on Facebook. Who would have guessed that a dog having a disability could receive so much positivity? I didn't, because I never do and here's why.
It is a sunny day on August 17, 2015, and I am moving into President's Hall, the dorm I chose for my freshmen year of college at The University of Toledo. I am excited as any entering freshmen student should be on the journey to a higher education. The day started early, at 8:00 a.m. because I wanted to move in as soon as possible. I was eager to meet everyone on campus. At the time I was an extrovert because my high school years were great. I had a great summer after high school graduation, and I wanted to continue having a great experience at the start of my college career. That dream was cut short.
As I was moving in, with the help of my family and the residential advisors for my dorm, I hear a loud shout, "HE DOESN'T HAVE A NECK!" In that moment, I stop in front of President's Hall and I turn around. I see a car driving by with a person sticking their torso out the car window. That person's comment was directed toward me because I was born with a congenital condition called Klippel-Feil syndrome. The medical definition of Klippel-Feil syndrome is "a musculoskeletal condition characterized by the fusion of at least two vertebrae of the neck. Common symptoms include a short neck, low hairline at the back of the head, and restricted mobility of the upper spine." The common definition that society uses, including the person in the car, is "no neck."
The street, the sidewalk, the path to the steps, up a flight, to the front door is the distance between the person and me. Imagine how loud you must shout for your voice to be heard over the noise of more than 100 freshmen moving into a dorm. The voice echoed a source of pain I felt when I remember my difficulty as a child bearing the emotional stress of trying to have full inclusion and access in a society that doesn't incorporate my physical differences. All my negative life experiences that pertain to my disability rushed to my mind, and I wanted to cry, but I didn't. My experience having a disability is important, but not because of the sorrow I may go through.
Living with a disability attracts pity, and I don't want to be pitied. My existence isn't meant to be a tragedy, a charity or an inspiration. Yes, to explain my experience in life, I must share my personal grief, pity, shame, scorn and tragedy; however, that only explains the barriers I face when I live in a society that sees my disability as a deficit. I don't want to be the "Adorable Quasimodo, the dog with no neck." Quasimodo made the news because he "suffers" from an "illness" called short-spine syndrome. He is not suffering, and he doesn't want to be society's deficit. If Quasimodo could speak English, I am pretty sure he would tell the news sources that labeled him a "dog who suffers" that they are wrong and that he just wants a warm home to live in. Quasimodo wants to be accepted and taken care of according to his needs just like every person with a disability. People with disabilities want their needs to be met because their needs may be different from the society they are placed in. Quasimodo wants a home, and I want a chiropractor who accurately alleviates my lower back pain because I have a 27-degree right spine curvature.
I am not a dog but an adult that can have a life that is full, rich and meaningful despite the negative moments I may experience. These experiences made me who I am today, and I accept that. In a perfect world, I would like there to be a recognition of our innate humanity and our need for equal quality in life. I should not have to experience what happened my freshmen year at the entrance of my dorm, but I did. This experience affected my decisions then, and it affects them now, but it does not define who I am.
I am an individual who will constantly challenge the attitudes that affect my life and the many other people with disabilities across all facets of society. I will continue to promote that having a disability is natural and normal – not something to be pitied. I encourage others with disabilities to accept their identity, even if it's intersectional.
I am a disabled, black, gay man who experiences challenges from all three identities, but I don't see any identity as a societal ill. This Black History Month, I accept the trials and tribulations that come from my identity. Like Solange Knowles says in her critically acclaimed album, A Seat at the Table, "a king is only a man, with flesh and bones, he bleeds just like you do. He said where does that lead you? And do you belong? I do."
I do belong wherever I decide to go. I won't feel a sense of shame when someone comments on my appearance or identity, but I will correct them if I can.
This is why I am a Fellow with RespectAbility, a nonprofit that fights stigmas and advances opportunities for people with disabilities. This organization helps individuals with disabilities with intersectional identities receive the education, training and employment opportunities needed to succeed. Ultimately, I want to work in the areas of diversity, inclusion, equity, policy compliance and be involved in the implementation of the Americans with Disabilities Act of 1990/2008 (amended). I am excited to be a Public Policy fellow with RespectAbility because it will help me embark on these professional interests.