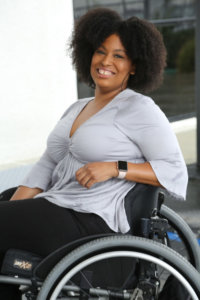 African Americans have had a long history of hardships in the United States. Brought to the Americas as slaves, many African Americans built a nation with their blood, sweat and tears. Contributing to music, art, sports, military and more, black and people of color still do not get the credit or respect that they deserve. With Black History Month getting more and more attention today, the one intersection that is rarely mentioned during this month is Black people with disabilities.
As a black woman with a disability, I want to see all aspects of me represented – and this includes in Hollywood. Sometimes I feel that Black Hollywood events are not welcoming of black people with disabilities. By not actively promoting that black, disabled actors to play character roles of a disabled person, Hollywood continues to give an inaccurate representation of Black people with disabilities and takes away jobs from black actors with real disabilities.
There are many black people with disabilities who have positively contributed to our society, yet we don't acknowledge they are disabled. Stevie Wonder, Missy Elliott, Haben Girma, Whoopi Goldberg, Harriet Tubman, Simone Biles, Muhammad Ali, Maya Angelou – all live or lived with a disability. But they often have their disabilities erased when mentioning their success as a black person. Their disability cannot and should not be separated from their race as the discrimination they face is greater from the intersections of their two identities.
As a black woman who uses a wheelchair as a result of Spina Bifida, and has experienced ableism within the black community, I've worked hard to represent my identities in various media such as acting, modeling and activism. The push back from the black community, especially Black Hollywood, against disability inclusion as part of black narratives has been harmful toward not only my livelihood but also to that of many others who live within this intersection of identities.
According to the CDC, fully 1-in 4 adults has a disability. However, according to a study done in 2017 by the National Disability Institute on "Financial Inequality: Disability, Race and Poverty in America," due to environmental and other issues, African Americans are more likely to have a disability than any other demographic group. Despite the prevalence of disabilities, the African American community still discriminates against its own people with disabilities.
Disability representation in media is less than 2%, but African Americans with disabilities have an even lower rate versus 13% of roles in media that are for African Americans without disabilities. When fighting for black/people of color in media, how can we expect to advance if we are forgetting about those in our community who have a disability?
Both the black community and Black Hollywood only give praise when strides are made for abled black actors getting roles. But Black Hollywood forgets to call out and wrongly supports abled black actors who are "cripping up" and taking roles from black actors with disabilities. The movies Radio, Ray, and Nobody's Fool are just a few examples of abled black actors stealing roles from black actors with disabilities. This isn't to say these abled black actors aren't talented, but when abled black actors portray prolific disabled black people in history, we lose the authenticity of the character by having an incorrect representation of disability. We also take away a job from a black actor with a disability who would have been able to give the role the respect and justice it deserves.
As a black actor with a disability, it's disheartening to know that people want our stories but do not want actors who have a disability to play a disabled character. We, as a community, need to check our unconscious bias when it comes to how we see disability within the black community and how these biases have harmed black disabled actors.
Many events and organizations that are run by black/people of color have the sole purpose of discussing how we all can work toward being equally included in the media, and how our voices can change the lives of everyone in the community. As an actor attending these events and bringing up the intersections of being black and disabled, I'm met with either being cut off by moderators from their unwillingness to recognize the issues or brushed off as if these topics aren't as important. But there have been moments where after bringing up the inequality disabled black and people of color face in media and elsewhere, abled people have acknowledged they weren't aware that it was possible to hire a black/person of color disabled actor and decided to make more an effort to do so. These responses from powerful people of color who have the ability to help create jobs, create change and move our culture forward in entertainment have given many of us with a disability hope that things will be changing.
As a black woman with a disability, ableism, sexism and racism are nothing new to my daily experiences. I often wonder where in the many communities I belong. Where can I be seen, felt and heard? The question of whether the black community values black voices with disabilities weighs heavy on many of us who fall within this intersection of two identities.  It shouldn't be a choice which identity people choose to see and value at a given moment especially when those who live with these multiple identities cannot separate them and shouldn't have to.
I want to be celebrated for all my identities and everything that comes with them.  When I roll into a room with my wheelchair, my big curly natural hair, big gapped smile, and beautiful brown skin, that should be celebrated and valued. Black people with disabilities aren't people to be shunned but rather embraced by our community and those outside of it. If we take the time to learn from each, lift up voices different from our own and work together, maybe we will have a better inclusive world for people with multiple identities.