New York City, March 19 – From club releases to EDM songs, recording/performing artist, songwriter and record producer Lachi is a long-established talent that continues to astound many with her diverse musical creativity and expression.
With millions of streams and spins, her songs have debuted on national dance charts, played on national television shows, feature films, documentaries, broadcasted on radio, and have been mentioned on sites like HuffPost, NPR, MTV, Buzzfeed, Popdust, EDM.com, and Oprah Radio. She has received awards such as an Independent Music Awards nomination and was even a finalist for the International Songwriting Competition.
Adding to several associated acts she recently performed with fellow artists like Snoop Dogg and Markus Schulz, it is an understatement to say that Lachi's celebrity status has risen to tremendous heights. Using this incredible platform, she has committed herself to be a role model within the disability community.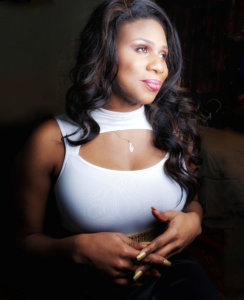 "I'm walking full force into advocacy for the disabled, with music and entertainment as my vehicle," Lachi said in an interview with RespectAbility, a disability inclusion nonprofit for which Lachi volunteers.
Born in Towson, Maryland, Lachi was raised in upstate New York, West Philadelphia, and North Carolina by her West African parents. She was born with Coloboma, a congenital visual impairment. From an early age, she took great pleasure from experimenting with music as a form of expression.
"Music has always been my most poignant creative outlet, the closest thing to prayer for me," Lachi said. "Many of my songs center on self-empowerment and are really my own inner stay-strong mantra set to music. So, hearing people say a song of mine spoke to them, is especially moving."
Lachi attended college at the University of North Carolina in Chapel Hill, where she led an all-female a cappella group known as "UNC Cadence" – which is still in operation to this day. It was here that Lachi truly found her voice and began to recognize her own talent for content creation and storytelling.
"They called me 'piano girl,' which got so popular, I began to take gigs around the town," she explained.
Eventually, Lachi moved to New York City. There, she enrolled at New York University, where she studied music. After graduating, Lachi worked a desk job at the U.S. Army Corps of Engineers.
"I'd sing the national anthem at gatherings and sing at my desk. Someone suggested, 'You sing really well…you should quit your day job.' And I did!"
Breaking Barriers
Lachi represents the one-in-four adults who have a disability in the United States. While polls show that most of them want to work, nearly 70 percent of working-age Americans with disabilities are outside of the workforce. By not employing people with disabilities in entertainment, the industry ignores and fails to employ 25 percent of working-age Americans.
There are more than 5.4 million African Americans living with a disability in the U.S., 3.2 million of whom are working-age. Only 29.7 percent of working-age African Americans with disabilities are employed in the U.S. compared to 74.4 percent of working-age African Americans without disabilities. Lachi not only represents people with disabilities in the entertainment but also as an African American woman with a disability.
Her story is significant because of her status as both a woman of color and person with a disability, which is an intersection that has "caused a dichotomy" for her.
"As a black female, I was assumed aggressive and self-assured, but as a person with a rather invisible disability, I was pretty timid and often felt out of place."
Lachi adds that her move to New York helped, but that it wasn't until she came out about her disability that she was truly able to accept this aspect of herself.
"My strengths and setbacks result from my intersectionality and are a double-edged sword," she said. "This also spills into being super ambitious and unafraid of what others would consider a lofty goal."
Looking To The Future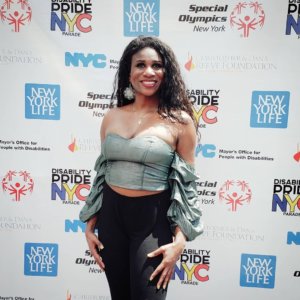 Today, Lachi has been performing at Disability Pride events and festivals, as well as speaking on diversity and disability inclusion on arts and entertainment panels. She has had some major hits including GO (millions of streams on Spotify), FAR (remixed and supported by top DJs, including Armin van Buuren) and ALLEGEDLY (International Songwriting Competition finalist).
As a person with a disability, Lachi notes key areas of improvement needed within the music industry concerning its embrace of up-and-coming artists with disabilities.
"I can go through a page-turning list of ways that society can up their game concerning disability accommodations," Lachi said. "However, I don't know that it will matter so long as persons with disabilities are not portrayed as 'just like you and me' in the media."
Lachi cites the show Family Matters as an example of a show that made minority groups – like African Americans – easier to relate to in American society at large.
"Let Americans binge a series that says, hey that girl is 'just like me,' and then we can discuss what adjustments society needs to make," the artist said. "Now that society is finally listening."
Lachi is currently a trainee in RespectAbility's first cohort for its Women and Nonbinary Speakers Bureau: NYC, funded by the New York Women's Foundation.