New York City, March 18 – October of 2019. Everything looks the same even after all these years, but there is something different. I look to my left and right, and I am walking beside the same faces I have known for a decade now. The faces of my two best girlfriends I once used to see almost every day during my undergraduate years in Lahore, Pakistan, and now stayed in contact with long-distance. We walked through the same corridor in the shopping plaza that I used to walk a decade ago. It is the same street outside. But something was different this time. This time, I held a white cane in my right hand, swinging from side to side.
I had promised my husband back in New York that I would use my cane on my trip back to the country in which I had spent my formative years. Keeping his words in mind, I had begrudgingly snapped my cane out at Lahore International Airport upon my arrival as I made my way out of the terminal to the awaiting family members who came to welcome me.
I was so self-conscious. New York had empowered me, and I knew that I was not the most odd creature making my way down the block. Not here in Pakistan, though. My white cane and I stuck out. I could feel the eyes on my back and questions following me as I passed by.
The days in my short vacation went by and I caught up with old memories and the people who occupied them. Those people, to my surprise, did not see me differently. Our conversations flowed just as carefree, full of wit, humor and sarcasm. Me walking beside them now with a cane, definitely a sight they were not used to, seemed to foster none of those questioning stares.
I believe it is because they saw what was different. Not just in what I held, but what it was doing for me. My visual impairment was something they always knew about. But a decade ago, they, nor I, knew I was categorized as legally blind, and what more, with a disability.
I remember back in 2013, when I was first told I would need to use a cane to travel safely and independently, I went into shock and denial. In the beginning, I hid my cane every opportunity I had. I did not want to stand out. I did not want to be judged prematurely by those I held in esteem. Over time, I got a taste of such independence for the first time ever. And I loved it.
And here I was again, like a little girl who needs a promise to do the right thing, to not be afraid of being prematurely judged. It did make a difference though. The Khadija a decade ago was shuffling her feet on the ground as she walked, shoulders slumped, hoping she does not walk into another pillar on campus and wishing for the earth to open up beneath her and swallow her whole. A decade later, my friends saw someone walking taller, less worried, and not asking for help in identifying steps and stairs along the way. In that shopping plaza is when I realized that I should never have been afraid of being my whole self. To say, "Yes, I am a woman with a disability," as I walk by tall and proud.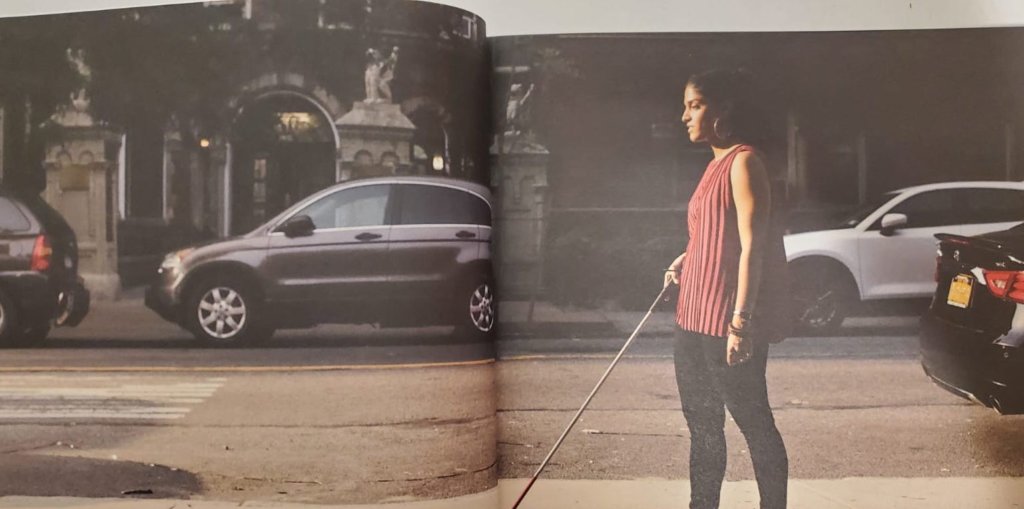 Khadija Bari is currently a trainee in RespectAbility's first cohort for its Women and Nonbinary Speakers Bureau: NYC, funded by the New York Women's Foundation.