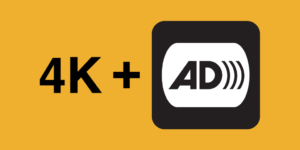 Los Angeles, CA, Feb. 17 – A few months ago, I went to Best Buy to pick-up The Invisible Man 4K Steelbook. The Invisible Man was one of my favorite films of 2020, and I knew I wanted to have the 4K version. To my surprise, when I tried the film out at home, I discovered there was no audio description on the 4K disc. I found this strange since I remember enjoying the movie in the theater with an outstanding audio description track. I discovered that only the regular Blu-ray had an audio description track, but the 4K disc did not. Upon further investigation, many popular titles, like Us, 1917, and even Fast and Furious Presents: Hobbs & Shaw, had the audio description track only available on Blu-ray and not the 4K disc.
For those unaware, audio description is an audio track that narrates the movie action in between lines of dialogue for low-vision consumers, of which there are more than 12 million in the United States. Also, the 4K picture is a significant improvement over Blu-ray. I am visually impaired, yet I can tell that 4K discs have much deeper blacks and much brighter colors than a regular 1080p picture. Including an audio description track on only the Blu-ray and not on the 4K disc is forcing low-vision movie fans to choose between watching a movie with an audio description or watching the film with much better picture quality. This should not be a choice. Audiences should be able to have both. The 4K picture could help low-vision viewers see the film better and, combined with an audio description track, would create an optimal viewing experience.
I am not sure why so many 4K titles are this way. It is not a matter of the 4K picture file being too big and not fitting the A.D. track. Avengers: Endgame and Mission Impossible: Fallout have significantly longer run times than The Invisible Man. They managed to fit the full movie on the 4K disc with an audio description track option.
However, there is a bigger problem than just these 4K releases. Although the audio description on newer releases is relatively common, most older films do not have an audio description track at all. With 4K becoming more popular (and many new films being delayed because of the pandemic), classic, older movies are being remastered and released in a higher definition. Films like Jaws, Beetlejuice, The Shining  and The Goonies all released with newly remastered picture and audio. Still, no audio description track was available for the re-release. Luckily 2001: A Space Odyssey and Forest Gump did have A.D. tracks, but this is rare. The Back to the Future trilogy was remastered this past October in 4K. The trilogy currently had A.D. tracks for all three films on Netflix. Still, the audio description tracks did not carry over to the 4K re-release or even the Blu-ray that came with it.
With audio description tracks becoming more commonplace on newer releases, one would think that older movies that are being remastered would get a track as well. Low-vision and blind movie buffs like myself would love to be able to enjoy some of these classic films like everyone else. I could never watch something like Black Hawk Down without an audio description track, even though I'm sure it looks great on 4K. Movies like that are just too fast, and there is too much going on for me to follow the action without A.D. Not including audio description on classic cinema robs low-vision consumers of enjoying these landmark, must-see films. Suppose they are being remastered and re-released anyway. Why not go just one extra step further and add an audio description track, making them accessible so that everyone can enjoy them?