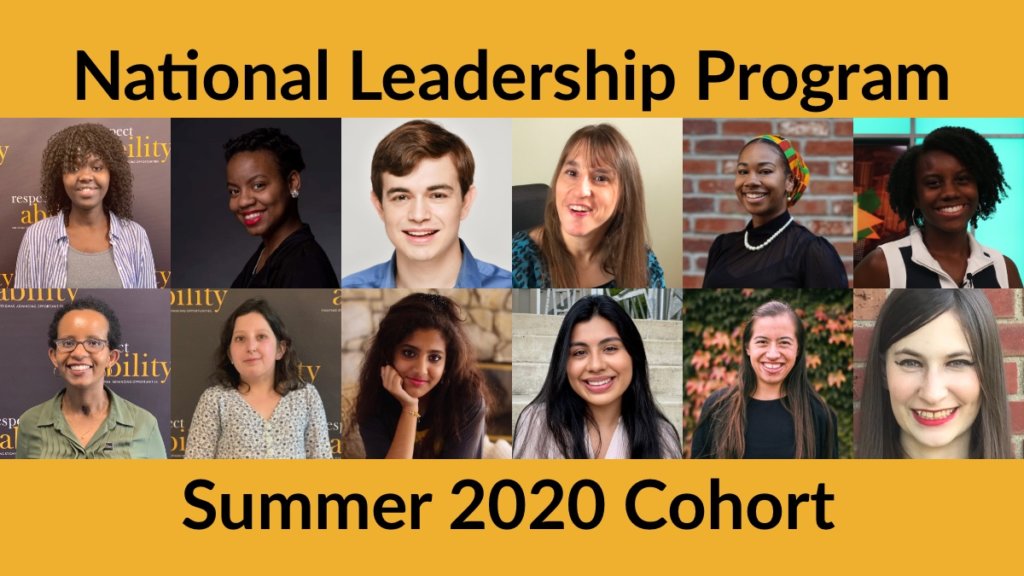 Rockville, Maryland, August 9 – Twelve enthusiastic individuals, many of whom have disabilities, recently began RespectAbility's Virtual National Leadership Program. RespectAbility is a national nonprofit fighting stigmas and advancing opportunities so people with disabilities can fully participate in all aspects of community. Fellows learn about disability advocacy and gain the real-world skills required to become highly employable and impactful once they enter the workforce. Each Fellow specializes within areas of the organization that align with their career goals, including: public policy, nonprofit management, communications and community outreach.
Throughout the next six months, they will work on projects such as policy briefings, grant writing, social media content curation and media outreach, as well as soft skills including networking, public speaking and issue advocacy.
"I came to RespectAbility because I was impressed by the commitment to making practical change in all levels of society," said Autumn Blalock, a Community Outreach and Impact Fellow. "Change begins at home and extends to the government – and RespectAbility is impacting all of it!"
In the fall of 2020, Blalock will begin her studies for a master's degree in theater and a certificate of nonprofit management at Villanova University. Blalock's research combines the fields of health psychology and Brechtian theatre to investigate how performing arts can impact the health behaviors of young adults. She desires to continue researching the ways that theatre can be used to encourage a higher quality of life for others, especially in low-income communities. Already during her Fellowship, Blalock served as the stage manager for RespectAbility's week-long ADA30 Summit, July 27-31, 2020. She also worked with the more than 75 speakers to ensure they were set with everything necessary to present.
Communications Fellow Lizzy Francis began her Fellowship in early June to assist with RespectAbility's Lab for Entertainment Professionals with Disabilities. At the age of 17, she was diagnosed with Complex Post-Traumatic Stress Disorder and Anorexia, resulting in numerous hospitalizations and a revelation that led to a passion of storytelling and activism through film, especially regarding mental illness and racial issues. Currently she is a screenwriting major studying to create safe spaces for all groups of people, regardless of identity or ability. In 2017, Francis worked on an SXSW award-winning film in Vermont that aimed to integrate a crew and cast of people both with and without disabilities.
"RespectAbility was the tangible sign urging me to follow my passion for activism through representation. Through this nonprofit, I became both aware and inspired to fulfill my role to create a safer space for those that fall within the many intersections of disability and minority."
KiAnna Dorsey, another Communications Fellow, also was looking for a position at the intersection of media and disability.
"I was eager to join RespectAbility because of their mission and dedication for inclusion and equal opportunity for people with disabilities," said Dorsey, a Communications Fellow. "I thought it couldn't be a better time for me to learn how to advocate, be an ally and do my part in making the world more accessible for people with disabilities."
Currently Dorsey is pursuing her bachelor's degree at the University of Miami in motion pictures on the production track. Dorsey is very passionate about diversity and inclusion in the film industry.
"As a Black woman with severe nut allergies, I have witnessed the very damaging effects of misrepresentation in media or lack thereof," she added. "Many movies and television series treat food allergies as a joke, and seldomly reflect the severity and proper treatment of an allergic reaction. Similarly, Black women are cast in stereotypical roles and are portrayed in a negative light."
Due to these ongoing examples of misrepresentation, Dorsey finds herself repeatedly teaching and correcting misconceptions people have conceived through media. For RespectAbility's ADA30 Summit, Dorsey created an opening countdown video for each of the five days. She is in the process of ensuring all recordings from the summit have accurate open captions for people who are Deaf/Hard of Hearing or English as second language learners.
Welcome to the newest class of RespectAbility National Leadership Fellows for Summer and Fall 2020:
This is RespectAbility's first foray into a completely online and virtual Fellowship. RespectAbility has trained more than 175 fellows at their headquarters in Rockville, Maryland, and the last cohort finished their Fellowship remotely. In the COVID-19 climate, the Fellowship is restructuring to not only accept those in the early stages of their careers but also for people with disabilities who have lost their jobs during the pandemic and currently are seeking new opportunities.
"At RespectAbility, we fight the stigmas that keep people with disabilities from finding meaningful work and build the next generation of leaders in the disability community," said Ben Spangenberg, the director of RespectAbility's National Leadership program. "This program is win-win for both its participants and the people who hire them later. This group of people offer great skills, passion, contacts and success to any team who brings them on board. If you are looking to hire great talent – look at these talented young leaders!"
To learn more about the program or to apply, visit www.respectability.org/about-us/fellowship.