National Leadership Program, Summer 2020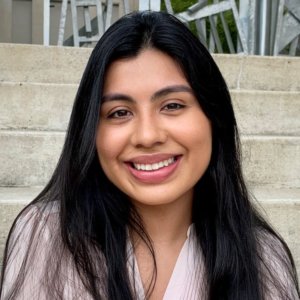 Maria Fernanda Heredia was a Nonprofit Management Fellow in RespectAbility's National Leadership Program for Summer 2020. RespectAbility is a nonprofit organization fighting stigmas and advancing opportunities so that people with disabilities can fully participate in all aspects of community.
Originally from New Orleans, Heredia graduated in June of 2020 from Williams College in Williamstown, MA, with a bachelor's degree in Chemistry and Highest Honors in Art. Her decision to pursue these majors came from a passion for learning more about the composition of materials and research, as well as learning about non-Western works of art that spoke about indigenous narratives in Latin America. While at Williams, Heredia was involved in various of student-led organizations and departments that centered around inclusivity, diversity, and equity.
Born with dyslexia and dyscalculia but not officially diagnosed with learning disabilities until her sophomore year of college, Heredia spent the last two years partnering with the Office of Accessible Education at Williams addressing systematic inconsistences that disproportionately affect students with disabilities. While growing up, Heredia attended public school where her struggles with writing and language were attributed to her being a Spanish-speaker, rather than a learning disability.
As a first-generation, immigrant student, Heredia wanted to create a program that would support (both academically and financially) struggling students from marginalized backgrounds fighting stigmatization around disabilities, provide professional development for faculty and staff and help students with disabilities learn more about their rights following graduation and entering the workforce. Thus, the Neurodiversity Project was born. Since starting the project, Heredia brought on several other students to help continue and expanding the project. Beyond the classroom, Heredia's project has focused on mental health support for students with disabilities by creating support groups. Additionally, the project also works to inform and educate students, particularly those that identify as first-generation, and their parents about learning disabilities, thus breaking down cultural barriers surrounding disabilities. The Neurodiversity Project hopes to create meaningful dialogue around disabilities, particularly highlighting the stories of students of color and low income while creating institutional programing that will support students in every aspect of their Williams experience.
Heredia first became aware of RespectAbility while researching post-graduate plans in disability advocacy. She hoped to gain from the program a greater degree of understanding of the issues currently faced by the disability community, non-profit management, and learning more about the intersectionality of race and disability. After the program, she hoped to secure a job that will allow her to continue working with companies and institutions on improving their inclusion policies to include individuals with disabilities. She also hopes to attend graduate school in the coming years to continue to learn more about non-profit management and policy.
Join Our Team
RespectAbility is a nonprofit organization fighting stigmas and advancing opportunities so people with disabilities can fully participate in all aspects of community. Learn more about the National Leadership Program and apply for the next cohort! Contact BenS@RespectAbility.org for more information.