National Leadership Program, Summer/Fall 2020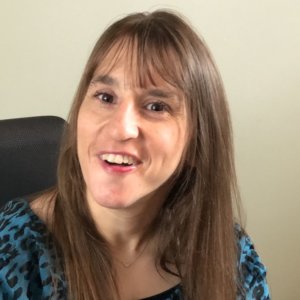 Blair Webb was a Jewish Inclusion Apprentice in RespectAbility's National Leadership Program for Summer and Fall of 2020. RespectAbility is a nonprofit organization fighting stigmas and advancing opportunities so that people with disabilities can fully participate in all aspects of the community.
Webb graduated from the University of California, Berkeley, with her Bachelors of Arts in Sociology. As a person with Cerebral palsy, she started on her path of disability advocacy in 2009. After finishing high school, she was selected to be a delegate at the California Youth Leadership Forum for Students with Disabilities. There, she learned about disability etiquette, and the history of the Disability Rights Movement. While attending the forum, Webb was given the incredible opportunity to listen to Richard Pimentel, one of the pioneering advocates for the Americans with Disabilities Act, speak. This ignited a spark of inspiration to also become a leader in her disability community. Upon returning, Webb became a co-chair of the Disability History Week campaign and helped implement curriculum into her local schools.
Webb has always dreamed of forming her own creative arts program for children with disabilities. After her college graduation, she began interning for Sins Invalid. Sins Invalid is a disability justice performance project for people of color with disabilities and people with disabilities who identify as LGBTQ+. As part of her involvement in Sins Invalid, she read their Disability Justice Primer. While perusing this invaluable book, Webb gained a deep understanding of Patricia Berne's 10 principles of disability justice. Immediately, she knew that she wanted to incorporate this intersectional framework into her program's curriculum one day.
In Webb's spare time, she currently enjoys participating in the Virtual Crip Camp Experience. She also has a passion for writing about disability issues on her personal blog which you can check out at https://berkeleylifeonwheels.blogspot.com/. She is extremely grateful to have this great chance to learn from RespectAbility how to be the best advocate possible for people with disabilities.
JOIN OUR TEAM!
RespectAbility is a nonprofit organization fighting stigmas and advancing opportunities for and with people with disabilities. Learn more about the National Leadership Program and apply for the next cohort! Contact [email protected] for more information.
ALL APPRENTICESHIP OPPORTUNITIES
LEARN MORE