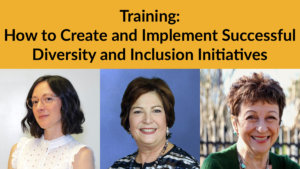 As we begin to cautiously look towards the future and imagine the new shapes that institutions – such as schools, synagogues and other organizations – may take on, it is crucial that accessibility be considered while laying these frameworks. Right now, we are beginning to think about what education may mean for this fall. We strive for balance, to ensure that students can learn, teachers can work and everyone can stay safe. In doing so, we need to focus on how this can also serve students with disabilities. If this is a concern for you or your child, RespectAbility has put together a wonderful resource guide at https://www.respectability.org/virtual-education/.
At the same time, on our Jewish calendars, the return to school is when we begin thinking about the High Holidays and how we will observe them. We need to make sure to create as much of a community as possible, where all are welcome and able to participate, even if we are not all physically together. Keep an eye out early next week for a new guide from RespectAbility, released in conjunction with many of our webinar partners, on exactly this question.
And yet even as we recognize the need to put disability, and the broader diversity discussion into these pressing needs of the moment, we realize that these voices are noticeably absent from our discussions. Moving beyond the important technical skills of inclusion, this week's installment of our webinar series, "How to Create and Implement Successful Diversity and Inclusion Initiatives," provided strategies to address this important question. This is especially relevant as we begin planning for how the institutions we belong to may change.
This past Tuesday, experts Dorsey Massey, LMSW, of the Marlene Meyerson JCC Manhattan and Sally Weber, LCSW, formerly of Jewish Family Service of Los Angeles, served as panelists. Linda Burger, MSSW, RespectAbility's Treasurer for its Board of Directors, skillfully moderated as they all shared tips and tricks from their careers and projects.
Focus on social inclusion
Organizations should strive for 'social inclusion,' Massey stated. But what exactly is social inclusion? Massey explained this through an inclusion model by Michael Schleien. This model shows where past physical inclusion – or access – and functional inclusion – or participation – is social inclusion. Or, as Rebecca Wanatick of MetroWest ABLE explained a few weeks ago, as belonging – which is a step beyond inclusion. (This amplifies Shelley Christensen's book title, "From Longing to Belonging.") Social inclusion, Massey continued, involves the development of meaningful peer relationships and the creation of a community where all are welcomed and their contributions are valued.
Teach and promote accessibility
Massey explained how the Marlene Meyerson JCC Manhattan has worked towards this goal by providing some of the intentional steps the organization takes to promote social inclusion. She listed four areas of focus: updating job descriptions and staff manuals to promote accessibility; updating organizational policies to promote constituency accessibility; updating organizational marketing; and promoting staff awareness and training on different disability topics. For each of these points, she expanded on how to work towards these goals. Those bullet points can be found in the fully accessible PowerPoint slides for this presentation. Some points highlighted included: making social inclusion part of every job description and performance review; making accessibility information and accommodations requests easy to find and to complete; and including people with disabilities in all marketing – not just that for 'disability programs.'
Set expectations, have patience and remain open
When it comes to starting a project, such as an overhaul of a diversity and inclusion initiative, sometimes it is best to return to the basics. Sally Weber, who, since her retirement from Jewish Family Services, consults with organizations around the country, gave some tips based on two 'case study' projects of different scales. One was a communitywide alliance at JFS, called haMercaz, and the other an individual synagogue project. She discussed these projects and their processes; their similarities and differences; and their successes and failures. She then listed the 'must haves' for projects of these types: realistic procedural expectations; patience – even and especially for when things don't go as planned; and an openness to new ideas. Weber emphasized that when it comes to diversity and inclusion initiatives, it is crucial to look at who is included within a community and who, "through oversight, indifference or intention," is excluded.
In a closing question, Massey emphasized that when we talk about 'normalizing difference' within a disability framework, it is not about removing the uniqueness of a specific group, but rather removing the concept of 'othering' those groups. Weber added that it is also about finding commonality between groups. Diversity and inclusion should not just be the title of a workplace initiative, but an initiative within all of us, where we share our stories, speak up and listen to others – and work towards creating organizations and a society where each and all of us belong. The webinar offers many more how-to tips, which will soon be available online. I hope that, if you have an institution(s) near and dear to your heart, you will consider introducing this constructive information into the institutional discussion.
As we continue to live in a world where there seems to be a new normal every passing day, I hope the resources provided above will give you some insights. Until then, stay safe, happy and well.
Shabbat Shalom,
Lily Coltoff
Communications and Jewish Inclusion Fellow
RespectAbility
---
In our Jewish Disability Perspectives newsletter, RespectAbility welcomes a wide spectrum of voices. The views expressed in each Jewish Disability Perspectives contribution are those of the guest contributor.