Washington, D.C., April 14 – People with disabilities are at particularly high risk during the COVID-19 crisis. According to the CDC, approximately 90% of hospitalized patients had one or more underlying conditions. Millions of people with disabilities are unable to get food and medicine. And there are widespread fears in the community about medical rationing. Especially in a time of crisis like this, it is critically important that people with disabilities are accurately portrayed in film and television and that the public sees their lives as valuable.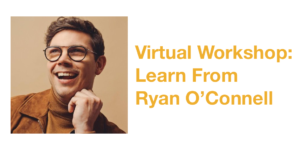 To address this, RespectAbility is hosting a new series of virtual workshops for people with disabilities in the entertainment industry. The first workshop will take place Wednesday evening and will feature a conversation with Ryan O'Connell. O'Connell, who is openly gay and has cerebral palsy, broke new ground for representation of LGBTQ+ people with disabilities with his Netflix series Special. Learn more and RSVP here: https://www.respectability.org/2020/02/ryan-oconnell-webinar.
The intersection between the disability community and the LGBTQ+ community is large. According to a study published in 2012, fully 36 percent of women in the LGBTQ+ community and 30 percent of men in the community also self-identify as persons with disabilities. Digging deeper, 26 percent of gay men and 40 percent of bisexual men disclosed having a disability as did 36 percent of lesbians and 36 percent of bisexual women. The best available estimates put the total number of LGBTQ+ Americans at around 11 million individuals. Extrapolating from there, RespectAbility estimates that there are roughly 2.3 million women and 1.4 million men with disabilities in the LGBTQ+ community.
According to GLAAD's 2019-2020 Where We Are on TV Report, while the 2019-2020 television season includes 27 characters with disabilities, versus 18 in 2018-19, that number still vastly underrepresents the actual number of people with disabilities, representing less than one-sixth. Furthermore, while more than one-third of LGBTQ+ adults have a disability, GLAAD's report found there are too few LGBTQ+ characters with disabilities.
"When you don't see yourself being reflected back at you, you're implicitly told that you don't matter," O'Connell said in an interview with Vulture. "That your life does not matter, it's not worth being told, it's not worth being discussed."
"In this time of crisis, it is important that shows like Special exist to show everyone that our lives are just as valuable as everyone else's." said Eric Ascher, RespectAbility's Communications Associate, who is both openly gay and on the autism spectrum.
Netflix has renewed Special for a second season, and Season 1 is available to watch now.
RespectAbility previously profiled Ryan O'Connell for Pride Month 2019, along with several other successful LGBTQ+ people with disabilities.
Additionally, several LGBTQ+ RespectAbility Staff and Fellows have written personal reflections for Pride Month:
Find more resources for LGBTQ+ people with disabilities in our Solutions Center. RespectAbility has been on the front lines during the COVID-19 crisis, and you can find more coverage of COVID-19's impact on the disability community at www.RespectAbility.org/COVID-19.