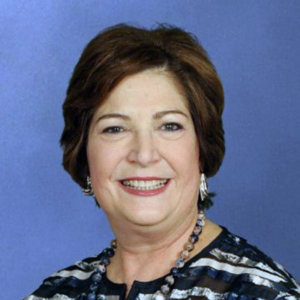 Rockville, Maryland, April 14 – Since 1999, the United States has seen an increase in the number of suicide-related deaths by 30 percent, according to a study conducted in 2018 by the Center for Disease Control. Along with these disheartening statistics, is the fact that only half of the people who died by suicide had diagnosed mental health conditions. Linda Burger believes the solution should be a support net for every individual to have in case of a mental health crisis. Over the past five years, Burger led Jewish Family Service Houston to establish programs to strengthen support from prevention to postvention through the establishment of evidenced based best practice programs and services.
Earlier this year, Burger spoke to RespectAbility Fellows about the stigmas surrounding mental illness and, in particular, death by suicide or overdose. Her presentation revolved around her work with the Jewish Family Services of Houston (JFS), of which she has been CEO since 2005. She presented the numerous programs JFS has created or implemented for her community in Houston.
One of the implemented programs is nationally recognized, Mental Health First Aid, designed to establish a network of lay people throughout the community to recognize and respond when someone they know is in need of mental health intervention. This program is similar to CPR for the heart. However, instead of certifying individuals in how to assist someone who is having a heart attack, Mental Health First Aid certifies that the graduate of the program can respond to signs of mental crisis or other issues, such as substance misuse. JFS Houston has successfully certified 17 trainers in Mental Health First Aid in the Houston Jewish community to teach the course throughout the area. The ultimate goal for JFS Houston is to have every adult in the Jewish community certified as Mental Health First Aiders. Burger emphasized the point that when individuals recognize those who are having a mental health episode, they are in a position to be supportive and to get professional help for the person in crisis. Having trained community members who can help someone going through a mental health episode helps to erase the mystery around mental illness and reduce the stigma about talking about it.
Another initiative is the Sources of Strength program that has been introduced to several schools in the Houston area. The Sources of Strength program, which is nationwide, has produced evidence that suggests that a middle or high schooler is four times more likely to seek help from a trusted adult than those students who do not experience the program. Burger introduced the program to the Jewish community in the Houston area. This program is based on a strengths-based model where peer leaders and trusted adults build a bank of positive experience which can be turned to during times of crisis. Sources of Strength reinforces key components: Spirituality, Generosity, Healthy Activities, Mentors, Positive Friends, Family support, Mental Health, and Medical Access. Rather than focusing specifically on suicide, it helps students build the internal capacity to call on in times of trouble including mental health episodes.
Burger told a personal story about three relatives who died by suicide to demonstrate why she is so passionate about suicide prevention. Two of her relatives' deaths left a traumatic impact on the previous generation because of the stigma of how they died. Even 86 years after the second death, she was hushed at the dinner table for trying to quietly talk about it. The relative who hushed her was three years old at the time of the death by suicide. She cautioned that the stigma of silence can even create anxiety even in the next generation. A tragedy left unchecked can create a destructive cycle of emotional strain on the family as a whole.
Her personal experiences and the programs she has implemented at the JFS hit on the essential point that Burger was presenting concerning how everyone can help those fighting mental illness, and the stigmas surrounding suicide. Cultural norms have made the topic of suicide and mental health incredibly taboo. She discussed how in many religious communities in the past, it was typical not to bury someone who died by suicide in a religious-based cemetery. The view of the topic shifted, and death by suicide is now viewed as a result of a disease of the brain. To learn more about the comprehensive work of JFS Houston visit, https://mentalhealthletstalk.org.
De-stigmatization aligns perfectly with the mission of RespectAbility, of which Burger serves as the organization's treasurer. Her work's mission to eliminate the stigmas surrounding mental health conditions including deaths by suicide is similar to the work that RespectAbility does in fighting stigmas so people with all types of disabilities can fully participate in all aspects of community. Through the implementation of programs that create peer leaders and support nets for everyone, the stigmatization surrounding mental illness can be decreased drastically in Houston and beyond.
JOIN OUR TEAM!
RespectAbility is a nonprofit organization fighting stigmas and advancing opportunities so people with disabilities can fully participate in all aspects of community. This spring, 11 Fellows have the opportunity to learn from a variety of guest speakers. Learn more about the National Leadership Program and apply for the next cohort! Contact [email protected] for more information.
ALL FELLOWSHIP OPPORTUNITIES
LEARN MORE