Jewish. Chinese. Adoptee. Those three words don't seem to go together, and yet for me they do. Those three words describe me and my identity… oh and don't forget to add: autistic! Talk about intersectionality!
Upon first glance, it's easy to notice that I don't "look" like the typical American Jewish woman, nor does my family "look" like the typical American Jewish family! I was adopted from China at the age of one by my Ashkenazi Jewish, New Yorker, single mom. She and my godmother traveled to China to adopt me.
I am often the only person of color in the synagogue, Sunday school, Hillel event, or in other Jewish spaces, and definitely the only AAPI (Asian American Pacific Islander)/Chinese person. I see the looks. I see the skepticism. Why is she here? Is she a non-Jewish spouse? What's up with that white woman next to her, whom she calls "mom?" While I've never felt unwelcome or purposefully ostracized, I have also never felt like I naturally belonged. Being a Chinese adoptee separated me from naturally-born Jews. I want to note that I grew up in Ohio. If I grew up in a more metropolitan city where there is naturally more diversity, the synagogue congregations might look different.
Chinese international adoptees are often adopted by white families in America, and in other countries such as England, Australia, and Sweden. Sometimes those families are Jewish! One of my best friends who's a Chinese adoptee is also Jewish. During the short time I lived with my mom in NYC, we knew a couple other Chinese, Jewish, adoptees who were part of the national organization, Families with Children From China. I also met a few other Chinese, Jewish, female, adoptees at Sarah Lawrence College. So, we're out there!
Where are the Asian Jews?
In fact, we've been "out there" for quite a while. East Asian Jewish communities have existed for a long time. Jewish settlers, mainly Sephardi, are documented in China as early as the 7th century C.E. The total population today is extremely small, mainly mixing with the dominant Han Chinese ethnic group. In an interview with Kevin Kwan, author of Crazy Rich Asians, he mentioned that powerful Jewish families in Singapore exist among Asian society's wealthy elite. The Sassoon family, known as the "Rothchilds of the East" were of Baghdadi Jewish descent; their large family spread out across the world, helping found modern China.
In America, Rabbi Angela Warnick Buchdahl, was the first Asian American to be ordained as a Rabbi, and the first Asian American in the world to be ordained as a hazzan (cantor). She is of Japanese and American Ashkenazi Jewish descent. Buchdahl was listed as one of America's 50 Most Influential Rabbis. Currently, she's the senior Rabbi at Central Synagogue in NYC. She speaks openly about facing stereotypes as an Asian woman, and questioning her Jewish identity.
Asian American Jewish writers, including myself, emphasize that otherization of Asian Americans, even in their own Jewish communities, further ignites the perpetual foreigner stereotype, leading to microaggressions and the surge of Anti-Asian racist violence. Writers on the feminist Jewish culture site, Hey Alma, describe their Asian American Jewish religious pride mixed with feelings of otherness in their communities. A fellow adoptee, Millicent Kastenbaum wrote, "I was tired of explaining my presence, feeling like I owed strangers my life story immediately upon meeting them."
The question "where are you from?" is the question Asian Americans are always asked. I know other adoptees can relate. People aren't happy with my answer: "Ohio." I understand Kastenbaum's hesitancy to embrace her Asian identity due to not sharing a lot of the typical Asian American experience, and not wanting to feel different from her peers, her Jewish community, or her white family.
Gen Xia Ye Slosberg wrote on Hey Alma that Asian Jews are "not seen as 'normal' Jews, and especially not normal American Jews." Slosberg is the co-creator and producer of LUNAR: The Jewish Asian Film Project. This project aims to show the diversity of Asian American Jews. Amy Albertson, known on social media as @TheAsianIsraeli, tweeted that she is not half Israeli and half Asian. "I consist of both these things 100% of the time."
Changing the Narrative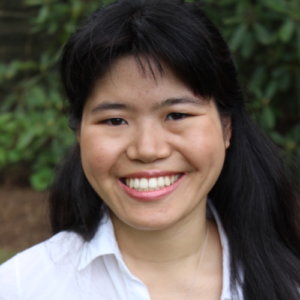 My story breaks a lot of stereotypes, of being a Jewish woman and being a woman on the autism spectrum. "You don't look Jewish," and "you don't look autistic" are two common sentences people think or say when they meet me. The latter is most often said, the former is most often thought. According to the U.S. Census, as of 2019, there were 18,297,153 Asian Americans living in the United States. Out of that number, there are 1,315,999 Asian Americans who identify that they are living with some form of disability, many of whom face double discrimination.
It's important to remember that there are all different types of Jews, and that Jewish families are formed in many different ways. It is true that Ashkenazi Jews are more than 80% of all Jews in the world, and about 90% of the Jewish population in America. Picturing the dominant population isn't wrong or shameful. I do it too. But our diversity makes us stronger. As Jews, we're connected by history, traditions, songs, and my favorite – matzo ball soup recipes! We all need to embrace the vast diversity in the Jewish population, the autistic population, and the American population. When someone says they're Jewish, they are Jewish. When someone says they're autistic, they are autistic. When someone says they're American, they're American.
As an Entertainment Media Communications Fellow with RespectAbility, and a writer and actress, I push for change through the media. Film and TV can break stereotypes of how society sees Asian Americans. Many stories are already out there such as Crazy Rich Asians, Minari, The Farewell, Never Have I Ever, To All the Boys I've Loved Before, and The Joy Luck Club. Still, I think it's time for the Asian American Adoptee experience to be told. I'm ready to make it, are you ready to see it?
Ava Rigelhaupt is a member of RespectAbility's Speakers Bureau. To book her as a speaker, visit our Speakers Bureau website.