RespectAbility was proud to be a founding partner in the first-ever Mental Health Action Day on Thursday, May 20, spearheaded by MTV Entertainment Group alongside nearly 200 additional brands, nonprofits and cultural leaders. Though more people than ever are comfortable discussing mental health, suicide rates over the last two decades have still risen, particularly among young adults, and finding effective resources and knowing how to get help remains a challenge. We discussed the importance of portraying mental health accurately and authentically in TV, film, and other forms of media, especially as a means to create awareness and serve as a first step to systemic change. Panelists included Nikki Bailey (comedian, actress, author, and producer), Ali MacLean (playwright and TV writer), Diego Kusnir (writer and psychologist) and Amanda Burdine (screenwriter).
Speaker Bios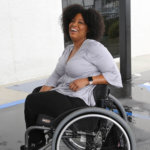 Moderator: Tatiana Lee is an actress, international model, and activist. Growing up in Coatesville, Pennsylvania, Lee felt unseen in popular media. In 2010 Lee moved to Los Angeles to pursue her acting career. She learned to harness social media's power to speak boldly about accessibility and inclusion in mass media due to the lack of access and opportunities for herself and others with disabilities.
She is the voice behind the AccessibleHollywood brand, highlighting her journey as an actress, model, and lifestyle influencer born with Spina Bifida. She quickly has become a sought-after speaker in the entertainment and media space and volunteers her time as a Disability Advocate for Women of Color Unite. Some of Lee's award-winning film credits include Footloose, Jade, Together & Better. She has appeared in modeling campaigns for Target, Zappos, Apple, and more. Lee is the 2018 recipient of the Christopher Reeve Acting Scholarship for her contribution to further disability inclusion in media.
Currently working at RespectAbility, Lee is the lead consultant on various TV and film projects and conducts training for studios and production companies including NBCUniversal, Netflix, and The Walt Disney Company, and assists with RespectAbility's Lab for Entertainment Professionals with Disabilities all while training and growing momentum in her acting and modeling career.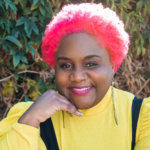 Nikki Bailey is a Comedian, Actress, Published Author, and Emmy Nominated Producer, with a Master of Divinity, and now with her own podcast: Fun, Faith, & Fuckery. She was nominated for two Emmy awards for her work as a producer on PBS specials about Philadelphia politics and went on to work on and write for other television productions including: Labor and Delivery (TLC), WomenDocs (Lifetime) and This Far By Faith: African-American Spiritual Journeys (PBS). Nikki is the author of Soul Smarts for Day Starts: 31 Days of Creative Inspiration and Activities. Her article, "Girl! I Am So Over Church!" is featured in the book, Faithfully Feminist: Jewish, Christian, and Muslim Feminists on Why We Stay. She was a featured comedian for Loni Love's "Laugh Off" on BET's The Real and appeared in David Krumholtz's IFC show, Gigi Does It. Nikki also played a supporting role in the short film, Missed Connections, starring Pose actress and trans activist, Angelica Ross. Nikki is the creator of Fatch Comedy: The Fat Sketch Show which features a cast of fat and fabulous funny ladies who've sold out shows at UCB in Los Angeles and San Francisco SketchFest. Nikki holds a BA in Communication with a focus on TV & Film and a Master of Divinity degree concentrated in Worship in the Arts & Womanist Ethics.
Nikki describes herself as an inspo-edu-tainer as she is a lover all things inspirational, educational and entertainical. She is a spiritual seeker who is obsessed with learning about the various representations of The Divine from different cultures all around the world. With adoration and reverence, Nikki loves loving God (but not in that creepy, Jesus Camp, right wing fanatical way that makes her cringe). She loves the countless ways that people can love God. Nikki has a particular heart for people who are on "alternative" spiritual or life journeys; folks who don't feel welcomed or comfortable in traditional religious settings. Ya know: the weirdos, geeks, freaks, outcasts, heretics, witchy, woo woo, blasphemers. Yeah. Those are her people.
Called to be of service to The Other, Nikki's next big project is a video podcast called Fun, Faith, & Fuckery. The show will be a place for seekers, questioners, believers, and bellyachers to explore ways to get more pray, play and slay into their lives. Featuring topics ranging from world religions to new age spirituality, pop-culture and current events, social justice and comedy, Fun, Faith, & Fuckery will be a podcast full of spit takes #SacredSparkle.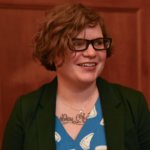 Amanda Kay Burdine is originally from Indiana. She received her MFA in Writing for Stage and Screen from New Hampshire Institute of Art in 2017. There, she explored and refined her passion for writing about mental illness, LGBT issues, death, and dark humor while coping with the sudden death of her mother and her boyfriend's heroin addiction. Since then she has had a fellowship with Middlebury Script Lab and RespectAbility.
Widowed in early 2020, she lives with chronic depression, anxiety, and borderline personality disorder. She currently works as an Associate Team Lead for E-Commerce at a grocery store and continuous to write. Through her screenplays, Amanda hopes to destigmatize and create a better understanding of mental illness.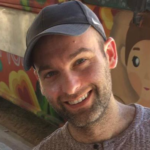 Diego Kusnir is a blind psychologist and writer who writes about being blind. He specializes in helping people navigate difference. He provides consultation to clinicians and writers, and practices in the San Francisco Bay Area.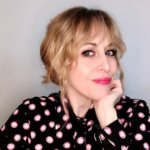 Ali MacLean is an award-winning playwright and TV writer in Los Angeles. A graduate of the Miami University actor's program and the LaJolla Playhouse acting conservatory, her writing has been staged in Los Angeles, New York, and London. Ali's play She's Not There received the 2018 John Gassner Playwriting Award and was the 2019 She NYC Arts Best Production. She was nominated for a Broadway World Directing Award for the same play. Her play Wolves At The Door was the winner of the 2020 Julie Harris Playwright Award and a finalist for the 2019 O'Neill National Playwright's Conference. In 2020, Ali participated in the 24 Hour Plays Viral Monologues alongside Kenneth Lonergan and Matthew Broderick. Her play This Will Be Our Year will be staged live at the Zephyr Theater in 2021. Ali is a member of the Ensemble Studio Theatre's Playwrights Unit, Antaeus Theatre's Playwrights Lab, The Honor Roll, and the Dramatists Guild.
Ali's award-winning short films have screened at Atlanta, Toronto, Gen Art, and Palm Springs to name a few. She was selected for the Stowe Story Labs and is a Women in Film Mentor recipient, Writers For Writers Fellowship recipient, and a participant in the 2020 RespectAbility Entertainment Lab. Her scripts have been a WeScreenplay Diverse Voices finalist, Orchard Project Finalist, Chesterfield Writer's Project semi-finalist, Los Angeles International Film Festival semi-finalist, a Scriptapalooza semi-finalist, a Screencraft semi-finalist, a Script Lab semi-finalist, and an IFP Filmmakers Program finalist. Ali was named winner of the 2020 David Sedaris Humor Writing Prize. Her work is published by Nation books, Applause Books, and Smith & Kraus.
Ali has written for networks such as MTV, VH1, and FOX. Ali worked on comedies including THE JIMMY KIMMEL SHOW, HBO's MR. SHOW, and THE GREEN ROOM. She created Law Of The Land for the David Cross owned FKR TV. She most recently was a writer for the television series, HOLLYWOOD DARLINGS and HOT DATE, on the Pop Network.