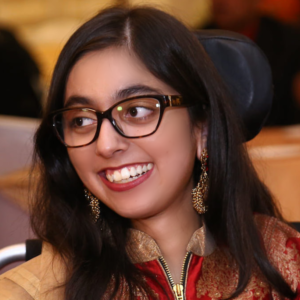 Los Angeles, May 20 – Everyone has different motivators in life. Some people are motivated by passion, some money, others necessity. For Shaina Ghuraya, her motivation is her white-hot rage. It's that same rage that unintentionally drove Shaina to become a filmmaker. As a Punjabi woman in a wheelchair, Shaina describes herself as a triple threat, and it's within that intersectionality that Shaina found her voice as a filmmaker.
Shaina's foray into directing started with a spite piece she made while in undergrad at The University of Sacramento. Fed up with how inaccessible the university was, Shaina made a documentary exposing the university for its lack of accessibility. In making that film, Shaina saw the importance of her voice and her perspective.
After making her first film, Shaina switched from a Political Science to a Communications major, where she would begin her pursuit as a filmmaker in the fiction space. Following her graduation she would eventually find herself attending the University of Southern California to get an MFA in film production. It's at USC where Shaina would truly see her voice as a writer/director begin to blossom.
USC allowed Shaina the opportunity to explore her voice in a way she never had before. Her films that she made there – I Wish I Never and Human Helper – both premiered at Slamdance in 2021. However, Shaina attributes her first major film at USC to her success. "Wheelchair Wendy defined my style. It became quirky, bold, and unapologetic from that day forward."
Shaina took her newly cemented voice and put it to the test by writing one of her most personal stories to date – Agg. Agg touches upon the larger social issue of the forced marriages of people with disabilities particularly in South Asian culture. It will be Shaina's feature film directorial debut. Agg is a recipient of SF Film Kenneth Rainin Pilot Grant for Filmmakers with Disabilities.
On top of going into pre-production for that film, Shaina has been working as a writer's apprentice on a soon-to-be-announced Netflix Animation series. Along with those projects, Shaina also has co-founded Rebuilt Minds, a production company that focuses on telling authentic and intersectional stories.
While Shaina clearly has a knack for telling underrepresented stories, she doesn't consider her films as solely social activism films. "I know a lot of my films can be labeled as activist films, like Wheelchair Wendy, and in a sense, it is. But when I made it, I wasn't thinking I was going to make an activist film. I just thought, this is my experience and this is what I'm feeling. I think a lot of people who are a part of the majority don't understand that these aren't just social issue films. These are our lives. By simply being and breathing, our experiences have been categorized as social justice issues. So it's kind of an added bonus for me that it can be taken to that activist level. But right now I'm just trying to tell my truth."
In her endeavors to tell her truth, Shaina is creating a space for spectacular intersectional stories to grow and flourish in a world that desperately needs more of them. It's exciting to watch as her career continues to grow and watch her make space for new and unheard stories.
Shaina was one of 10 individuals who participated in RespectAbility's Celebrating Representation and Inclusion of Disabled AAPI in Media panel on May 26, 2021. Watch the recording and read the transcript here.