"Just because a man lacks the use of his eyes doesn't mean he lacks vision." – Stevie Wonder
Okay, so I am not a man, and this is a piece for Women's History Month, but I love this quote because it's a reminder that my blindness does not define me or my vision. Honestly, in some way, my blindness makes me stronger and more resilient because I have to work harder. My blindness puts me more in touch with my other senses.
I was diagnosed with Retinitis Pigmentosa (RP) when I was five years old, so my parents left Bangladesh, their family, and their livelihood to come to America in search of a cure. They never considered that they might remain in the U.S., but gave up going back home, as they realized that the hope of finding a cure for RP was better here than overseas. Unfortunately, there was no cure to be found then nor now, here nor there.
So, I always knew that I might lose my vision one day. However, knowing and experiencing something is completely different and it took some time to change my outlook on life. As a woman with a disability, it can be a bit overwhelming sometimes. I mean, did you know that 80% of woman with a disability are victims of abuse and rape? That's really high – and scary. So, I don't trust people easily, despite my friendly personality.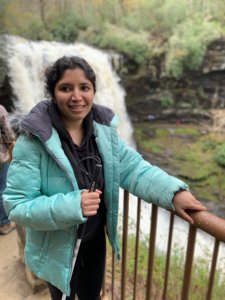 This month we celebrate Women's History Month. In recognition, I chose to write a poem because I had no intention of really sharing anything too revealing about my life. I thought it would be easier and had planned on writing something cute and happy. For example, I thought I would write about the first time a child approached me, curious about my cane, or the time I tricked a really close friend, pretending I got my vision back. I told her how my blouse had flowers on it. (The flowers were textured, so I could feel the shape.) She was shocked and thought she was witnessing a miracle. It was really funny (to me!) – eventually, my friend was able to laugh about it, too.
Light humor aside, once I started to type, something just came over me and I could not resist sharing my memories. It was an emotional process, and I am glad that I did it. Here it is . . .
---
I See What You Can't See
My canes
Black, red, and white
They help me see
They tell me when I am near a tree
When I am crossing the street
My hands
Fair, small, and slight
They help me see
When I cook and clean
When I preen
When I am looking for items or washing dirty dishes
They help me see
My feet
Small and narrow
They help me see
They ground me and help me identify my surroundings
My brain
It might be a bit silly in there
Still, it helps me see
When people are lying to me
When things can be a bit tricky
It helps me see
My nose
It tells me what's good and what's nasty
My mouth
It tells me the possible ingredients in a recipe
My memories
They are all special to me
The good and the bad
They help me see what other people with sight see
These are some of the ways I can see
They solidify my belief that I can still see
They make me happy
Honestly, I feel I see more now than the past me saw
Yet some people think that I can't see because of my disability
Many pity me
A few ignore me
Some ask me if they can pray for me
Some attempt to make me prey
All because of my disability and gender identity.
I am asked, "What happened to your eyes?"
"Were you born blind?"
"Is there a cure?"
They can see, yet they judge me without seeing me
I know that they look at me
A few are just evil and bad
Others have good intentions
Those who want to assist me and know about my disability
I don't mind
Almost always, I smile
Almost always, I share that part of me – my blindness
However, there are times
The lack of accessibility frustrates me
The uncertainty of my life suffocates me
Sometimes, I let it consume me:
The fear and uncertainty
The loss of my ability
In the dark, where no one can see me
I temporarily let it drown me
Even loving family members sometimes don't see the real me
They misjudge me because of their uncertainties
About me and my abilities.
They don't always see the real me.
One day, I was joking with a loved one, and she hurt me—
Her ignorance plain to hear and see
Through the phone, we spoke
"I am dating someone," I said
My heart sunny and happy
She asked, "Does he know that you cannot see?"
"What do you mean?" I asked
my face no longer bright
my soul no longer light
Thud.
Another invisible arrow hits my heart
my throat tight
my thoughts, all dark
because I knew
I knew what she meant.
Apparently, I am unworthy
Apparently, no one can love me
With the exception of my family
All because I cannot see
All my accomplishments, my mind
Shredded and snuffed out
Just because I cannot see
I know that she loves me
and God knows she has no idea what her words did to me
But seriously?
A guy has to be exceptional to date me?
I am not appealing because of my disability?
My identity and personality mean nothing?
My strength and beauty remain unseen
All because I cannot see?
Guys will only use and hurt me?
Is that what I am supposed to believe?
Okay, so I am blind.
So, what?
That does not define me or my abilities
Almost always, people think I cannot see because of my disability
Well, I am here to say, they are wrong
About me and my abilities
Once upon a time, I could see, just like you can see
With my dark brown eyes
Now I cannot see
Because of RP
But I see with more than my eyes:
My canes, my hands, feet, nose, mouth, brain, and most especially my memories—
they all help me see
Honestly, for me, it's not my gender or disability that oppresses me
The misconceptions people hold about a woman and her disability—
That's what oppresses me
I see.