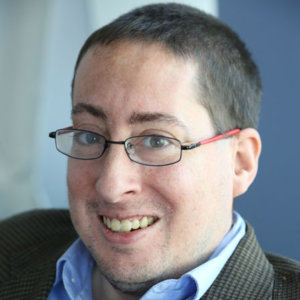 Justin Chappell identifies as "a gay man with a disability from a multi-racial family." He was born with spina bifida and is a wheelchair user. Politics has played a major part in his life, including meeting his husband at a Democratic National Convention.
In late 2015 and early 2016, Chappell spent months on the campaign trail engaging presidential candidates in the early primary states on behalf of RespectAbility as a Democracy and Outreach Fellow. He spoke with many of the candidates on both sides of the aisle multiple times.
"Government needs to be educated on disability issues, and government works better when it engages people with disabilities in politics and policy," Chappell said about lessons learned on the trail.
Now, Chappell is becoming more involved in the world of politics, becoming a candidate himself. He is running for a place on the Montgomery County Democratic Central Committee of Maryland.
Chappell is proud to identify both as a person with a disability and as a member of the LGBTQ community. He told RespectAbility that he cherishes his identity "while remaining focused on the shared humanity in all of us."
The LGBTQ community and the disability community intersect in many ways. Among lesbian, gay and bisexual adults, 30 percent of men and 36 percent of women have a disability. The two communities also share some of the same challenges. LGBTQ people and people with hidden disabilities have to decide whether or not to come out. Both LGBTQ children and children with disabilities face bullying and stigma, for which the consequences can literally be life and death.
Chappell knows that the LGBTQ and disability communities "face immense stigma." He believes that getting more involved in the political system is a way to address the issues that the communities face.
"People in the disability and LGBTQ community need to vote in greater numbers, and it's up to candidates to give voters a reason to vote," Chappell said. "We need more candidates who are LGBTQ, have a disability and are an ally engaging our community in their campaigns and public policy."
When asked what advice he would give to people in the disability community and/or the LGBTQ community, Chappell said:
"I want young people in the LGBTQ and disability community to know they are loved and appreciated for their unique dreams, talents, and skills. Young people with disabilities need to engage in the political process because, as disability rights leader Justin Dart said, 'get into politics as if your life depends on it…because it does.' The LGBTQ community and disability community have been most successful when we stand together out and proud of our identity, united against bigotry and hate directed toward any member of our community. We ought to be proud of our unique talents, skills, dreams and unafraid to share them with others."
Other leaders also are using their voice to share their stories, educating people about both visible and invisible disabilities. They are defying the statistics and have remained highly successful with their disabilities. Notable examples include CNN anchor Anderson Cooper who is dyslexic, actor Josh Feldman who is deaf, comedian Stephen Fry who has bipolar disorder, artist Frida Kahlo who had polio and spinal and pelvis damage, Eddie Ndopu who has Spinal Muscular Atrophy, YouTuber Tyler Oakley who has depression, writer Leah Piepzna-Samarasinha who is chronically ill, model Aaron Philip who is a wheelchair user with cerebral palsy and journalist Melissa Yingst who is deaf.
Chappell has witnessed a lot of progress for LGBTQ rights. In an article from USA Today in 2015, Chappell and his husband Ben Spangenberg, who now serves as the National Leadership Program Director for the nonprofit organization RespectAbility, discussed how they got engaged in 2011 but wanted to wait until marriage equality was the law in all 50 states before getting married. The fight for marriage equality is over, but other issues remain. Chappell believes that the next steps for the LGBTQ and disability rights movements should be to address stigma facing the communities, "especially with respect to employment discrimination."
The employment rates for people with disabilities have improved over the past year, but there is still much work to be done. According to the 2017 Annual Disability Statistics Compendium, only 35.9 percent of U.S. civilians with disabilities ages 18-64 (working-age) living in the community have a job, compared to 76.9 percent for people without disabilities. People with disabilities have the ability and the desire to work, and society needs to do a much better job giving them the opportunities they need to succeed.