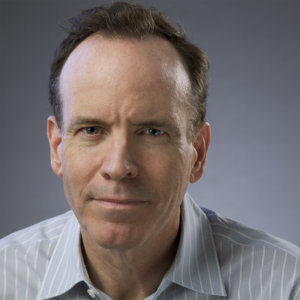 Jonathan Murray is one of the best allies that the one-in-five people with disabilities has on earth. While Murray does not have a disability himself, he knows what it is like to be stigmatized as someone who is openly gay. He told RespectAbility that he's "always felt like a bit of an outsider," continuing:
"Growing up gay, you learn how to adjust your behavior to fit in with the predominately straight population. I think this gave me an appreciation for the challenges of people with disabilities, as well as other communities that have been marginalized."
Murray is widely credited with helping to usher in the modern reality television genre. He has created and executive produced some of the industry's most innovative, unscripted entertainment television programs.
But Murray's programming does more than just entertain. It has played a major role in fighting stigmas that underrepresented communities face.
Murray's shows have featured positive, accurate portrayals of people from the LGBTQ community and people from the disability community. He was featured in Variety's 2017 Inclusion Impact Report for his work on the issue of representation. Murray also serves as a board member for RespectAbility, a nonprofit organization fighting stigmas and advancing opportunities for people with disabilities. He has hosted many of RespectAbility's gatherings of disability and Hollywood leaders, including the launch of RespectAbility's Hollywood Disability Inclusion Toolkit.
The Real World
Murray co-founded Bunim/Murray Productions along with his late partner Mary-Ellis Bunim in 1987 and launched The Real World in 1992. The show focuses on a group of people who come from different backgrounds living in a house together, with a different city and a different group of people each season. When the show first aired on MTV, it was unlike anything else that was on the air at the time, and it is widely considered the first modern reality TV show.
Murray has lost friends to AIDS. As a result, he was particularly proud of The Real World San Francisco season, which focused on Pedro Zamora, a gay, HIV-positive person who emigrated from Cuba. In the 1980s and 90s, people with HIV/AIDS were ostracized and stigmatized. President Ronald Reagan did not even mention the disease until 1985, by which point AIDS had claimed the lives of more than 5,000 Americans.
In the Hollywood Reporter, Murray recounted that Zamora's story brought viewers "entertaining television but also television that would actually change their lives. There were so many people who were affected by getting to know Pedro…when he finally passed away, they felt like they had known someone who had AIDS."
In fact, President Bill Clinton once told Murray that "Pedro being on MTV made more of a difference than anything he could do from the Oval Office." Zamora's story on The Real World helped fight stigmas because people saw in him as a typical young man who happened to be gay and HIV-positive.
Autism: The Musical, Born This Way and Disability Advocacy
Murray's first disability-focused project debuted in 2007. Autism: The Musical is a documentary telling the story of six children on the autism spectrum who write and rehearse for a stage production. The film was picked up by HBO and subsequently won two Emmy awards in 2008 for Nonfiction Film Editing and for Outstanding Nonfiction Special. The success of Autism: The Musical paved the way for Murray's latest project, which he has said "reminded me why I love doing what I do."
Born This Way is a reality TV show which showcases the lives of people with Down Syndrome. The show premiered on A&E in December 2015. It has been nominated for nine Emmy Awards and won the Emmy Award for "Outstanding Unstructured Reality Program" in 2016, along with Emmy Awards for "Outstanding Casting for a Reality Program" and "Outstanding Cinematography for a Reality Program" in 2017. Born This Way, which will launch its fourth season later this summer, proves that showing positive, accurate portrayals of people with disabilities is not only the right thing to do but also results in programming that finds success in the competitive television landscape.
Some of Murray's other television shows have been inclusive of people with disabilities as well. On Season 12 of Project Runway, for example, a designer named Justin LeBlanc who happens to be deaf made it all the way to the finale, finishing in third place. Jordan Wiseley, who was born missing four fingers on one of his hands, has appeared on The Real World and on four different seasons of The Challenge.
Representation Matters
The LGBTQ community and the disability community intersect in many ways. Among lesbian, gay and bisexual adults, 30 percent of men and 36 percent of women have a disability. The two communities also share some of the same challenges. LGBTQ people and people with hidden disabilities have to decide whether or not to come out. Both LGBTQ children and children with disabilities face bullying and stigma, for which the consequences can literally be life and death. According to the Trevor Project, LGB youth are almost five times as likely to have attempted suicide compared to heterosexual youth. Forty percent of transgender adults reported having made a suicide attempt, 92 percent of them before the age of 25.
Murray believes that one important way to address these problems is by increasing positive, accurate representations on TV and in film. He told RespectAbility:
"As a gay teen, I saw few positive representations of gay people in TV and film. What I did see was usually negative. This is very harmful to someone's self-esteem growing up. For people with disabilities, it is the same. They need to see positive representations of themselves, both as people with satisfying personal lives and as people who can perform successfully in the workplace. Seeing those positive images will open up a world to them that they may have thought was not for them. Also, those positive images will change for the better the way the greater society sees people with disabilities, opening up more opportunities for them."
Father of Young Musician
In 2003, Murray told Variety that, along with his partner Harvey, he had to navigate many government hurdles to adopt their child Dyllan. While things have progressed significantly since 2003 for LGBTQ people who want to adopt children, people with disabilities are going through similar challenges with adoption rights today. Dyllan went on to become a successful musician and has brought his talent to advocate for equality for the LGBTQ community through his music, following in his father's footsteps.
 While there is plenty left to be done, both the LGBTQ movement and the disability movement have come a long way. Murray has been featuring positive representations of marginalized people since the beginning of his career, and he is not stopping now. From Pedro on The Real World to the cast of Born This Way, Murray's work has helped change minds and move public opinion on important issues of diversity, equity and inclusion.