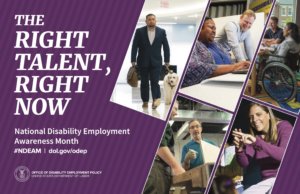 As the country celebrates National Disability Employment Awareness Month (NDEAM), it is important to note that out of more than 20 million working-age people with disabilities, only 7.5 million have jobs. That total includes people who are blind or deaf or have other visible conditions such as spinal cord injuries, as well as people with invisible disabilities including learning disabilities, mental health or Autism. This data also shows the serious gaps that remain between disabled and non-disabled Americans. Just 37 percent of U.S. civilians with disabilities ages 18-64 living in the community had a job, compared to 77.2 percent for people without disabilities.
Expanding employment opportunities for people with disabilities is a nonpartisan, as both Democrats and Republicans are quick to recognize what people with disabilities can accomplish. This year, several governors have shown their support through public proclamations, executive orders and press statements.
The success of governors comes at a time when companies also are doing more to attract and retain employees with disabilities. JPMorgan Chase, EY, Coca-Cola, Bank of America and others have made inclusive practices a part of their success.
To mark this month, the White House released a Presidential Proclamation "to celebrate the contributions of Americans with disabilities to our country's workforce and economic strength." The proclamation also was intended to reaffirm the administration's commitment "to fostering opportunity for Americans of all abilities to apply their skills and talents in the workplace."
An annual celebration, NDEAM is dedicated to raising awareness about disability employment issues and celebrating the incredible contributions of people with disabilities. RespectAbility, a nonpartisan nonprofit organization that works to fight stigmas and advance opportunities so that people with disabilities can participate fully in society, organized an op-ed campaign, written by disability advocates around the country. Read their op-eds below:
The Advocate: Open opportunity to Louisianans with disabilities, Harlon Cowsar II
AL.com: Employment matters for Alabamians with disabilities, Jolie Carr
Anchorage Daily News: Employment matters for Alaskans with disabilities, Ira Edwards
BhamNow: 1,105 individuals with disabilities found employment through United Ability. Yet, the unemployment rate remains high, Pat Byington
The Cap Times: Wisconsinites with disabilities have the right talent, right now, Nicholas Olson
CT Mirror: Employment matters for people with disabilities in Connecticut, Adam Man
Houston Chronicle: Employment matters for Texans with disabilities, Linda Burger
Inforum: Employment matters for ND residents with disabilities, Philip Kahn-Pauli
Jopwell's The Well: Prioritizing Accessibility in the Workplace – National Disability Employment Awareness Month, Angelica Vega
The Missouri Times: Employment matters for Missourians with disabilities, Kenny Kalman
New Jersey Star Ledger: Want higher productivity, lower turnover? Hire someone with disabilities, advocate says, Judith Creed
Oswego County News Now: Employment matters for New Yorkers with disabilities: the right talent, right now, Ila Eckhoff
If your state is not included above, please reach out to RespectAbility's Director of Community Outreach and Impact Debbie Fink, who can tell you how we can help you get an op-ed published or reach out to your elected officials to commemorate events such as NDEAM.
For more information and statistics, please read: Employment Matters for People with Disabilities or contact RespectAbility's Policy and Practices Director Philip Kahn-Pauli.