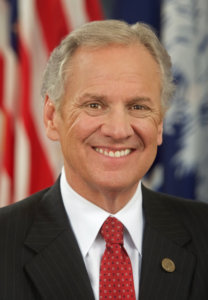 Columbia, S.C., Oct. 24 – Earlier this month, Columbia hosted the Hire Me SC' Employer Summit 2019 to connect local employers with potential employees with disabilities. The annual event, sponsored by Able South Carolina and Spartanburg Regional Healthcare System, showcased a clear message about the workplace skills and readiness of South Carolinians with disabilities.
As stated by Sarah Nichols, Director of Public Relations with Able South Carolina, "there's a huge untapped workforce of people with disabilities in South Carolina, who can work and they want to work." Chantel Greenfield from the Spartanburg Regional Healthcare System spoke with the press about how her company can look at "all of your various job descriptions" and "what barriers can we remove to be a more inclusive employer."
This sentiment was echoed by Gov. Henry McMaster who recently declared October as Disability Employment Awareness Month to help advance job opportunities. In a proclamation he stated, "business and community leaders have called for a diverse and capable workforce to further advance the economy of the Palmetto State" and that "South Carolinians with disabilities have the same aspirations competitively work and contribute to their communities everyone else."
He concluded his statement by calling on "all South Carolinians to work together to advance the message that people with disabilities are equal to the task."
While these are promising signs, serious work needs to be done to get more South Carolinians into the workforce. Last year, while nationally 111,804 jobs were gained by people with disabilities, 6,977 people with disabilities left South Carolina's workforce.
In 2018, 122,789 South Carolinians with disabilities had jobs, putting that state's disability employment rate at 32.6 percent According to the Institute on Disability, that is well below the national disability employment rate of only 37 percent. That total includes people who are blind or deaf or have other visible conditions such as spinal cord injuries, as well as people with invisible disabilities including learning disabilities, mental health or Autism.
An annual celebration, National Disability Employment Awareness Month is dedicated to raising awareness about disability employment issues and celebrating the incredible contributions of people with disabilities. According to RespectAbility, a nonpartisan nonprofit organization that works to fight stigmas and advance opportunities so that people with disabilities can participate fully in society, found that South Carolina ranks 45th in the nation on jobs for people with disabilities.
South Carolina can improve by implementing deliberate strategies by leaders in the community, in government and in the school system. Employment First is one such strategy. It is a strategy where critical social programs are oriented towards ensuring that getting a job is the top priority for individuals with disabilities. That goal is reinforced with high expectations among the teachers, coaches and parents.
South Carolina can further capitalize on past successes by following the example of states that show constant improvement such as Florida and Ohio. Both can attribute a portion of their growth in disability employment to Project SEARCH, a program for young adults with disabilities to improve their skills, learn from job coaches and ultimately find a job. Data shows that 70 percent of SEARCH interns who complete their training obtain competitive employment. By expanding such critical programs, South Carolina can greatly increase the number of people with disabilities entering the workforce.
Companies that embrace employees with disabilities clearly see the results in their bottom line. According to Accenture, disability-inclusive companies have higher productivity levels and lower staff turnover rates, are twice as likely to outperform their peers in shareholder returns and create larger returns on investment.
The fact is that disability is part of the human experience. It is nothing to fear because all of us will be affected by it eventually, whether by accident, aging or illness. Opening more job opportunities to people with disabilities will mean stronger communities and a better economy for all. Achieving that requires all of us working together because people with disabilities are the right talent, right now.