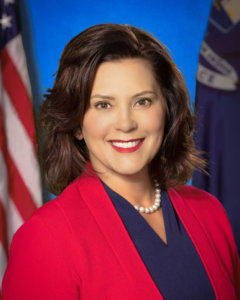 Lansing, Michigan, Oct. 31 – Earlier this month, Michigan Gov. Gretchen Whitmer issued a proclamation focusing on the stigmas and barriers associated with "invisible or hidden" disabilities for Disability Employment Awareness Month. Her statement spoke about how "10 percent of people live with a condition which could be considered an invisible or hidden disability" and that "nearly half of Americans are living with a chronic medical condition."
Meanwhile, in Michigan's state legislature, bipartisan leaders are throwing their weight behind an initiative to advance employment opportunities for people with disabilities. State Reps. Jon Hoadley (D-60th District) and Steve Marino (R-24th District) are championing a pair of bills focused on expanding the use of and covering the costs associated with reasonable accommodations for employees with disabilities. Both bills are the result of the advocacy work by the Disability Network Southwest Michigan, which motivated Hoadley to "help more people with disabilities enter the workplace." The bipartisan package would allow employers to apply for up to $1,000 to make reasonable accommodations for employees with disabilities.
Despite these promising developments, out of more than 727,000 working-age Michiganders with disabilities, only 246,196 had jobs last year. That puts the Great Lakes State's disability employment rate at only 33.8 percent. According to the Institute on Disability, that is below the national disability employment rate of only 37 percent. That total includes people who are blind or deaf or have other visible conditions such as spinal cord injuries, as well as people with invisible disabilities including learning disabilities, mental health or Autism.
October is the perfect time to reflect on how leaders in Michigan can improve job opportunities for more citizens with disabilities. October is National Disability Employment Awareness Month, an annual celebration dedicated to raising awareness about disability employment issues and celebrating the incredible contributions of people with disabilities. According to RespectAbility, a nonpartisan nonprofit organization that works to fight stigmas and advance opportunities so that people with disabilities can participate fully in society, found that Michigan ranks 41st out of the 50 states in terms of disability employment.
To increase its disability employment rate, Michigan can follow deliberate strategies implemented by leaders in the community, in government and in the school system. Employment First is one such strategy. It is a strategy where critical social programs are oriented towards ensuring that getting a job is the top priority for individuals with disabilities. That goal is reinforced with high expectations among the teachers, coaches and parents.
Michigan can look to states that show constant improvement such as Florida and Ohio. Both can attribute a portion of their growth in disability employment to Project SEARCH, a program for young adults with disabilities to improve their skills, learn from job coaches and ultimately find a job. Data shows that 70 percent of SEARCH interns who complete their training obtain competitive employment. By expanding such critical programs, Michigan can greatly increase the number of people with disabilities entering the workforce.
Companies that embrace employees with disabilities clearly see the results in their bottom line. According to Accenture, disability-inclusive companies have higher productivity levels and lower staff turnover rates, are twice as likely to outperform their peers in shareholder returns and create larger returns on investment.
The fact is that disability is part of the human experience. It is nothing to fear because all of us will be affected by it eventually, whether by accident, aging or illness. Opening more job opportunities to people with disabilities will mean stronger communities and a better economy for all. Achieving that requires all of us working together because people with disabilities are the right talent, right now.