Join RespectAbility on Friday, June 4, for a Celebration of Disabled LGBTQ+ Voices in Media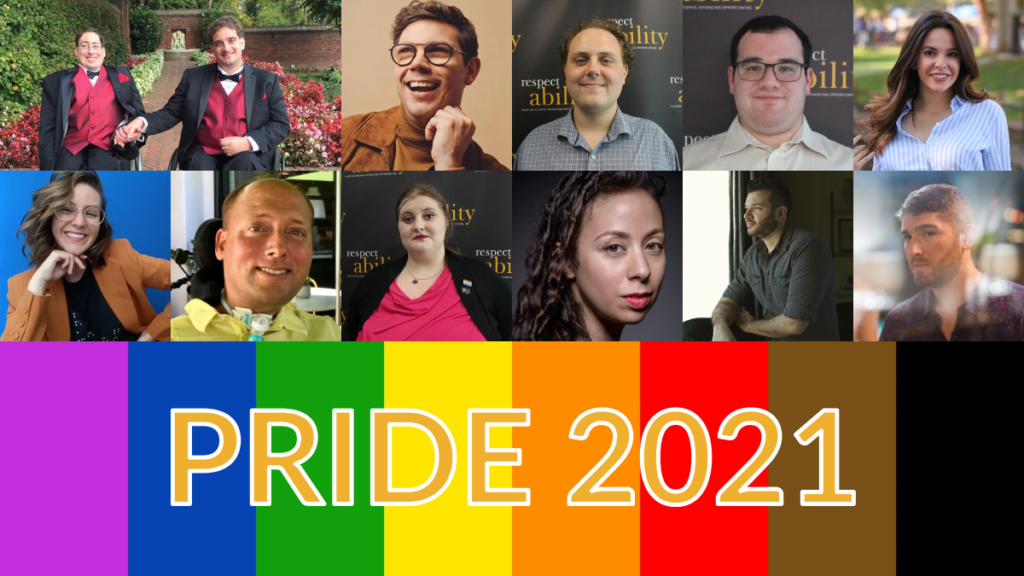 Washington, D.C., June 2 – June once again marks National LGBTQ+ Pride Month and offers the nation the opportunity to reflect on the incredible contributions of the LGBTQ+ community. Our nation is at its best when it welcomes, represents and includes people of all backgrounds. This includes people with disabilities and the intersections shared with the LGBTQ+ community. According to a study published in 2012, fully 36 percent of women in the LGBTQ+ community and 30 percent of men in the community also self-identify as people with disabilities. Digging deeper shows that 26 percent of gay men and 40 percent of bisexual men disclosed having a disability, as did 36 percent of lesbians and 36 percent of bisexual women.
Identifying the full scope of the LGTBQ+ community remains a significant challenge due to continuing fears about disclosure and stigmas that remains a painful fact of life in many parts of the U.S. and the world. However, attitudes are changing according to data published earlier this year by Gallup, which estimated that 5.6 percent of adult Americans identify as part of the LGBTQ+ population. That percentage would put the total number at approximately 17 million individuals, a number that continues to grow year after year. Past work done in 2019 by the Movement Advancement Project (MAP) and the Center for American Progress estimated that nearly 5 million LGBTQ+ people live with some form of disabilities.
People who identify as LGBTQ+ and people who have nonvisible disabilities such as learning disabilities like dyslexia, mental health or ADHD have to decide whether or not to "come out of the closet." This is not an easy decision for most people because of the uncertainty of whether acceptance will follow. LGBTQ+ youth who come out sometimes are rejected by their families and friends. Some are even kicked out of their homes and forced to live on the streets. According to a University of Chicago report, LGBTQ+ young adults had a 120 percent higher risk of reporting homelessness compared to youth who identified as heterosexual and cisgender.
Our nation's economy is strongest when it is inclusive of the value that diverse talent brings to the workplace. Yet, it is challenging to fully capture the scope of opportunities open to LGBTQ+ workers with and without disabilities. Just as people with disabilities fear discrimination and face bias throughout the hiring process, far too many LGBTQ+ Americans have experienced discrimination or bias in the workplace.
"It is vital to fight stigmas and advance opportunities so all people who have faced prejudice, including LGBTQ+ people with disabilities, can achieve a better future," said Eric Ascher, RespectAbility's Communications Associate who identifies as gay and being on the autism spectrum.
The consequences of stigma, bullying and rejection can literally be life and death. The Trevor Project reports that LGB youth are almost five times as likely to have attempted suicide compared to heterosexual youth. Forty percent of transgender adults reported having made a suicide attempt, 92 percent of them before the age of 25. Society needs to fight stigmas and promote acceptance so that LGBTQ+ people know that they are valued and that they matter.
"I want young LGBTQ+ people in the disability community to know they are loved and appreciated for their unique dreams, talents and skills," said Ben Spangenberg, RespectAbility's National Leadership Program Director who was recently named one of the 2020 Champions of Pride by The Advocate. "Our community needs the opportunity to share and be recognized for our talents."
RespectAbility is committed to shining the spotlight on individuals with disabilities who are members of the LGBTQ+ community. Read more about them below:
We also invite you to read these personal reflections from RespectAbility Staff, Fellows and members of RespectAbility's National Disability Speakers Bureau:
The LGBTQ+ community and the disability community intersect in several significant ways. As such our #RespectTheAbility campaign also has compiled articles, books and other resources focusing on these intersecting identities on the RespectAbility website: https://www.respectability.org/resources/lgbtq/.
On Friday, June 4, join six disabled members of the LGBTQ+ community as they celebrate disabled LGBTQ+ voices in media. To celebrate these intersectional voices, RespectAbility is excited to highlight a few of our friends and colleagues, including Nasreen Alkhateeb (Cinematographer & Senior Production Advisor at RespectAbility), Kiah Amara (NYC-based consultant, production coordinator and producer) Eric Ascher (Communications Associate at RespectAbility), Shea Mirzai (writer/producer) and Lenny Larsen (producer/director). The conversation will be moderated by RespectAbility's very own Entertainment Media Fellow, Kelley Cape. ASL interpreters and live captioning will be provided. Learn more and RSVP: https://www.respectability.org/2021/04/lgbtq-pride-2021-event.