In RespectAbility's 2021 annual report you will find stories from some of the key members of our team, including several board members, who have shared personal accounts and critical impacts experienced this year. These include personal discussions about our work through which, thanks to your support, we have made a difference in many people's lives.
View each section of the report by following the links below:
FINANCIAL AND OTHER REPORTS
RespectAbility is recognized by GuideStar at the Platinum level for our inclusion, transparency and excellence. We have been recognized by Slingshot as an organization at the highest level. RespectAbility was recognized at the United Nations for innovation.
2020: Annual Report – 990 Form – Audited Financial Statement
2019: 990 Form – Audited Financial Statement
2018: 990 Form – Audited Financial Statement
2017: 990 Form – Audited Financial Statement
2016: 990 Form – Audited Financial Statement
2015: 990 Form – Audited Financial Statement
2014: 990 Form
2013: 990 Form
Introduction
Ollie Cantos, Chair, RespectAbility
Dear friend,
On behalf of the board, staff and entire RespectAbility team, we extend our warmest wishes and gratitude to you and your loved ones. May you get all you need and always be surrounded by love, fun, meaning and good health!
Even though it has been a challenging year, RespectAbility has had a major year of impact on how people view and value people with disabilities as well as on systems change and economic opportunity.
In July of this year, we launched a new strategic plan that was the culmination of a year-long process that brought together a cadre of key influencers from across the country, building upon evidence-based research, refinement, and results from the previous eight years. The result is a bold, forward-looking, and visionary five-year roadmap to shatter old paradigms by engaging in a multifaceted approach to remove physical, programmatic, and attitudinal barriers to full societal participation by people with all types of disabilities.
The strategic plan is driven by three foundational elements that are the heart of the transformation. Synergy results from combining these elements with three core tenets, which operationally drive the growth and development of four key programmatic areas of focus.
The Foundational Elements Driving the Transformation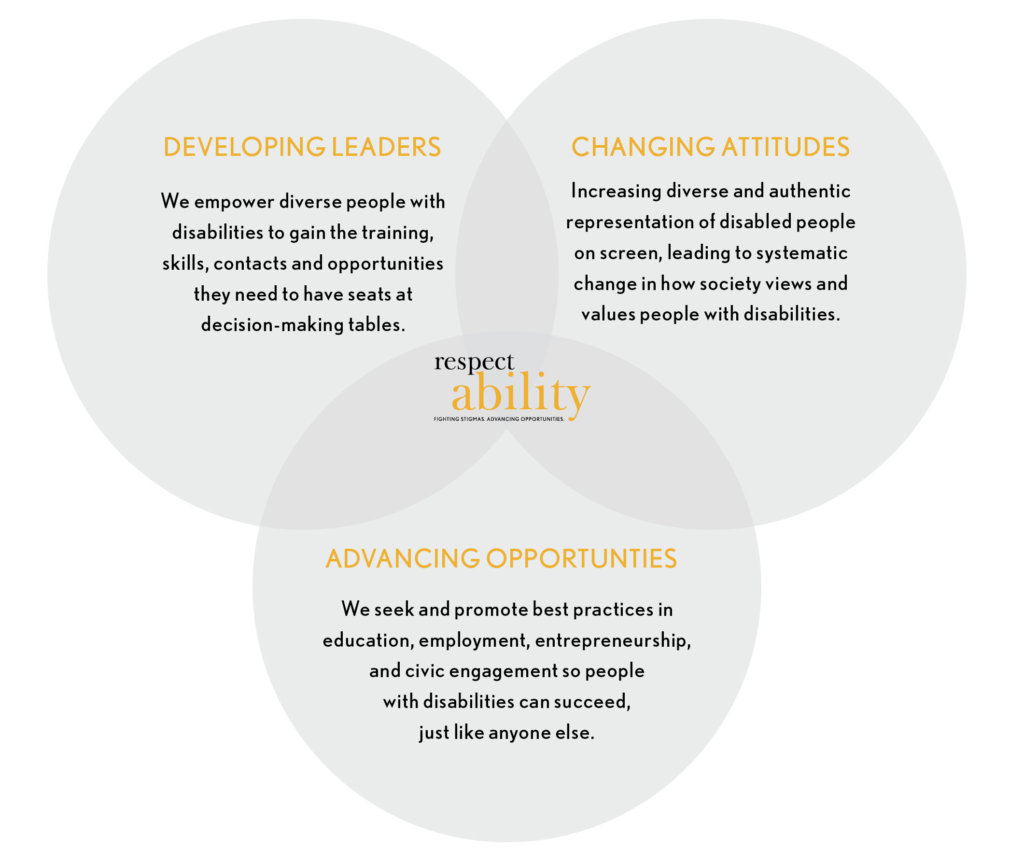 RespectAbility's "Theory of Change" has three core elements:
DEVELOPING LEADERS: Empowering diverse people with disabilities to gain the training, skills, contacts, and opportunities they need to have seats at decision-making tables.
CHANGING ATTITUDES: Increasing diverse and authentic representation of disabled people on screen, leading to systemic change in how society views and values this sizable segment of the overall population.
ADVANCING OPPORTUNITIES: Seeking and promoting best practices in education, employment, entrepreneurship, and civic engagement so people with disabilities can succeed, just like anyone else.
Strength Through Unparalleled Synergy, Driven by Three Core Tenets
RespectAbility has developed three core tenets that infuse its Theory of Change and underly each of its programs. Those tenets are:
DIVERSITY, EQUITY, INCLUSION, AND ACCESSIBILITY: RespectAbility understands the importance of lived experience in informing good policies and practices. This is particularly reflected in the makeup of RespectAbility's team of dedicated trailblazers, driving the organization's success. By design, the majority of RespectAbility's Board of Directors, Board of Advisors, and Staff has a disability. The majority of RespectAbility's 30-person board and more than one-third of its staff at all levels also are members of Black, Indigenous, and People of Color (BIPOC) communities. The diverse lived experience of our team, combined with an organizational culture that empowers each person to learn from others while teaching others, results in out-of-the-box thinking and true progress for people with disabilities.
COLLABORATION: Far too frequently, individuals, organizations, companies, and agencies under-estimate the sheer power of meaningful partnership in which all those involved are seen as having something invaluable to contribute. RespectAbility recognizes and celebrates the fact that each stakeholder in the disability space may lead on some issues, follow on others, and not weigh in on others, depending on priorities. Though no specific stakeholder may be all things to all people, RespectAbility places at a premium the value of partnership and therefore continually seeks to identify areas of commonality in order to minimize duplication of effort, coordinate utilization of available resources, and rally others to unite to advance shared priorities.
COMMITMENT TO PERFORMANCE METRICS: Though RespectAbility is a nonprofit organization, by intention, it applies sound and proven business principles to stretch the value of every dollar, every moment of volunteer time, and every endeavor to which it devotes itself. Each team member is dedicated to measuring performance, modifying approaches as part of the never-ending process of improvement, and paving the way for short-term and long-term sustainability and growth. In many ways, effectively factoring Return on Investment (ROI) into organizational decision-making is the key.
Programmatic Focus Areas
RespectAbility's core programmatic focus areas work together in synergy to advance major progress for the 1-in-5 people who live with a physical, sensory, cognitive, mental health, chronic pain, or other disability. RespectAbility's new plan includes a deeper focus on its four key programmatic areas:
RespectAbility is rated at the Platinum level by GuideStar and has won numerous awards for its effectiveness. Read the full strategic plan on our website: https://www.respectability.org/2021strategicplan.
Thanks to you, we have achieved some remarkable results and were able to help more people with disabilities than ever before. In this annual report you will find stories from some of the key members of our team, including several board members, who have shared personal accounts and critical impacts experienced this year based on these four programmatic focus areas.
2021 also afforded to us the opportunity to grow our team and make RespectAbility an even more innovative, experienced, and diverse organization. While we started the year with 12 full-time staff members, by the end of 2021, we had 19 staff members. We also welcomed new members to our board of directors and advisers to guide our future. We were able to achieve all this because of your support and that of others.
Together we can create a welcoming, respectful, and successful future where all people, including people with disabilities, can have a better future.
Because you have been there for us, RespectAbility continues to work collaboratively with employers, the entertainment industry, governors, policymakers, educators, self-advocates, nonprofits and faith-based organizations, philanthropists, and the media to fight stigmas and advance opportunities. A diverse and disability-led nonprofit, RespectAbility works to create systemic change in how society views and values people with disabilities and that advances policies and practices that empower people with disabilities to have a better future. Our mission is to fight stigmas and advance opportunities so all people with disabilities can fully participate in every aspect of community.
Rest assured we are on the front lines during this crisis and, with your support, will be there to continue to help. Please take the time to read the firsthand accounts of our work in what everyone is calling another "unprecedented" year.
Thank you for what you have done previously. You are in great company and at the back of this report you can see our most generous donors. But we need more help. May we please count on you again now? We are happy to answer any questions.
We need your continued support and to connect with others who can help us expand our reach. Please spread the word about RespectAbility's work so others can support us.
Your generosity has allowed us to respond to the needs of the disability community, and during these times, we need your support more than ever. Thank you so much!
Respectfully,
Ollie Cantos
Chair, RespectAbility
Jennifer Laszlo Mizrahi
Founder, RespectAbility
P.S. We are rated at the top level by GuideStar and are highly effective and transparent. A year-end tax-deductible gift will strengthen the future of people with disabilities. Thank you for your giving spirit and for all you do!