Even though the pandemic continues, RespectAbility has had a major year of impact on systems change and economic opportunity. Indeed, as of November 2021, the labor force participation rate for working-age people with disabilities is now 2 full percentage points higher than it was before the COVID-19 pandemic. This means that people with disabilities are working and earning income in higher numbers than before the pandemic. According to the Bureau of Labor Statistics, disabled people now have a 37.7% labor force participation rate, compared to 76.7% of those without disabilities. While these are the highest job numbers ever recorded, we still have a very long way to go.
Thankfully, the national experiment in telework has made it acceptable to work from home, an accommodation people with disabilities have long sought. I know my health has greatly benefited from telework – I'm more productive and can work longer hours without the drain of commuting for hours every day.
Employers are desperate to hire talented employees and people with disabilities are stepping (or rolling) up in greater numbers to fill those gaps. In response, RespectAbility has been working for the past several months to submit public comments and testimony on education, employment and entrepreneurship to governors, state leaders, and workforce boards in all 50 states. The urgency of our policy work continues into 2021.
We deeply value and build partnerships so we can maximize the impact of the disability communities. We continue to co-chair a task force of 113 national disability groups on skills and jobs. We have also joined the Stop the Wait Coalition to push on benefits reform, are actively deepening our work with the National Skills Coalition, and we are now major contributors to the work of the Network of Jewish Human Service Agencies (NJHSA).
We continue to meet biweekly with a large number of workforce development leaders in Los Angeles. This includes a meeting that coincided with our in-person board meeting this summer where we worked to break down silos across L.A. government departments.
We continue to make progress on expanding online SNAP benefits in the states and we are documenting replicable best practices for providing virtual employment services. For National Disability Employment Awareness Month, 21 governors held events, released proclamations, or announced new policies.
We also are expanding our engagement on education policy issues with a special focus on students with disabilities that are also Black, Indigenous, and People of Color (BIPOC) or English Language Learners (ELL). We are actively following several pieces of legislation that would fully fund IDEA and expand competitive employment, and we will submit public comments to the IACC's National Autism Plan on lifestream issues including employment, education, and accessibility.
One of the things I'm most proud of is getting the word "accessibility" added to the White House Executive Order on "Diversity, Equity, Inclusion, and Accessibility in the Federal Workforce." Alongside our partners, we reached out to the Biden Administration and pushed forward key priorities related to employment policy, economic recovery, and federal opportunities for disabled workers. Diversity, Equity, and Inclusion (DEI) is a forerunner in employee and leadership training in Corporate America right now, but often the conversation focuses on race, gender, and LGBTQ+, while disability is forgotten. With the nation's largest employer (the federal government) leading by example, we hope DEIAwill bring attention to including disability in the workplace conversation.
On the political front, we remain nonpartisan and were actively engaged with both candidates for Governor in Virginia, and received a letter from Governor-elect Glenn Youngkin that addresses the disability community. We already have met with the top three candidates in the Maryland gubernatorial race and are eagerly planning for a major civic engagement push ahead of the 2022 midterm elections, with a focus that also includes California, Texas, and Washington, where we have state partner groups.
This year began with a lot of uncertainty, but with your help, we were able to achieve some remarkable results and are back on the road moving people with disabilities forward. We are expanding our policy and practices team to meet critical needs. We have a lot of work in front of us. I look forward to where 2022 takes us!
---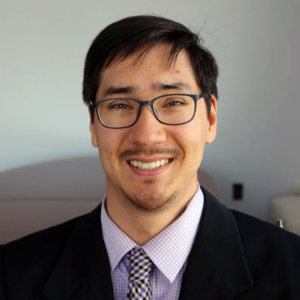 Randall Duchesneau is a C5 quadriplegic from a spinal cord injury during a sports accident. He serves as Vice Chair on RespectAbility's Board of Directors, and is an innovative leader in the disability community with a passion for accessibility. He is a father of two, a graduate of Cornell and Yale, and enjoys traveling and photography.