Sneha Dave, Co-Chair, Nominating Committee and Board Member, RespectAbility
The best decisions for people with disabilities are ones where we are at the decision-making tables. After all, we know the challenges, are directly impacted by what is at stake, and recognize the solutions that work best. However, people with disabilities, like myself, often are denied self-determination, which impacts our education, employment, inclusion, healthcare, and opportunities to thrive.
It is vital for talented young leaders with disabilities to acquire the skills, contacts, and professional roles we need as a community so we can achieve our dreams. That is where RespectAbility's National Leadership Apprenticeship and Entertainment Media Lab programming come in – upskilling and placing talented people with disabilities so they can, in turn, help other people with disabilities.
Since 2013, RespectAbility has trained more than 229 apprentices in our Leadership Program. A recent evaluation of RespectAbility Apprentice graduates found that 84% of our Apprentices who responded to the survey are employed within three years of participation in our program. Many of them today are on the front lines of the disability movement. I myself started in the National Leadership Apprenticeship Program in 2018, and I now am the executive director of the Health Advocacy Summit, a nonprofit that facilitates events and programs for young adults with chronic medical disabilities. Other alumni of the Apprenticeship program are now on the RespectAbility staff. Additional examples include:
Ariella Barker – Senior Counsel at New York City Law Department
Kelley Cape – Diversity, Equity, Inclusion and Belonging Program Manager at GoPro
Adam Fishbein – Policy Advisory, U.S. Department of Labor Office of Disability Employment
Kenneth Kalman – Management and Program Analyst at U.S. Department of Education
Nicole LeBlanc – TASH Consultant
Laka Mitiku Negassa – Microsoft Health Policy Fellow, National Minority Quality Forum
Juliet Oord – Program Director, Abilities Network
Another major program to advance disabled talent is our Entertainment Lab, which has advanced opportunities for 82 disabled entertainment professionals, including writers, directors, producers, animators, and executives. Learn more about the Lab in another section of our Annual Report: Developing and Elevating the Talent Pipeline in Entertainment Media

As a former Apprentice and now a board member, I am proud of the evolution of our disability talent pipeline programs and the role RespectAbility continues to play in increasing workforce opportunities for untapped talent within the disability community.
At the same time, we had to pivot to meet the changes of the pandemic. The National Leadership and Lab began as in-person programming. In 2020, we pivoted to make each virtual, which allows us to pull the best and brightest participants, speakers, trainers, and staff regardless of geography. Apprentices meet with staff throughout each week to collaborate on our work. Program participants also meet weekly with guest speakers and have mentorship sessions with the National Leadership Program Director.
The National Leadership Apprenticeship Program, formerly the National Leadership Program, shifted from primarily serving participants while they are in college to serving people who are active job seekers; allowing us to immediately provide opportunities for employment. Apprentices are placed in specialized departments, including public policy and advocacy, communications and entertainment, nonprofit management, philanthropy, civic engagement, or faith-based inclusion. Furthermore, Apprentices have access to mentors as well as a community support network of other Apprentices. Mentors and staff train the apprentices on what the employment landscape may look like and help prepare Apprentices to learn how to write a cover letter, interview, and more. As someone who works with many disabled young adults, I am enthusiastic to see the Apprenticeship model and individualized opportunities provided by RespectAbility for those seeking employment. The virtual component also allows for more flexibility in accomplishing tasks, particularly for those with chronic medical disabilities where working a standard 8-hour day can be exhausting.
This year, thanks to generous support from the numerous funders, we were able to serve more participants than ever who are blind and have spinal cord injuries. We did a deep dive on philanthropy and nonprofit leadership, as well as key policies to enable people with disabilities to gain jobs overall during the pandemic.
As of November 2021, the Labor Force Participation Rate for working-age people with disabilities was two percentage points higher than before COVID-19 began, indicating that changes are happening. We at RespectAbility look forward to continuing to be part of better employment outcomes for people with disabilities. As a former Fellow in 2018 and now a board member, I am proud of the evolution of the Apprenticeship program and the role RespectAbility continues to play in increasing workforce opportunities for untapped talent within the disability community.
---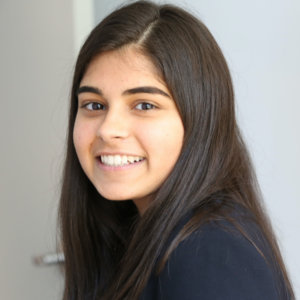 Sneha Dave graduated from Indiana University in May 2020 where she majored in chronic illness advocacy as well as journalism. She created the Health Advocacy Summit (HAS) and its program the Crohn's and Colitis Young Adults Network (CCYAN) with support from foundations such as the Helmsley Charitable Trust and Arnold Ventures to create support systems for adolescents and young adults with chronic medical disabilities across the U.S. and internationally.