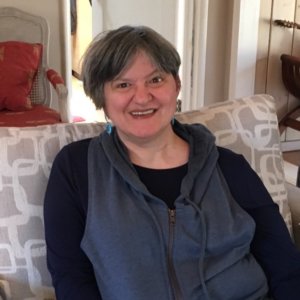 At just 45, Erika Abbott made a name for herself with her award-winning poetic memoir, "PORGY'S REVENGE." Tom Hanks and the late actor, Olympia Dukakis were early supporters of Erika's unique poetry and storytelling style.
Today, Erika is quickly becoming a prominent speaker on poetry and art, Epilepsy, and redefining what it means to be Disabled in society today. Diagnosed with Epilepsy, dyscalculia and mild cerebral palsy as a toddler, Erika began her advocacy early in life, as the ringleader of the Disabled "posse," a small group of children with varying disabilities at her Montclair, NJ elementary school.
Erika continues to enlighten others as she shares her journey as a woman, a Jew, a poet, and a disabled person with sharp wit and a unique perspective.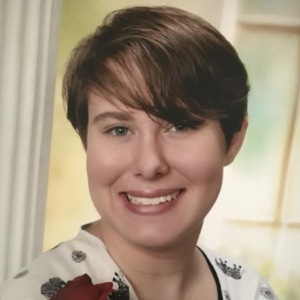 Emily Borses is 21 years old and lives in Los Angeles, California. For as long as she can remember, she has lived with anxiety, but wasn't officially diagnosed until her junior year of high school. As a child she often felt like she had no voice and no way to express herself. She floated from person to person and group to group never really feeling like she fit in anywhere.
As a young girl, she watched movies and read stories all the time. She was always fascinated by actors and their ability to become someone totally different. She used to wish she could escape into the stories, in turn inspiring her to create and begin writing stories of her own. She did not see writing as a viable career option; little did she know that this path would literally save her life in the future, and in the meantime, she found other ways to express herself creatively.
Borses started participating in theater at the age of ten and continued throughout high school. Theater became a liberating experience, where she was able to push herself out of her comfort zone. Theater also allowed her to re-direct her nerves and fully invest her energy into a specific character or moment.
Borses' experience in the theatrical world eventually brought her back to film and gave her a new insight into characters and stories. She set her dreams on becoming a filmmaker. Borses is quoted saying "Movies helped me realize that my past traumas are valid. I have finally come to a place in my life where I feel okay to truly feel."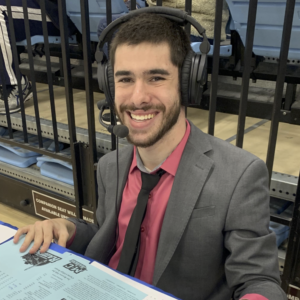 Justin Borses was born with Cerebral Palsy on February 19th, 2000. Born three months premature, and given less than a five percent chance of survival, he overcame the odds. Through the course of Borses first 10 years of life, he learned to navigate the world. He used a walker in the early years, slowly gaining strength through countless hours of physical and occupational therapy.
At 10 years old, Borses underwent his first surgery, a truly daunting experience. He woke up in the recovery room in excruciating pain. His feet were turned in, making it painful to walk and his entire lower half was restructured. There was a lot of screaming and crying over the next 12 months as he had to learn how to bend his knees and walk. The emotional toll of learning to walk again included bouts of depression, suicidal thoughts and exhaustion.
Borses is unsure of where he'd be today without the close friends he made in Hebrew school. He didn't realize until much later in life, but those people, whom he'd known since he was 2, are the closest friends he has ever had. They supported him throughout every step of the journey and made Cerebral Palsy their lifelong battle as well.
Despite Borses' physical limitations, he has devoted his time to learning, broadcasting and writing about sports. He sees a connection between the preparation he puts into his journalism and broadcasting and the preparation the athletes expend on their game. Broadcasting and writing makes Borses feel as if he is part of the game.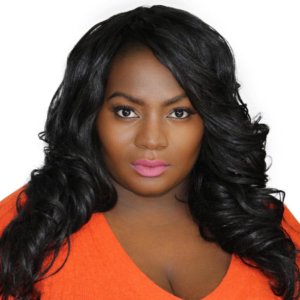 Born in Long Island, New York as the Jamaican/Cuban/Chinese/Jewish daughter to immigrant parents, Asha Chai-Chang is an Actuary by Trade turned Award-Winning and Oscar-qualified Director and Writer. Ms. Chai-Chang is an Emmy-Nominated Producer, Alliance of Women Directors inductee, RespectAbility Entertainment Lab Alum and Certified Speaker. She is a proud Co-Founder & Co-Captain of the Academy Award & BAFTA qualifying Slamdance Film Festival Unstoppable program, which is a program dedicated to disabled talent and filmmakers, and has garnered the attention and support of Hulu, Blackmagic Design, ScreenDaily, IndieWire, Forbes, and other reputable companies. Asha advocates for diversity and disability inclusion in film and television by leading initiatives and creating family-friendly content with universal relatability.
Asha has always enjoyed combining her Jewish roots and values with her love for art and entertainment, including dancing with the Joffrey Ballet School at the Lincoln Theatre in NYC as a child, to performing Opera in Hebrew, Yiddish, and other languages at The Kennedy Center, The White House, and Governor's Mansion as a teenager, and currently advocating for diversity and inclusion through her work as a filmmaker and producer. During her Political Science and Pre-Law studies at Yale University, Asha spoke at the United Nations and to the United States Congress about human rights and equal access to education as a Junior Statesman of America. Thereafter, establishing a Junior Statesmen of America chapter at her high school to assist students with public speaking and effective communication skills. As a college student in Business at the University of Hartford, she was a dedicated member of Hillel, assisting with High Holy Day celebrations on campus, and organizing school events like the Cotillion and Promukkah. To this day, she gives back to others with the values she has been brought up with and educates people about our kindness, disciplines, and richness in history.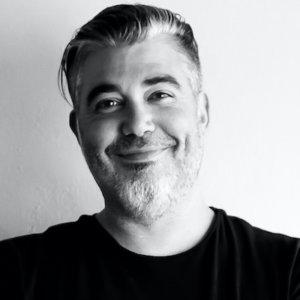 Lee Chernotsky is the founder & CEO (Chief Encouragement Officer) of ROSIES foundation, a 501(c)(3) organization that generates opportunities for people with diverse abilities to engage and work. He holds an MBA in nonprofit management and has been a leader in disability advocacy and education for over 20 years. Lee currently serves on the Advisory board of RespectAbility Los Angeles and the board of the Culver City Arts Business Improvement District. He is a sought-after speaker on accessibility, creativity, mental health, and social enterprise across industries.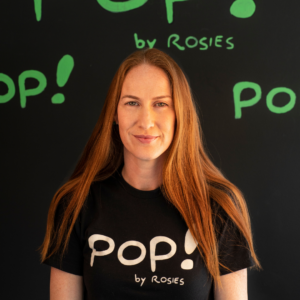 Nechama Chernotsky is the founder of NechamaMama, a social start up designed to create functional products that enhance everyday life through the lens of accessibility for parents and children alike. Nechama has extensive experience with impact driven event production. In her current role supporting Community and Programs, she continues to be a vital part of the growth and development of ROSIES foundation, a 501(c)(3) organization that generates opportunities for people with diverse abilities to engage with one another and with work.
Nechama was raised in a lively Orthodox Jewish home with her 9 siblings in Los Angeles. Currently, she lives a more traditional Jewish life raising her family with strong rooted Jewish values in community, respect, kindness, with awareness of social and environmental responsibilities. Keeping Shabbat in her home may look different every week but it always includes spending quality time with family, friends, and lots of home cooked meals from recipes passed down from her grandmother. She employs her studies in Kinesiology and 18 years of experience as an adaptive educator to home-school her 3 children in Los Angeles with her husband Lee.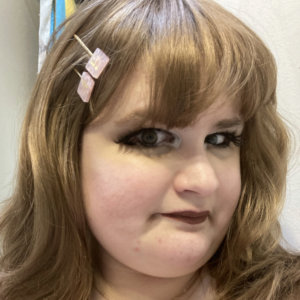 Born in Los Angeles, California, Leah Ilana Craig has lived in New York City; northern New Jersey; Washington, D.C.; Roanoke, Virginia; and London, England only to return to Los Angeles—thus proving you never truly escape your hometown.
Craig received her undergraduate degree in History and Communication Studies from Hollins University in 2015 and focused on the intersections of antisemitism and nationalism in modern European history. Currently, she is in her final year at Lindenwood University's MFA program and is set to graduate in December 2022 with a Master of Fine Arts in Writing with a concentration in Creative Non-Fiction.
Professionally, she has worked in a variety of institutions from the United States Holocaust Memorial Museum in Washington, D.C. to the National Army Museum in London as an archivist, librarian, and general all-around history nerd. That is, until she twirled stage left into the dance competition world as a road warrior with StarQuest International. Finally, she landed in the world of personal growth and leadership and worked at the entrepreneurial start up The Legacy of You in New York City.
As an autistic individual with POTS Syndrome, a disability that often requires the use of a wheelchair due to fainting, tachycardia, and fatigue, the work of RespectAbility is something that is very near and dear to Craig's heart. Forced to give up her work in the dance world due to her condition, she believes passionately in making the working world more accessible for people with disabilities so that they can live their dreams.
Craig is known for her love of gyaru fashion, and cosplaying characters from franchises such as Stranger Things, Danganronpa, and Beetlejuice. You can usually find her cuddling with her ten-month-old kitten, Komaru, and subjecting everyone to passionate monologues about Arcane lore.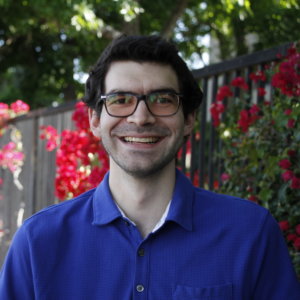 Growing up in Los Angeles, Alex Howard visited various famous filming locations like the LA River in Northridge, where Arnold Schwarzenegger rode his motorcycle in Terminator 2: Judgement Day. That trip was a defining moment in his childhood, sparking his fascination with movies and the mind-bending stories they can tell. While interning, Howard fell in love with the development process. He believes the core of every good piece of entertainment is a solid, compelling and interesting story.
Howard has had several internships, including at KTTV, Atmosphere Entertainment and Phoenix Pictures where he worked for producer Mike Medavoy. He was a temp for Warner Brothers on long-term assignment at DC Comics and a part-time film critic intern for mxdwn.com. He was invited to participate in RespectAbility's Summer 2020 Lab for Entertainment Professionals and subsequently was a RespectAbility Fellow in 2021.
Growing up, Howard had a number of undiagnosed physical conditions that often left him feeling alone and a little different from his friends. He found some comfort in watching movies and television as a way to connect with others and reveal worlds full of inspiration. In 2019, Howard was diagnosed as one of only 17 people in the world with a rare mitochondrial disorder called MePAN. One of the most significant symptoms of MePan is limited vision. Howard is proactive in finding ways to use technology to overcome his disabilities. He is a passionate advocate of audio description for all media, everywhere, because audio description makes movies and TV shows more accessible for people like him. Howard's ultimate goal is to help those with any kind of disability enjoy films and television so that, hopefully, more people will be able to connect and share a love for entertainment.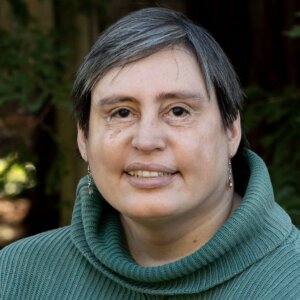 Carey McIntosh is a mental-health counselor, trainer and writer based in Monrovia, California. After growing up in Palo Alto and attending Pomona College, she went to Germany "for a year or two" and in the end spent 25 years abroad. Living in Europe and Africa, she studied and then worked in international aid and development while raising two children with her husband, also an international development worker. She returned to the US in 2017 as a result of a mental-health crisis and has since earned master's degrees in International Psychology and Clinical Mental Health Counseling. At age 13, Carey was diagnosed with Fascioscapulohumeral Dystrophy (FSHD), the third-most common form of Muscular Dystrophy in the US, affecting approximately 200,000 people nationwide. Until the past few years she was able to walk unaided, but now frequently uses a walker or wheelchair outside of the home. A Jew by choice, she regularly attended services in places such as Lusaka, Zambia and Sarajevo. For the past three years, she has been a member of Pasadena Jewish Temple and Center in Pasadena, where she is involved with the Diversity, Equity and Inclusion Task Force. Carey is also the author of Beans, Bugs and Bombs: Remembrances of a Life Overseas.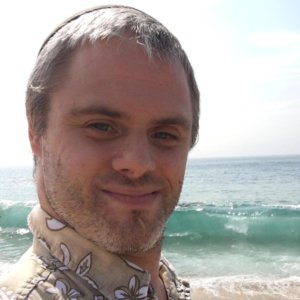 Shlomo Meyers was born in Manhasset, New York on December 6, 1985 with Down Syndrome. He is the middle child in a family of seven children. Meyers currently lives in Los Angeles with his wife, Danielle.
Meyers moved to Illinois when he was eight years old, where he would go on to graduate from Ida Crown Jewish Academy and spend part of the following year in a job training/skills building program through Keshet, a program providing services for individuals with disabilities.
The job training that he acquired from the Keshet program inspired him to get a job and gain independence. Meyers had also worked part time in high school at a Ben and Jerry's Ice Cream store in Highland Park, Illinois. A relative of his, Rabbi Yirmiyahu Spector, suggested he apply for a job at Arie Crown Hebrew Day School in Skokie, Illinois. He worked there for eight years, until moving to Los Angeles with his wife. Meyers has been working at Maimonides Academy in Los Angeles since 2014.
At nineteen, he moved into a group home, Migdal Oaz, which is run by the Jewish Federation of Metropolitan Chicago, the first time he had lived without his mother.
His work experience has taught him to look introspectively and evaluate what is truly important in his life. Through working and living in both Chicago and Los Angeles, Meyers learned to cherish his independence, a topic he focuses on when speaking.
Meyers has experience speaking for Hebrew School students, at Yachad Shabbaton retreats and at local congregations. Through his speaking engagements, Meyers reflects on his own journey towards independence and attempts to push others to venture out of their comfort zones.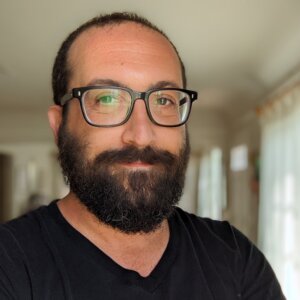 With a background in Community Organizing and Development, Lex Paul is passionate about shining a light on injustice and prejudice, working to build understanding across the political and social spectrum through education and engagement.
Prior to joining RespectAbility, Paul spent 6 years in the desert of southern Israel building intentional communities and actively involved in trans-boundary peacebuilding and environmental projects; as a mentor to Arab, Israeli, and international students. As an educator, Paul is dedicated to helping people connect to their own communities and outsiders through the exploration of their own identities – creating empathetic connections which span ideological rifts.
A native Angeleno, Paul can usually be found reading, creating media projects, or watching the Lakers and any baseball game with his two sons.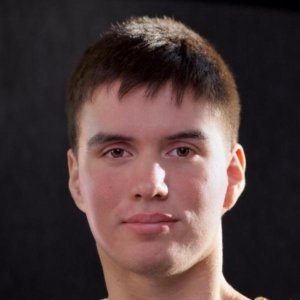 Roque Gregorio Renteria was an Entertainment Media Apprentice in RespectAbility's National Leadership Program for Winter 2020-2021. He was born in Los Angeles, California. Growing up he was glued to the television screen and quickly developed a love for storytelling. Since both his parents are originally from Mexico, he was able to enjoy stories in both English and Spanish, which helped him appreciate foreign films early on.
At the age of 14, he had a spinal cord injury, which left him partially paralyzed, but on the bright side he got a brand-new wheelchair. Seeing the world from a new perspective (his eyes are now at waist level) Renteria started to write jokes about his predicament. This led him to pursue a career in stand-up comedy. He has been featured on Comedy Central, Jeff Ross Presents Roast Battle II, and Amazon Prime. And, if he can find a pit crew to accompany him, he travels and performs comedy both locally and internationally.
Renteria graduated from California State University, Long Beach where he majored in English. During that time, he was involved with student activism involving better accessibility and guest lectured on the subject of representation of disability in mass media. He later graduated from UCLA's School of Theater, Film and Television with an MFA in Screenwriting. He has used his training as a screenwriter to write for Comedy Central, SoulPancake, and co-wrote short films for the Easterseals Disability Film Challenge. Renteria enjoys telling jokes and deconstructing institutions on stage. When he's not performing across the country, you can find him pushing around the streets of Los Angeles. And when he is not pushing, he is locked in his room trying to write his next page. He believes that laughter is great medicine, but you should consult with your doctor to see if his comedy is right for you.
Riccardo Ricciardi was born in Los Angeles, California, but he spent most of his childhood in La Paz, Bolivia. He served in the US Air Force and was based in San Antonio, Texas.  He then moved to London, England where he worked for Pan American World Airways as a flight attendant, and eventually returned back to the United States to attend New York University. Currently he lives in the Los Angeles area.
Ricciardi has a Bachelor's degree in individualized studies from New York University. He was also awarded an undergraduate fellowship in biophysics at the Lawrence Berkeley Lab at UC Berkeley, where he was a co-author on two peer-reviewed academic publications.
Ricciardi had the opportunity to witness and experience the impact of disabilities on people around the world firsthand, first by serving in the United States Air Force and then by working as a flight attendant. During this time, he was diagnosed with ADHD, and soon after, he suffered a stroke, leaving his left hand paralyzed. The RespectAbility Apprenticeship in Jewish Nonprofit Management will give him the knowledge and the skillset needed to pursue his career goal, which is to work in a nonprofit setting where people with disabilities can be empowered, benefit, and shine with their gifts and talents as active participants in the community.
In the future, Ricciardi sees himself in a managerial role, making use of new technologies, solidifying strategies, expanding the donor network database, always being aware of the ever-changing environment, with full awareness of "Tikun Olam," improving the world.
Ricciardi is a bona fide computer nerd. Ever since he was a kid, he enjoyed breaking down computer pieces and building them up, usually without success. In his apartment, he tends a tiny little garden that is chock full of pots with carrots, tomatoes, chard, peppers, Brussels sprouts, and more.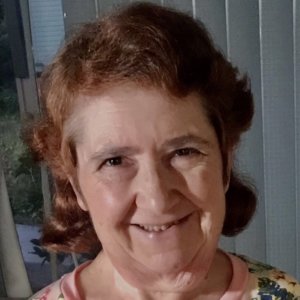 Lisa Sage, M.P.H., is a well respected and experienced health educator who speaks about diabetes and diabetes prevention, disability inclusion, and music for mental health and enjoyment.
As a Senior Health Educator, for the Los Angeles County Department of Health Services, she developed and implemented curricula on Diabetes, Healthy Heart, Smoking Cessation, Stress Management, Weight Management, as well as prenatal education curricula for the underserved community. Her determination to become bilingual eventually assisted her to provide education to her patients who were low-income, low-literacy, and mainly monolingual in Spanish. She developed class materials in English, translated them to Spanish, and taught several classes, mainly in Spanish. She also chaired several committees during her work including the Patient Education Standardization Committee, the Patient and Family Education Committee, and the Family Planning Advisory Committee.
Lisa volunteers at her synagogue, Temple Kol Tikvah, as a board member, and for RespectAbility. As a temple board member, she advocates for the inclusion of people with disabilities. She is a member of a Jewish Advisory Committee for RespectAbility.
Lisa has had Juvenile Rheumatoid Arthritis since childhood. She has her Master's degree in Public Health and continues to have an optimistic attitude toward life.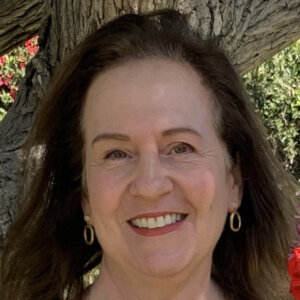 Sharon Wasserman Swerdlow is a mother, daughter, wife, sister, cousin, friend, advocate and investment professional, and like 40 million Americans, she lives with hearing loss.
She has spent the past thirty years navigating the complex world of hearing aids, cochlear implants, and a multitude of assistive listening devices. In the process, Sharon has become somewhat of an expert on care providers, streaming options, apps, open and closed captioning, induction loops, and more. She is incredibly fortunate to have a highly trained service dog, Fergus VII, who alerts her to sounds in the environment.
Sharon is deeply involved in the world of hearing loss. She is the outgoing President of the Hearing Loss Association of America, Los Angeles chapter, and currently serve on its State Board of Directors. She believes we are on the cusp of positive change as the visibility and awareness of the deaf, and general disability community, increases. Sharon is optimistic that changing attitudes towards individuals with disabilities, combined with educating others as to how to best accommodate us, will allow us to live our best lives.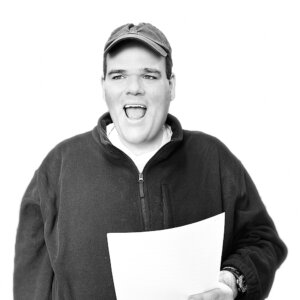 David Shai Ventura is an energetic, multi-talented musical artist, YouTube creator, and TV series personality bringing people together through his music and media. He communicates using Augmentative and Alternative Communication (AAC) and navigates communication through typing on his iPad. David has been passionate about music all his life and started learning the technical skills as a student at Jazz Hands in 2019.
He loves to sing, play the drums and piano, and has written his own original songs. David is currently wrapping up Season 2 of "What The Heck Is That with David Shai Ventura", where he is the show creator/writer and host. The first season of the show focused on arts and entertainment, and the second season's focus has been world health, public activism, and humanitarian consciousness.
David developed his deep appreciation of Judaism at Valley Beth Shalom "Our Space Art Program" where he experienced a sense of belonging and sense of community. David attends Camp Chesed summer camp where he gets to connect with friends and a wonderful group of volunteers – headed by the amazing Jacques Hay. David had the honor of becoming a Bar Mitzvah in 2017 at the age of 27, which made him feel closer to Judaism and know that anything is possible at any age.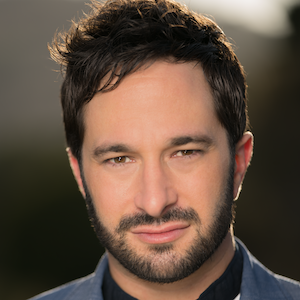 Award-winning actor, director, speaker, and activist, Aaron Wolf uses his creative voice to tell stories from the heart, that entertain and matter. He is co-founder of Howling Wolf Productions. Some of his work includes the Academy Award® shortlisted film Restoring Tomorrow, award-winning films Guest House, starring Michael Gross and Heather Lind, and The Walk, starring Wolf and Emmy nominee Peter Riegert.
Having toured around the country with his feature, Restoring Tomorrow, Wolf's personal journey of rediscovery comes alive in this extraordinary story of a treasured Hollywood landmark and local temple built by the original Hollywood moguls, near demise, and a community's determination to achieve the impossible.
The film received extensive coverage in publications such as The Los Angeles Times, New York Times, Tablet Magazine, Guideposts and The Times of Israel. Wolf was featured on everything from CNN to Fox News. The film became a movement, inspiring other communities, to set out to recognize and rebuild their places that matter.
Based on the hit film, Wolf will launch the original television series Restoring Your Tomorrow, continuing his personal journey overcoming tragedy while chronicling the revitalization of other important communities across the world. Wolf recently came out with a national theatrical release of his throwback creature thriller TAR.
Currently, Wolf is in production on the comedy LD University and its companion documentary entitled We Are All (dis)ABLED, drawing from his personal experiences, allowing audiences insight into his struggle to tackle the urgent topic of learning disabilities and de-stigmatize people deemed disabled. For Wolf, this is one the most critical civil rights issues currently being overlooked and misunderstood by society and he is on a quest to use his voice and work for positive change.