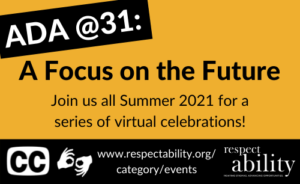 On Wednesday, June 9, we hosted an evening of networking and community building, led by RespectAbility staff, board and alumni of our Summer Lab for Entertainment Professionals with Disabilities. Attendees had the opportunity to join multiple Zoom breakout rooms for conversations with other likeminded creatives in the disability community, focusing on topics such as writing, directing, producing, self-advocacy and more. This event was only open to entertainment industry creatives who identify as deaf or disabled.
Each half-hour, we offered three or four rooms for attendees to join, including:
*This conversation took place fully in ASL for folks who wanted to chat about working in the industry in ASL.
5:00 p.m. PT: Introduction (includes ASL interpreter and live transcript)
5:05 p.m. PT: Break Out Sessions 1
Ask RespectAbility Staff Anything! with Vanni Le (includes ASL interpreter and live transcript)
Getting a Job in a Writers' Room with Marc Muszynski and Diana Romero (includes ASL interpreter and live transcript)
Talking About Mental Health with Kelley Cape and Chad Moses of To Write Love on Her Arms (includes live transcript)
5:30 p.m. PT: Break Out Sessions 2
6:00 p.m. PT: Break Out Sessions 3
6:30 p.m. PT: Break Out Sessions 4
Repeat Session: Branding Yourself with Tatiana Lee (includes live transcript – please attend the first session with Tatiana at 6:00 p.m. to have an ASL interpreter)
Repeat Session: Building a Film Gang with Nasreen Alkhateeb (includes ASL interpreter and live transcript)
Producing and Budgeting for Independent Documentaries with Victor Pineda (includes ASL interpreter and live transcript)