Los Angeles, June 9 – Krista Ramirez-Villatoro is a self-proclaimed "Intersectionality Queen." As a Latina/Hispanic, disabled woman who is part of the LGBTQ+ community, she's learning to advocate for herself and speak up for her specific needs. "Other people don't know what you need. I think that's one of the mistakes I made in undergrad – assuming people knew what I needed," Ramirez-Villatoro reflects.
In 2005, Ramirez-Villatoro acquired an "incomplete" spinal cord injury, meaning that there was no full nerve damage. At first, "I didn't want to be seen as a disabled person," Ramirez-Villatoro said. Unlearning internalized ableism, she learned "it's okay to be disabled." Being disabled "doesn't mean we lost any value," Ramirez-Villatoro emphasizes.
Currently, Ramirez-Villatoro advocates for collegiate sports to become more accessible to disabled athletes. "I want disabled kids to attend a four-year university and play sports. But right now, they don't see us at the same level, even though we might be as good or better than the nondisabled players," she said. Ramirez-Villatoro is starting the adaptive sports program at University of California, Los Angeles.
During her last year as an undergrad at Biola University, she played at the tennis nationals in Florida. "It was amazing to see other schools pushing to create scholarships and programs for accessible sports," Ramirez-Villatoro remembered. The main adaptive sports are basketball and tennis. "In general, the disability community really struggles to make it in higher education," such as being accepted to and graduating from college, Ramirez-Villatoro explained. She believes that collegiate sports can be a motivator to encourage people to go to college. Ramirez-Villatoro would still love to see more athletes like her on TV and social media.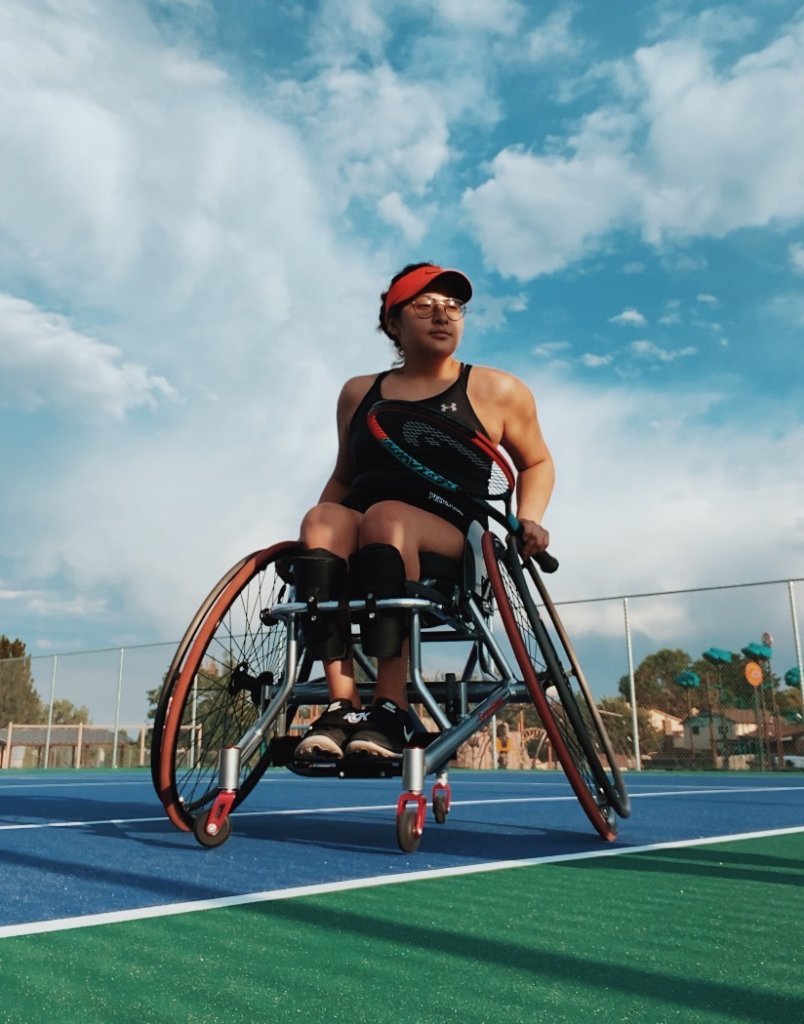 As a disabled filmmaker, Ramirez-Villatoro shows what it's like to live in her shoes. For example, "when the university elevators break down and you throw your wheelchair down the stairs," Ramirez-Villatoro said. "My stories really resonated with people, and I saw in the comments nondisabled people saying, 'I had no idea what it's like.'"
Through a film project at Biola, Ramirez-Villatoro visited migrants at the border in Central America. "It was really moving to see other disabled people make this thousand-mile journey in wheelchairs," she said. Ramirez-Villatoro wants to edit the project and make it into something bigger.
There are more than 358,000 people living with spinal cord injuries in the United States, and according to the National Spinal Cord Injury Statistical Center, there are 17,810 new cases each year. And even before the COVID-19 pandemic, only 27 percent of people with spinal cord injuries were employed 10 years after injury. Ensuring authentic media portrayals of individuals with a spinal cord injury – including in typical roles like the doctor, judge and teacher – can help change these statistics.
This summer, Ramirez-Villatoro is joining the disability advancement nonprofit RespectAbility as an Entertainment Media Fellow in the National Leadership Program. She will be assisting with the organization's Entertainment Lab for Professionals with Disabilities.
Personally, Ramirez-Villatoro has her sights set to play tennis at the 2028 Paralympics, which are slated to be held in Los Angeles. "I also want to be a feature film director and write stories that accurately include disabled characters. Inspiration porn and tokenism really grind my gears!" Ramirez-Villatoro said. One thing she wants everyone to know about people with spinal cord injuries is that "we can do anything a nondisabled person can do; sometimes it's modified. We problem solve all day long."