Fellowship Alumna Sneha Dave Creates Network for Teens and Young Adults with Chronic Health Conditions
Rockville, Maryland, Jan. 15 – Mount Kilimanjaro, the highest mountain in Africa, was just another obstacle in the road for Sneha Dave. But reaching the summit – more than 16,000 feet above the plateau – was all the more challenging for Sneha, who has had a chronic and often debilitating disease since childhood.
When Sneha was six years old, she was diagnosed with ulcerative colitis, a chronic condition that affects the large intestine and often leads to surgery to remove the inflamed organ. The disease caused Sneha (which her mother told her means "someone that you love a lot") to miss much of middle school and high school as she underwent several surgical procedures.
"I was more of a fulltime patient than I was a fulltime student at that time," says the now 21-year-old senior at the University of Indiana in the Hutton Honors College.
The surgeries left her muscles weakened and the steroids she was required to take left her bones brittle. So Sneha had to work hard to return her physique just to that of a teenager without a disability and then push even harder to prepare herself for the arduous climb up Kilimanjaro. Another obstacle she faced: Because her intestine had been removed, Sneha had to keep more hydrated than most other climbers and high altitudes dampen a climber's senses of hunger and thirst. She recalls having to force herself to drink even when she didn't want to.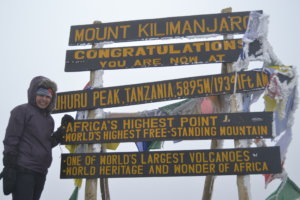 But in December 2017, Sneha reached the summit of Kilimanjaro along with her sister and father. Her mother made it much of the way but experienced altitude sickness before reaching the top.
It was just the latest in a long line of accomplishments for the young woman from Greenwood, Indiana.
Dealing with chronic inflammatory bowel disease presented numerous challenges for Sneha while she was in middle and high school. Because the disease does not show visible disabilities, it often can be difficult for others to recognize and accept. Sneha and a friend, Cory Lane, began collecting stories from other teens with bowel diseases and soon published The Crohn's and Colitis Teen Times, which offered tips in navigating the complexities of being a teenager with such a condition and stories of how others were coping.
The publication quickly grew through subscriptions and an online presence. After Cory's death in 2012 from Crohn's disease and osteosarcoma, Sneha expanded The Crohn's and Colitis Teen Times to become The Crohn's and Colitis Young Adults Network (CCYAN). The aim of the organization, which is funded by the Leona M. and Harry B. Helmsley Charitable Trust, is to connect and provide information on resources for teens and young adults living with inflammatory bowel diseases. It helps link teens, their friends and families worldwide with experts to share information about coping with a nonvisible illness.
One way the network shares resources is by offering fellowships to a handful of teens around the world to learn advocacy strategies for dealing with inflammatory bowel disease.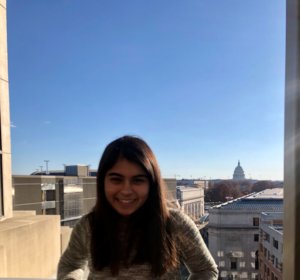 In the summer of 2017, Sneha became a National Policy Fellow at RespectAbility, a nonprofit organization that fights stigmas and advances opportunities so people with disabilities can fully participate in all aspects of community. Among the projects she worked on that summer was the development of a toolkit for people with disabilities living in the Long Beach, California, area. The toolkit highlighted resources for those with disabilities, particularly employment opportunities in the hospitality field.
In reflecting on the Fellowship, Sneha said it "was really a great experience because we not only got to do actual research, but we also heard from a wide variety of speakers from completely different backgrounds," many in the policy and disabilities arenas.
The Fellowship also exposed Sneha to other people with disabilities and she has remained friends with several of them.
As CCYAN grew, Sneha was contacted by teens and young adults with other chronic conditions not related to bowel disease. Despite the different diagnoses, the teens experience many of the same problems in dealing with family, friends, school and work—on top of the already enormous pressures faced by today's young people.
More than the typical teenager, teens with chronic—and often nonvisible—conditions often deal with isolation, feelings of inferiority and depression.
"It's hard to navigate these situations when people don't believe you have these challenges," Sneha said. Teens with already low self-esteem have the added burden of a chronic condition "resulting in a lot of depression and anxiety."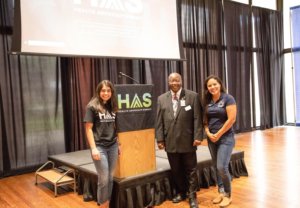 In an effort to reach out to teens with all kinds of chronic conditions, two years ago, while preparing to summit Kilimanjaro, she created the Health Advocacy Summit. The Summits are free, daylong leadership and advocacy events that bring together students with chronic conditions, now including the Crohn's and Colitis Young Adults Network. They now operate in seven different states and are working with major institutions around the country.
The Summits are designed to be a "safe space" for teens with chronic conditions to meet and discuss what strategies have worked – and what ones have failed – for them. So, no doctors, nurses or pharmaceutical reps are allowed to participate.
With funding from the Cystic Fibrosis Foundation, the Summit will be presented online for participants who cannot physically attend in 2020.
Sneha plans to graduate next Spring with a double major in journalism and chronic illness advocacy, a major she developed through independent studies. Eventually, she hopes to go into the field of adolescent medicine and use her experiences as a six-year-old growing up with a severe disease to connect other young adults transitioning to adulthood.
JOIN OUR TEAM!
RespectAbility is a nonprofit organization fighting stigmas and advancing opportunities so that people with disabilities can fully participate in all aspects of community.  More than 170 Fellows have completed the National Leadership Program. Learn more about the National Leadership Program and apply for the next cohort! Contact [email protected] for more information.
ALL FELLOWSHIP OPPORTUNITIES
LEARN MORE