Los Angeles, CA, Feb. 9 – Much of the conversation about disability during the 2021 Sundance Film Festival centers around a few films of importance – including CODA, 4 Feet High and Wiggle Room. But, it also is important to note that several other films included casual inclusion of disability, which also help to normalize having a disability in society.
For example, a montage of people getting dressed in "Life in a Day 2020" included a close up of a person pulling on clothing over an amputated leg. A high school student talks about having a learning disability in "Homeroom," noting that she was not diagnosed until high school due to lack of school resources. "Street Gang: How We Got to Sesame Street" briefly touches on Jon Stone's depression. Nearly 90 minutes in, viewers learn that Amy Tan in "Amy Tan: Unintended Memoir" has lyme disease and epilepsy, in addition to depression. And in "Jockey," there is a short discussion on living on disability, especially when you have a family.
With one-in-five people having a disability in the U.S. today, the lack of representation – just 2.3 percent of characters in the 100 top-grossing films of 2019 and 8 percent in family films – means that millions of people are unable to see themselves reflected in media. While none of the films mentioned above are about disability, the casual inclusion of disability in them is important.
Several Sundance Films Feature Disability as the Theme
More than week after premiering on opening night of the 2021 Sundance Film Festival, CODA, which features a Deaf family and swept the awards at Sundance, still is causing conversations among the film festival circuit. CODA showed that stories relating to disability can be unique, emotional and relatable on a human level to everyone.
CODA's premiere was met with high praise and an immediate bidding war. Before the festival was even halfway through, Apple had announced they had acquired the distribution rights to CODA for a whopping $25 million, breaking the festival record that was held by Palm Springs, which was purchased by Hulu and Neon Films for $22 million at the 2020 film festival.
"If there were any lingering doubts as to whether authenticity sells, they were put to rest with the stunning recording-breaking acquisition of the film by Apple at the Sundance Film Festival," said Delbert Whetter, a RespectAbility board member who is a deaf film executive.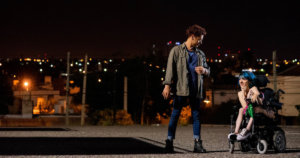 Similarly, 4 Feet High (Indie Series) and Wiggle Room (Short Film), which each featured an actress who uses a wheelchair, shined the spotlight on two issues of importance. 4 Feet High is a beautiful mix of live-action and animation that tells the story of Juani (Marisol Agostina Irigoyen), who aims to explore her sexuality but is ashamed of her body. Trying to find her place in a new high school, she goes through failure, friendship, fear and politics until she builds her own pride. Sex for disabled people is taboo in general society, especially from a disabled woman's perspective. Her journey of exploring sex and learning to love her body was raw and honest in a way that can be appreciated by all.
"The series was delightful and relatable as a fellow wheelchair user born with my disability," said Tatiana Lee. "Being a teenage girl with a disability is such a nuanced experience, and I've never really seen that depicted on the screen… I enjoyed seeing the world around Juani from her perspective, especially the moments where the cinematography showed what it's like to be in the mix of things but still feel like you are on the sidelines as a wheelchair user. I don't think non-wheelchair users would understand that feeling."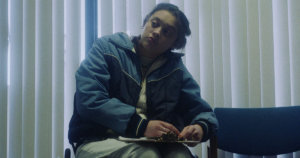 Wiggle Room is a short about a teenage paraplegic (Deanna Gibson) who travels to her nearest insurance office to retrieve the reimbursement for a ramp her mom had installed in their home. Over a year has passed since the erection of the ramp and it is in danger of repossession unless the insurance company finally pays up. Our protagonist embarks on the hero's journey via accessible van in order to slay the leviathan that is bureaucracy.
"Acting with a disability kinda seems normal. Especially with a chair — you know how to do your movements and you know where you want your hands," explained Gibson in an interview with the disability advocacy nonprofit RespectAbility. "It just seems normal and it feels real." From the sadness in her eyes whenever faced with an impasse or the inflection of her voice when exerting her indignation, Gibson gives a performance you will not forget, nor will this be the last time you'll be seeing her.
And there was Forever, another short film, which examines the role of artificial intelligence (AI) in determining the value of a life – including what happens when AI determines one may not live long because of a history of antidepressants and alcohol abuse.
Whether films feature disability or ensure casual inclusion of disability, they can make a difference for the lives of people with disabilities. Inaccurate representation has real-life consequences – in education, employment, healthcare and more. In fact, researchers at Harvard Medical School and Massachusetts General Hospital recently found that negative perceptions of patients with disabilities are widespread among physicians – to a degree they say is 'disturbing' – leading to lesser standards of care for disabled individuals during the COVID-19 pandemic and beyond. Therefore, filmmakers who intentionally include disability in an authentic way should be commended.
Ensuring an Accessible Festival
Presented in a virtual format, all films during the 2021 Sundance Film Festival included closed captioning or subtitles, which allowed viewers who are deaf or Hard of Hearing to view films. While this is very important, the next frontier needs to be audio description (AD) for blind and low-vision viewers. Just two feature films included AD and the premieres were met with technical difficulties. However, the team was quick to fix that for viewers.
"The AD track was beautifully done and did a wonderful job of describing the sprawling landscapes portrayed in the film," Alex Howard, a film lover with low vision, said of "Land," the directorial debut by Robin Wright. "The AD track was especially important for this film since there was little dialogue and lots of beautiful visuals and important character action."
As film festivals around the world find their virtual rhythms, it is important to pay attention to these additional accessibility features to ensure films are accessible to all viewers.