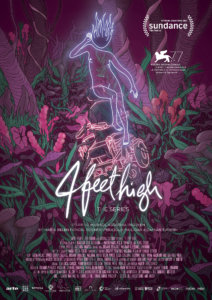 Los Angeles, CA, Feb. 4 – As the 2021 Sundance Film Festival closes its first virtual festival, I was excited to see a lot disability-themed content this year. One of my favorites was 4 Feet High, six short episodes from Sundance's Indie Series program and four VR episodes from the New Frontier program. The series features Juani, a 17-year-old young woman who is a wheelchair user, played by Marisol Agostina Irigoyen, a real wheelchair user.
This project was an Argentinian–French co-production by ARTE, Red Corner, and Detona Cultura. The series is a beautiful mix of live-action and animation that tells the story of Juani, who aims to explore her sexuality but is ashamed of her body. Trying to find her place in a new high school, she goes through failure, friendship, fear, and politics until she builds her own pride.
The series was delightful and relatable as a fellow wheelchair user born with my disability. Being a teenage girl with a disability is such a nuanced experience, and I've never really seen that depicted on the screen. The actors all spoke in Spanish, and the film had English subtitles. I often use my captions to understand what is being said better, so this was perfect.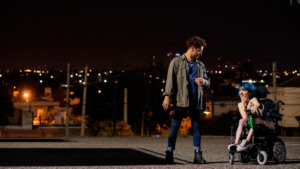 Irigoyen was everything as Juani. She was cool, fun, and had the best quick-witted comebacks when someone messed with her. I loved this because I frequently have similar reactions, but hers were the best-come backs ever. I laughed so hard at times. I enjoyed seeing the world around Juani from her perspective, especially the moments where the cinematography showed what it's like to be in the mix of things but still feel like you are on the sidelines as a wheelchair user. I don't think non-wheelchair users would understand that feeling.
My favorite part was seeing Juani explore sex. Sex for disabled people is taboo in general society, especially from a disabled woman's perspective. Her journey of exploring sex and learning to love her body was raw and honest in a way I appreciated so much. I also loved the animation, which did a great job of amplifying how she felt in particular moments.
Rosario Perazolo Masjoan, a disability activist and wheelchair user, was behind the camera as the writer and co-director. Her involvement clearly played a part in why this series is so flawless with its nuanced disabled female representation. 4 Feet High is an excellent example of how unique and perfect a project can be when you have authentic disability representation both in front of the camera and behind.
I can't say enough about how much I enjoyed 4 Feet High, and I hope nothing but great things happen for this project. It for sure needs to be seen by the masses, and I know that all women with disabilities will feel seen and fall in love with Juani as I did.