Characters with Disabilities More Likely to Be Rescued or Die, But Those in the Workforce Portrayed Positively in Family Films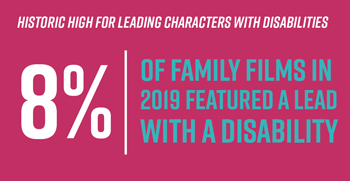 Los Angeles, California, May 4 – When it comes to showing people with disabilities on TV, they are almost never seen, and when they are, it is in a negative light, limiting opportunities for people with disabilities everywhere. However, a new study found the family film industry brings a continued historic high for leading characters with disabilities. In fact, eight percent of family films in both 2018 and 2019 featured a lead with a disability. This is jump up from just one percent from most of the last decade and shows that the increased representation is being sustained from one year to the next. While this number is still not representative of people with a disability in the U.S. – as one-in-five people in the U.S. live with a disability today, it is a step in the right direction.
"Media is one of the most immediate and impactful ways to influence our views on societal norms and has the power to eradicate intersectional gender inequality in our global cultures," said Madeline Di Nonno, CEO of the Geena Davis Institute on Gender in Media. "If our audiences can see themselves positively portrayed onscreen, it can reinforce the message that they matter. And also, it can influence their long-term views throughout their lives."
The study, See Jane 2020 Film, was conducted by the Geena Davis Institute on Gender in Media and USC Viterbi School of Engineering. It evaluated the 100 top-grossing live action and animated family films (rated G, PG or PG-13) of 2019. These films included a total of 2,991 characters, including 122 leading/co-leading characters, 1,032 supporting characters and 1,837 minor characters.
Family Films Portray Employees with Disabilities in the Workforce Positively
The study found that characters with disabilities in family films are depicted positively in the workplace. Characters with disabilities are twice as likely to be shown in management positions than other characters (20.0% compared with 10.7%). In addition, these characters are more likely to be represented as hardworking, in STEM occupations and as leaders than other characters.

This positive portrayal is vitally important. Out of the more than 20 million working age (18-64) people with disabilities in the U.S., only 7.6 million had jobs pre COVID-19. There remains a serious gap in the Labor Force Participation Rate (LFPR) between people with and without disabilities. In 2018, 37.6 percent of U.S. civilians with disabilities ages 18-64 living in the community had a job, compared to 77.2 percent for people without disabilities. That means there is a stunning 40-point gap in employment outcomes between people with and without disabilities. Even as other minority groups are entering the workforce in larger and larger numbers, people with disabilities are being left behind – while more than 70 percent of those with disabilities would prefer to be working. By positively portraying people with disabilities in the workforce, the family film industry can make a difference in changing these statistics. After all, what people see on their screens influence how they feel – and act – toward people with disabilities.
Family Films Reinforce Negative Stereotypes, Increasing Stigmas
However, far too many of these characters reinforced negative stereotypes, including making the disability the most prominent aspect of the character. Often times the storyline revolves exclusively around the character's relationship to their disability, with no other personality traits.
According to the Ford Foundation's Changing the Face of Disability in Media, most negative portrayals of people with disabilities fall into one of four stereotypes: the Super Crip, the Villain, the Victim or the Innocent Fool.
The See Jane report fund that many of the characters analyzed in family films fall into these first two negative stereotypes, identifying that:
One-in-five (22.9%) characters with disabilities in popular family films fit the "Super Crip" stereotype – the idea that a person with a disability needs to "overcome" their disability.
Nearly one-in-ten (8.6%) characters with disabilities are portrayed using the "Bitter Crip" stereotype – the idea that a character becomes a villain due to being overcome by their "suffering."
"These storylines often reinforce the superiority of people without disabilities (and thus, the importance of "overcoming" a disability), glorify those with disabilities for being able to live a normal or successful life, and support the notion that overcoming is a matter of personal character rather than highlighting institutional or structural barriers that can make it more difficult for those living with disability to have the same resources and opportunities," the report reads.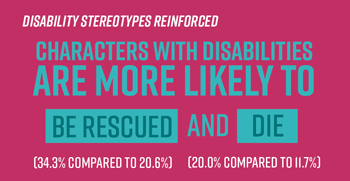 Characters with disabilities are more likely to be rescued in family films than other characters (34.3% compared with 20.6%). In addition, characters with disabilities are nearly twice as likely to die in family films as other characters (20.0% compared with 11.7%). While this is still a bad statistic, in 2018, 33.3% of characters with a disability died in comparison to 12.8% of other characters. It is important to note this decrease, but more progress needs to be made.
Positive Outlook for the Future
While the family films data shows a positive upswing, a study conducted by the Geena Davis Institute the previous year found that television content is lagging, as fewer than 1 percent of leading characters in children's television have a physical, mental or communication disability.
However, this new report is part of an upward trend for increased representation of people with disabilities on screen. In November 2019, GLAAD found that the number of series regular, primetime-scripted broadcast television characters with a disability reached a 10-year record high for the 2019-2020 season, rising a full percentage point to 3.1 percent. While this is a record high, the report cautions the data "still falls far short of reflecting reality," similar to the data found in the See Jane report.
Prior to the COVID-19 quarantine, tweens spent an average of six hours per day watching entertainment media on screens, while teens spent an average of nine hours per day. Now, it is estimated that tweens – and children – are spending upwards of eight hours a day watching content on screens.
"Including a character with a disability must be an intentional effort," said Lauren Appelbaum, who leads RespectAbility's Hollywood Inclusion efforts as the organization's Vice President of Communications and author of The Hollywood Disability Inclusion Toolkit. "What we see, or don't see, on screen influences how we act in real life – making it all the more important to promote content that accurately portrays children with disabilities. The entertainment industry has an opportunity to help remove the stigmas that currently exist about interacting with individuals with disabilities. Seeing these characters in family films, especially when they are portrayed as multi-dimensional beings and their disability is not the sole focus in the story, goes a long way in educating viewers."
Content showing disability accurately not only is important to children with disabilities who want to see themselves reflected on screen but also for other children to learn to be accepting of people different than themselves.
Furthermore, disability-inclusive content can inspire parents of children with disabilities to take full advantage of the success that early interventions can bring their children. Recent breakthroughs in neuroscience have proven that children's' brains are "neuroplastic," especially in the first six years of life. This means that with good early intervention, children's brains can literally be rewired to become more successful. For example, Finding Dory presents a realistic portrayal of what it is like to parent a child with disabilities. The first scene of the film shows Dory's parents teaching her how to play with the other children in the aquarium through role-play. Throughout the film, the scaffolding that they built for Dory as a child pays off, leading to her finding them again. Such modeling in future television shows and film can be transformative for children and parents alike, inspiring parents, teachers and other caregivers to help their children build skills, resiliency and success.
"With the market size of the extended disability community being 63%, opening the inclusion umbrella is not only the right thing to do," added Tatiana Lee, RespectAbility's Hollywood Inclusion Associate. "It also is economically smart, as the disability market is valued at more than $1 trillion, according to Nielsen."
To learn more about this study and other related research, join the Geena Davis Institute on Gender in Media's CEO Madeline Di Nonno in conversation with RespectAbility on Tuesday, May 5 at 1:30 p.m. ET / 10:30 a.m. PT.