Gomez to Receive Christopher Reeve Acting Scholarship at Media Access Awards on November 19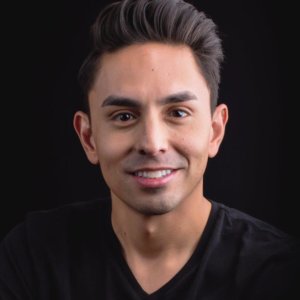 Los Angeles, California, Nov. 18 – Danny J. Gomez, an actor, model and advocate for authentic casting in Hollywood, will be awarded the Christopher Reeve Acting Scholarship at the 2020 Media Access Awards. In partnership with Easterseals Southern California, the Media Access Awards is an annual ceremony that honors media and entertainment trailblazers advancing disability awareness and inclusion. Previous recipients of the Christopher Reeve Scholarship include Lauren "Lolo" Spencer and RespectAbility's Hollywood Inclusion Associate Tatiana Lee.
Gomez receiving this scholarship will be a full circle moment, as he credits the Easterseals Disability Film Challenge for helping to kick-start his acting career, starring in Check Mate in 2018 and in I/O in 2019.
Gomez's most high-profile role so far was a guest appearance on NBC's medical drama New Amsterdam. New Amsterdam is a show that previously had a lot of success with inclusive, authentic casting, featuring actors like Eileen Grubba and Lauren Ridloff. On New Amsterdam, Gomez played a pilot who, like the actor, is paralyzed.
In October, Gomez articulated the importance of casting disabled people in disabled roles. The nuances of acquiring a disability are "things that I think a non-disabled person, as great as an actor as you can be, and as much research as you've done, you can't really tap into that," he said during a RespectAbility panel discussion, Ensuring Authentic Representation of Hispanic and Latinx Disabled People in the Entertainment Industry.
When asked what drives his advocacy, Gomez discussed the lack of representation in the industry. "When I became an actor, after I became disabled, I noticed that there was no regular people roles," he said. "Everything was the depressed veteran or the suicidal guy who's done with his life."
Casting actors with disabilities in roles that focus on what they cannot do reinforces negative stigmas, and Gomez recognizes the importance of authentic representations of people with disabilities in the media. These portrayals not only directly impact actors with disabilities, but the disability community as a whole.
This year's Media Access Awards, in light of the current pandemic, will stream live on Thursday, November 19 at 6pm PT / 9pm ET. This year's ceremony will be audio described to ensure people who are blind and have low vision can fully participate. Woman of Her Word sponsored this aspect of the production, and Michele Spitz produced and voiced the audio described version of the program and accompanying media clips.
This year, Easterseals also will collaborate with promotional partner Film Independent to make the Media Access Awards available to the public. Additionally, Film Independent will host a virtual showcase in the days following to highlight the work of this year's honorees and those promoting representation of the disabled community.