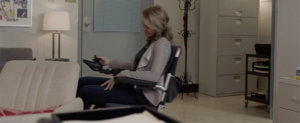 Los Angeles, California, Nov. 5 – In tonight's episode of NBC's New Amsterdam, one of the doctors will discover a long-kept secret regarding a patient. This patient, Elizabeth Archer, is played by actress Eileen Grubba, who has a disability and advocates for the inclusion of performers with disabilities in film and television.
New Amsterdam is known for casting authentically, like the show has done in previous episodes with Lauren Ridloff and others.
"Performers with visible, or perceptible, disabilities have been kept out for so many years, but we are finally seeing the doors open to authentic casting," Grubba said. "The depth of emotion and passion that comes with a real disability experience is unmatchable. It moves people. It also helps audience understand and accept ALL differences, including their own. That is true diversity and it only elevates humanity. It is a win for all."
In its first season, New Amsterdam has overwhelmingly been an example of best practices, from major story arcs about drug addiction and cancer to including people with disabilities as typical characters and authentic casting and storylines. Last week's episode featured a young pregnant woman with Down syndrome wanting an abortion.
"Inclusion of disability-related storylines must be an intentional effort," said Lauren Appelbaum, who leads RespectAbility's Hollywood Inclusion efforts as the organization's Vice President of Communications and author of The Hollywood Disability Inclusion Toolkit. "What we see on screen influences how we act in real life. The entertainment industry has an opportunity to help remove the stigmas that currently exist about interacting with individuals with disabilities. Seeing these scenarios on primetime TV goes a long way in educating viewers."
"To have the opportunity to play a character who has almost ALL of my real medical challenges was a dream come true," Grubba added. "I felt the opportunity to help a massive network TV audience feel and understand what we go through on a daily basis."
New Amsterdam Good Soldiers (S2, Ep7) airs on Tuesday, Nov. 5 at 10:01 p.m. ET on NBC. This episode was written by Shaun Cassidy and directed by Rachel Leiterman.