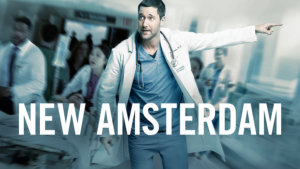 Los Angeles, California, July 18 – Looking for a show to catch up on this summer? Season One of NBC's New Amsterdam may have ended, but for people with disabilities, it's a show that may have stayed too far under the radar in terms of disability representation. From major story arcs about drug addiction and cancer to including people with disabilities as typical characters and authentic casting and storylines, New Amsterdam has overwhelmingly been an example of best practices.
Authentic Casting
In "Anima Sola" (January 22, 2019), Maren Thompson (Marilee Talkington) is a patient who became blind after spending 9 months in the ICU after giving birth to her daughter years earlier. Thompson is treated, leading to her seeing again. Talkington herself is legally blind and she is one of only a handful of legally blind actors in the country to earn an M.F.A in Acting, although 99 percent of the roles she has played have been fully sighted characters.
Blindness is severe vision impairment, not correctable by standard glasses, contact lenses, medicine or surgery. It interferes with a person's ability to perform everyday activities. A person is legally blind when corrected vision in the best eye is 20/200 or less. Many people with vision loss are not considered blind but instead are considered to have low vision or limited vision. According to the CDC, more than 1 million Americans are blind and more than 12 million are visually impaired.
In "Happy Place" (April 23, 2019), Margot (Lauren Ridloff) is a black, deaf LGBT patient who recently received a cochlear implant and is in a relationship with Tori, a woman that lives in a hearing world. Ridloff called the storyline "unique" in an interview with RespectAbility. She said it is "so surprising to see this play out on a television hospital drama." Ultimately, Margot "regains" hear deafness after deciding to have the cochlear implant removed.
"I was concerned about playing a person with a CI because I do not have CIs myself," Ridloff said. "I reached out to three friends who are "D"eaf and have CIs to make sure that they felt that this portrayal was fair. One wished I wouldn't take this role. One thought I was a great choice. And the other friend who is a fellow actor also understood the stakes of playing someone outside of my realm."
"There are so many people who are perfectly happy with their Cis," she added. "There are also many people who identify themselves as capital "Deaf" (meaning culturally and proudly deaf) and have gone under the knife for a CI, either out of sheer curiosity or for enhancement of what they already have. And they've stopped using their CIs because it did not meet their expectations. This episode just adds another layer to the whole Deaf narrative."
In addition, this storyline in New Amsterdam showcases diverse racial, gender and sexual orientations with disabilities on television, something that is often not done.
"It is so important to showcase people with disabilities with intersectional identities because that allows viewers to see beyond disability," Ridloff said. "People with disabilities are multilayered—we are complex breathing human beings defined by more than just what we lack."
Including People with Disabilities as Typical Characters
In "Cavitation" (October 23, 2018), two young boys come in with gunshot wounds, one being treated by a doctor played by Matthew Jeffers, who is a Little Person. Jeffers, who appears in two episodes during season one, was diagnosed at the age of one with what his doctors dubbed "Matthew's Dwarfism" and stands at a little more than four feet tall. What is important is that no attention or mention is ever made about his short stature.
"I play a doctor. I don't know any short-statured doctors in real life, much less on TV," he said in his interview with Baltimore Jewish Living. "Even my role model, Peter Dinklage [of the TV show 'Game of Thrones'], at the end of the day, he plays a dwarf."
A little person is one of the more than 200 medical conditions known as dwarfism. Dwarfism is a medical or genetic condition that usually results in an adult height of 4'10" or shorter, although in some cases a person with a form of dwarfism may be slightly taller than that. The condition that causes dwarfism may also cause other symptoms. The average height of an adult with dwarfism is 4'0, but typical heights range from 2'8" to 4'8".
Because dwarfism can be caused by so many different genetic or medical conditions, it is difficult to get an accurate number of individuals affected. However, according to Understanding Dwarfism, it has been estimated that 30,000 people in the United States are affected.
Spotlight on Invisible Disabilities
In a multi-story arc, Dr. Lauren Bloom (Janet Montgomery), who has ADHD, began abusing Adderall. In "Boundaries" (October 16, 2018), one of the residents accidentally takes her Adderall, which was hidden in an ibuprofen bottle. Later, in "As Long As It Takes" (November 27, 2018, she is confronted about her exhaustion and the errors she has been making in the ER. When her colleague Dr. Sharpe tries to confront her about her admission of being overworked in "A Seat at the Table" (January 15, 2019) and "Anima Sola," Dr. Bloom does not take it well. However, she later goes on leave and to rehab, where she struggles, sidestepping requests to help a patient that has overdosed and steals medication in "King of Swords" (March 12, 2019).
Attention Deficit Hyperactivity Disorder (ADHD) is a brain disorder that is characterized by an individual's consistent inattention, hyperactivity and impulsivity. While everyone experiences these symptoms at one point or another, what classifies these behaviors under ADHD is when it begins to affect normal day-to-day functioning and/or development. ADHD is typically diagnosed in children. According to the Centers for Disease Control and Prevention (CDC), more than 6.4 million children have been diagnosed with ADHD in the United States – 11 percent of children ages four to 17. ADHD is not a learning disability. However, ADHD can interfere with learning. According to understood.org, experts estimate that one-third to one-half of individuals with a learning disability also have ADHD.
Using Television to Promote Inclusion
Also in "Anima Sola" (January 22, 2019), a veteran surgeon at New Amsterdam who is no longer capable of performing surgery is asked to stay on in a consulting role aiding satellite clinics via video consultations. This is important as when people acquire disabilities due to an accident, illness or aging, hospitals and other organizations can "re-home" staff in other roles. Both the employer and employee win. The hospital gains by not losing years of institutional knowledge and experience. The employee, while no longer works in the same function, is given the opportunity to still be a productive member of the team in a way that is best suited for them.
New Amsterdam has become an example of best practices through the hiring of actors with disabilities, working with consultants to ensure accurate storylines and including conversations about controversial topics within the disability community. New Amsterdam has been renewed for Season Two and Season One can be viewed online now.