This week's Shabbat Smile was written by Allison Kleinman, Founding Director of The Jack and Shirley Silver Center for Special Needs + Adaptations at the Marlene Meyerson JCC Manhattan.
As another program year comes to an end at The Jack and Shirley Silver Center for Special Needs (CSN) at the Marlene Meyerson JCC Manhattan, we are incredibly proud of the transformative work of our team of staff, as well as the achievements of our participants and families. Through our programs and events this past year, we have enriched the lives of over 1,200 individuals and their families, connecting them to friends, employment, and community.
Part One of The Center for Special Needs' mission is to build and nurture an inclusive and accepting community where individuals with varying disabilities and their families have opportunities to make meaningful connections to each other and their community. Our goal is to ensure that individuals with disabilities can participate in our community alongside everyone else. One of our teen programs that exemplifies this mission is Ha Dereckh ("the path" in Hebrew), which provides prevocational internships for 14- to 20-year-olds with developmental disabilities. We match teen participants with mentors—neurotypical teens from our community—and place them in departments throughout the JCC. Through this program we have seen not only the social and vocational skills gained by teens with disabilities, but also the lasting impact it has on the teen mentors.
Mollie, a 17-year-old mentor, has had the incredible opportunity to work alongside Sydney in the JCC's Afterschool Clubhouse this past year:
I am so grateful to have had this program, [as] it has opened my eyes to a whole new community. Sydney has shown me how important it is to be open-minded when we encounter obstacles in our work. Ha Dereckh has given me a trusted peer and a true friend.  
Through these inclusive opportunities, the CSN works toward Part Two of its mission: to serve as a catalyst and leader, transforming the ways in which the community at large understands and interacts with people with different abilities.
One of the best ways we achieve that goal is through the Adaptations Job Program, comprised of our Community Work Experience (CWE) and the Shabbat Shop. With much gratitude to the UJA Federation of NY, we launched the Community Work Experience program, a four-day-a-week, six-month internship opportunity that allows participants to gain meaningful work experience in various departments, including hospitality, real estate, mailroom, print shop, library, and more each year. The goal of the internship is to prepare participants for employment and train supervisors and other employees how to best work with and supervise adults with developmental disabilities.  After the third successful year of this program, the Adaptations Job program expanded to offer it at Mount Sinai Human Resources.
The Shabbat Shop, a social enterprise run by the young adults from our Adaptations Program, is open in the lobby of the Marlene Meyerson JCC Manhattan all day on Thursdays and Fridays. All proceeds from the shop help to support the CSN.  Next time you're in New York City, stop by to view the full line of products for all ages and occasions!
It should be no surprise that these programs are equally beneficial for all parties involved!
If you are interested in learning more about how to bring these models to your community or in hiring one of our trained participants, please contact me at [email protected] or Alex LoPinto at [email protected] about the HaDereckh Program.
---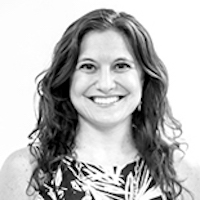 Allison Kleinman is the founding director of The Jack and Shirley Silver Center for Special Needs + Adaptations at the Marlene Meyerson JCC Manhattan. In her creation and spearheading of this department, Allison's focus has been on developing individualized paths for all people to connect to community and achieve their potential for independence. Allison earned a master's degree in clinical social work from Fordham University, where she focused on individual and group work with adults with autism and other developmental disabilities experiencing challenges with transitions and mental health issues.
In our Jewish Disability Perspectives newsletter, RespectAbility welcomes a wide spectrum of voices. The views expressed in each Jewish Disability Perspectives contribution are those of the guest contributor.