RespectAbility Entertainment Professionals Lab, Summer 2020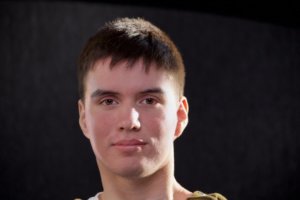 Roque Gregorio Renteria was born in Los Angeles, California. Growing up he was glued to the television screen and quickly developed a love for storytelling. Since both his parents are originally from Mexico, he was able to enjoy stories in both English and Spanish, which helped him appreciate foreign films early on.
At the age of 14, he had a spinal cord injury, which left him partially paralyzed, but on the bright side he got a brand-new wheelchair. Seeing the world from a new perspective (his eyes are now at waist level) Renteria started to write jokes about his predicament. This led him to pursue a career in stand-up comedy. He has been featured on Comedy Central, Jeff Ross Presents Roast Battle II, and Amazon Prime. And, if he can find a pit crew to accompany him, he travels and performs comedy both locally and internationally.
Renteria graduated from California State University, Long Beach where he majored in English. During that time, he was involved with student activism involving better accessibility and guest lectured on the subject of representation of disability in mass media. He later graduated from UCLA's School of Theater, Film and Television with an MFA in Screenwriting. He has used his training as a screenwriter to write for Comedy Central, SoulPancake, and co-wrote short films for the Easterseals Disability Film Challenge. Renteria enjoys telling jokes and deconstructing institutions on stage. When he's not performing across the country, you can find him pushing around the streets of Los Angeles. And when he is not pushing, he is locked in his room trying to write his next page. He believes that laughter is great medicine, but you should consult with your doctor to see if his comedy is right for you.
LEARN MORE
After an extensive search and interview process, 30 individuals were invited to participate in RespectAbility's Summer 2020 Lab for Entertainment Professionals. This 5-week, 15-session virtual summer Lab series for people interested in – and with experience in – development, production and post-production, including careers as writers, directors, producers, cinematographers, animators and other production roles, will take place June 16 – July 16, 2020. Participants include diverse people with physical, cognitive, sensory, mental health and other disabilities. Learn more: www.respectability.org/respectability-la-lab.
This program, which continues building the talent pipeline of young professionals with disabilities looking to work behind the scenes, is made possible with support by:
Platinum Sponsors: Murray/Reese Foundation and The Walt Disney Company
Gold Sponsors: Cast & Crew, Comcast NBCUniversal and Final Draft
Silver Sponsors: Fox Corporation and Sony Pictures Entertainment