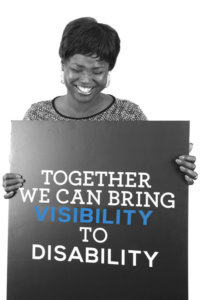 Washington, D.C., Dec. 3 – From Capitol Hill to Hollywood to Canada, the entertainment industry is joining celebrations of the International Day of Persons with Disabilities. Individuals and organizations have been working with the entertainment industry to help them realize their potential in helping to influence how the public views people with disabilities. As the industry explores ways to ensure that the 20 percent of North Americans with disabilities are not excluded – and when included, done so in an authentic way – a new coalition is calling for more accurate representation of people with disabilities on North American TV.
Since the public rarely sees people with a disability featured in popular media, a group of disability-focused organizations from Canada and the United States have formed a coalition calling on the media to be more inclusive of people with disabilities. Launching on International Day of Persons with Disabilities, the campaign, called Visibility for Disability, aims to change how people see disability by changing what they see in popular media.
Currently, just 3.1% of scripted broadcast series regular characters on North American television have disabilities – compared to more than 20% of the population – and of these characters, 95% are played by non-disabled actors.
"Audiences are asking to see more diversity in our media. Despite being the largest minority group in the world, people with disabilities have been largely left out of this important cultural conversation," said Mickey Greiner, Executive Director of the Calgary Society for Person with Disabilities (CSPD), the organization spearheading the campaign.
The Visibility for Disability initiative is asking content creators to pledge their support toward giving people with disabilities more screen-time. So far, 100 content creators from film, television, advertising and marketing have signed the open letter; including celebrities like Eileen Grubba of HBO's Watchmen, CJ Jones of Baby Driver, Danny Woodburn of Seinfeld and Kurt Yaeger of Sons of Anarchy, as well as major brands like Levi's and Shaw Communications.
"When you see yourself represented in the media, you think everything is possible; when everyone else sees your disability represented, they realize you're right," Yaeger said while speaking about the importance of this campaign.
The groups behind the Visibility for Disability movement, including CSPD, Easter Seals Alberta, RespectAbility and the Media Access Awards, hope their efforts will have a larger impact on how people view disability and inclusivity in all aspects of society.
"Changing the way people view disabilities begins with shifting the culture around on-screen representation of this minority group and continues by opening doors to opportunities to ensure inclusivity," said Deborah Calla and Allen Rucker, co-CEOs of the Media Access Awards.
"Inclusion of characters – and actors – with disabilities – must be an intentional effort; it will not happen by accident," added Lauren Appelbaum, who leads RespectAbility's Hollywood Inclusion efforts as the organization's Vice President of Communications and author of The Hollywood Disability Inclusion Toolkit. "What we see on screen influences how we act in real life. The entertainment industry has an opportunity to help remove the stigmas that currently exist around interacting with individuals who have disabilities. Seeing disabled actors on screen goes a long way in helping to remove these stigmas."
The campaign's launch video features a focus group reacting to TV commercials featuring people with disabilities, exposing the misconceptions surrounding disability. The campaign drives to VisibilityForDisability.ca, a site where people can pledge their support by adding their name to the open letter, while finding resources for hiring people with disabilities both in front of and behind the camera.
Star of Emmy Award Winning Reality Show Brings Small Business Message to Capitol Hill
The campaign is launching during the same week that reality television star, small business owner and disability employment advocate Sean McElwee will testify to the U.S. House of Representatives Committee on Small Business about entrepreneurship and jobseekers with disabilities. He will speak about his personal "mission to show the world that people with Down syndrome can have a business and give back."
McElwee rose to national prominence as a co-star on the Emmy Award-winning reality television show Born This Way. Over four seasons, the A&E show, created by industry legends Bunim/Murray Productions, followed the lives of seven diverse young adults with Down syndrome as they sought to build independent lives, launch their careers and forming lasting friendships. McElwee was able to use the fame he gained from Born This Way to help launch his business, which brings employment full circle – from on screen to real life.
As people around the world celebrate International Day of Persons with Disabilities, the focus remains high on the impact of the entertainment industry's role in reducing stigmas concerning interacting with people with disabilities. From influencing public perception by what is consumed on screen to hiring individuals with disabilities – both as actors and in roles behind the camera – writers, producers, directors, as well as in HR, finance and catering – the entertainment industry is uniquely positioned to make a real difference this International Day of Persons with Disabilities and all days.