Washington, D.C., Dec. 3 – On Wednesday, reality television star, small business owner and disability employment advocate Sean McElwee will deliver a powerful message about entrepreneurship and jobseekers with disabilities. In remarks to be delivered to the U.S. House of Representatives Committee on Small Business, McElwee will speak about his personal "mission to show the world that people with Down syndrome can have a business and give back."
At the invitation of Chairwoman Nydia Velazquez, McElwee and his mother Sandra McElwee, will give testimony about the difference he has been able to make in his community since founding his own micro-enterprise two and a half years ago. Seanese is a t-shirt company with more than 130 designs on 12 different styles of shirts intended to deliver a message of disability inclusion, Down syndrome acceptance and humor.
McElwee rose to national prominence as a co-star on the Emmy Award-winning reality television show Born This Way. Over four seasons, the A&E show, created by industry legends Bunim/Murray Productions, followed the lives of seven diverse young adults with Down syndrome as they sought to build independent lives, launch their careers and forming lasting friendships.
Speaking about the broader impact that Seanese is having, Sandra McElwee said, "We measure success differently than most businesses."
"Showing the world that people with Down syndrome can contribute to their community is where we measure [success]," she continued.

Seanese has donated items and money to 37 organizations serving people with Down syndrome in 22 states including national advocacy organizations such as the National Down Syndrome Congress, the National Down Syndrome Society, and RespectAbility.
Per the National Institutes of Health, more than 400,000 people currently live with Down syndrome in the United States today. About 600 babies are born with Down syndrome in the United States every year, according to the National Down Syndrome Society.
"Sean's entrepreneurial spirit delivers a clear message about the value of self-employment for people with disabilities," said Philip Kahn-Pauli, RespectAbility's Policy and Practices Director. "Many people with disabilities find their best option for employment is starting their own business."
According to the Census Bureau, one in 10 employed persons with disabilities are self-employed.
"People with disabilities often have doors to employment slammed in their faces. But they have tremendous skills," added RespectAbility's President Jennifer Laszlo Mizrahi. "Thus, many have gone on to start their own successful companies. For example, Arthur Young, who was largely deaf and later had low vision, started Ernst & Young, which is now known as EY. More than 150,000 people now work for EY. Likewise, super-innovator Richard Branson and most of the "sharks" on Shark Tank have learning disabilities and thrived by starting their own companies. Sean McElwee and others on Born This Way show how people with disabilities can achieve their dreams through enterprise. More should be done to enable people with disabilities to start their own companies as they are truly innovators. By definition, people with disabilities have something they can't do that causes them to find work-arounds and innovate. Thomas Edison, for example, was one of history's greatest inventors and was completely deaf in his left ear, and 80-percent deaf in the other."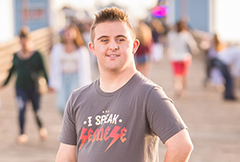 McElwee's speech occurs just one day following the launch of a new coalition aiming to change how people see disability by changing what they see in popular media. The Visibility for Disability initiative is asking content creators to pledge their support toward giving people with disabilities more screen-time. The groups behind the Visibility for Disability movement, including the Calgary Society for Person with Disabilities, Easter Seals Alberta, RespectAbility and the Media Access Awards, hope their efforts will have a larger impact on how people view disability and inclusivity in all aspects of society.
McElwee was able to use the fame he gained from Born This Way to help launch his business, which brings employment full circle – from on screen to real life.