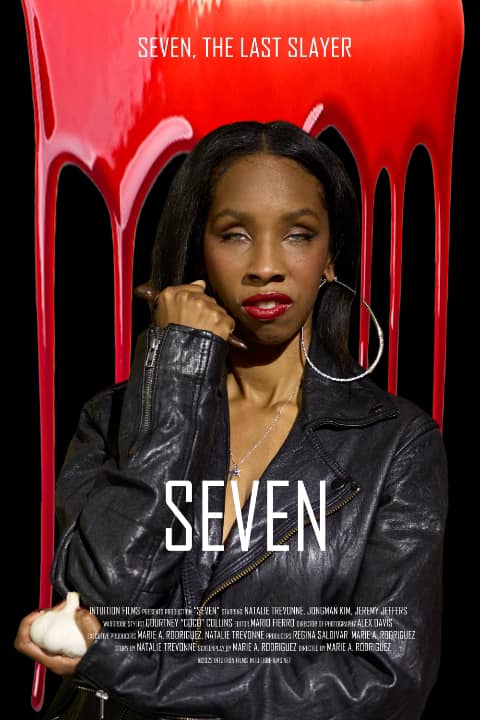 Los Angeles, CA, April 22 – Natalie Trevonne returns to Easterseals Disability Film Challenge, playing Seven, a blind 19-year-old who is removed from her normal life after finding out she's the next slayer and the only one who can save the world. Not fully understanding her true destiny, tensions run high as she trains with her watcher, Mr. Gordon (Jongman Kim).
During training, Seven experiences periods of self doubt. She runs away, finding a blind pianist (Jeremy Jeffers) playing a song her mentor used to play for her when she was scared. "When I am away, be strong for me," she sings the lyrics that she wrote. "Oh, Lord, please be my strength."
This experience gives her the strength to renew her training and take on her destiny.
The film is inspired by Buffy the Vampire Slayer, which plays well into the challenge's theme of unsung or antihero.
"A slayer is one of the greatest unsung heroes of all time because if you're familiar with the series, then you know Buffy saves the world from apocalypse after apocalypse with little to no credit," Trevonne said. "But I kind of feel like my character is more antihero. She doesn't really possess the traditional heroic traits nor is she really feeling it! But either way, we hope we make both the iconic Sarah Michelle Gellar and the disability community proud!"
Trevonne, who is an actress, model, writer, and disability advocate, won the Best Actor award in the 2021 film challenge for her film she co-wrote and starred in Nay Nay Too Bomb. Trevonne also is a 2019 RespectAbility Entertainment Lab alumna.
The Easterseals Disability Film Challenge awareness campaign takes place April 16-25, and audiences are asked to like, share, or comment on the more than 90 films throughout the campaign to spread disability awareness.