Shalom Institute creates an accessible and welcoming community for all backgrounds, abilities and walks-of-life to develop deep relationships and grow physically and emotionally through our overnight camps, year-round retreats, nature education, holiday, and community experiences, all of which are grounded in Jewish values.
We intentionally foster an inclusive community. The two programs for which we are most known for doing this are Camp JCA Shalom overnight camp and Shemesh Farms.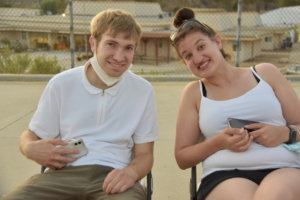 Camp JCA Shalom is proud to have a year-round Inclusion Director and a team of eight inclusion specialists and job coaches who serve more than 50 campers and five staff members with special needs throughout each summer. The Inclusion Director meets (either in person or virtually) almost all of our campers with special needs before they come to camp.
Together, our team has had a profound impact on our entire camp community, not just those who have special needs. That is because a camp that embraces inclusion at the core of its mission brings everyone to the table to share in responsibility for the wellbeing of all in its community. This shared responsibility creates opportunities for shared growth, shared learning, and shared joy.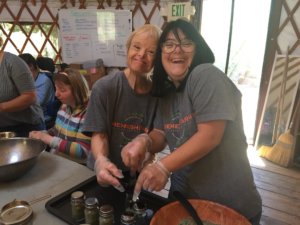 Shemesh Farms inspires its employees (Farm Fellows) who have special needs and diverse abilities to strive towards independence, self-determination and a life filled with purpose, friendship and inclusion. Together with volunteers, Farm Fellows work at Shemesh Farms planting and harvesting, and creating our signature herb infused culinary salts blends which we sell at Shemesh Farm at our online store and at local events.
The 60 Farm Fellows participate in every aspect of the enterprise, including branding and marketing, farming, product development, sales, and packaging and shipping the products sold via our online store. Shemesh Farms is a dynamic environment and a vibrant place where all are treated with dignity and respect.