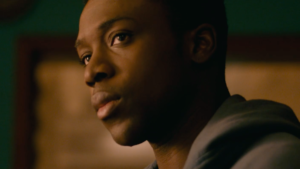 Los Angeles, Feb. 13 – Airing on-demand this coming week during the 2021 Slamdance Festival is Road to Zion, a 15-minute short directed and co-written by 2020 RespectAbility Lab alumnus Andrew Reid.
A young Jamaican man named Jahsen (played by Koby Kumi-Diaka) is deracinated from his native Kingston at an early age and supplanted in Los Angeles where he works at a restaurant as an undocumented janitor. Aspiring for more, Jahsen and his family are constantly ambushed by hardship, limiting their social mobility and perpetuating their respective forms of exploitation.
Jahsen's father and mother, both hardworking immigrants, engage in constant arguments about overdue bills, which bleed into the room of Jahsen's brother Keyone (played by Born This Way's John Tucker) who has Down syndrome and requires medication. Bound by the responsibilities to his family, Jahsen dreams of a better life.
In the beginning, yellow text appears onscreen explaining the meaning Zion holds for Rastafarians. It reads: "Zion stands for a utopian place of unity, peace, and freedom… It's also a Jamaican restaurant in Los Angeles." Through this polysemic juxtaposition, the film acknowledges the tragic irony which pervades the narrative. Our introduction to this filmic world is an establishing shot capturing Zion, the restaurant. Inside, we see Jamaican artifacts along with delicious Jamaican food being prepared as dancehall music blasts from a sound system— within seconds we are bombarded with signs and signifiers.
Examining the hardships of working-class transnational identities, Road to Zion can be interpreted as a spiritual successor to Franco Rosso's 1980 cult classic (aptly titled) Babylon. While both films explore the lives of Jamaican youth residing in colonial metropoles, what separates Road to Zion from Babylon is its inclusion of disability and sickness and how scarcity and poverty exacerbate pre-existing ailments.
Jahsen's father and younger brother are both disabled: Jahsen's father has a broken arm resulting from a work accident, and his brother has Down syndrome. These conditions capture disabilities in two different forms, temporary and permanent. Although both disabilities vary in how they are exhibited, they are nonetheless shown as immediate issues that need to be addressed, but cannot be tended to when there isn't enough money to go around.
John Tucker, who you may have seen in Born This Way, gives a great performance as Keyone. Tucker brings authenticity, which is normally unseen in media. RespectAbility champions authentic casting because it is vital that people with disabilities from all backgrounds are empowered to bring their own experiences to the screen.
What is most salient about Road to Zion is how it reminds us that, while cultural enclaves in a strange land will sometimes create economic and communal networks for immigrants, at the end of the day, the coldness of capitalism will atomize those relationships, forcing individuals to take care of themselves first.
One scene that exemplifies this involves Jahsen serving Zion's Jamaican matriarch as she judges both his serving skills and his identity. Jahsen explains that he's Jamaican-American, acknowledging his transnational identity. The matriarch claims that, "those are the worst type of Jamaicans." She elaborates, "neither here nor there," crudely paraphrasing Facundo Cabral. This theme of landlessness is reaffirmed in the following scene when we find out Jahsen does not have a green card and is working in the United States illegally.
Finally, Jahsen's abject financial precariousness lends him to consider a life of crime when his job and support system cannot provide. In Road to Zion's final shot, the audience is left to ponder why the invisible, vulnerable segments of society can be drawn to crime: When standing out is a liability, the shadows can be the only place that can guarantee survival.