Join RespectAbility on Sundance's Digital Main Street for Conversations on Accessible Filmmaking, Audio Description, Producing Deaf Content, and the Importance of Mentorships
Additional panelists added Friday, January 22, 2021
Los Angeles, Jan. 14, 2021 – The disability advocacy organization RespectAbility announces The Accessibility and Inclusion Lab – a virtual lineup of Sundance Film Festival events taking place on a digital Main Street.
As an official organization of the Sundance Institute's Allied Organization Initiative since 2018, RespectAbility works with the Institute year-round to ensure disability and accessibility awareness, equity and inclusion. Led by diverse people with disabilities, RespectAbility's Hollywood Team partners with studios and writers' rooms to create equitable and accessible opportunities to increase the number of people with lived disability experience throughout the overall story-telling process. These initiatives increase diverse and authentic representation of disabled people on screen, leading to systemic change in how people view and value people with disabilities.
RespectAbility will be hosting five conversations on various disability-related subjects throughout the festival, two of which are in collaboration with Film Independent, a nonprofit arts organization that champions the independent filmmaker, helps filmmakers make their movies, build an audience for their projects and work to diversify the film industry.
"Our goal is to increase the representation of people with disabilities both in front of and behind the camera in all aspects of the entertainment industry," said RespectAbility's Vice President Lauren Appelbaum, who leads the nonprofit's work in the entertainment industry. "We know that most filmmakers do not intentionally exclude people with disabilities – whether we are talking about directors, producers, actors or audience members. Our conversations, therefore, aim to create a bridge, showcasing how easy it can be to welcome disabled writers and crew – which then leads to more inclusive storylines."
According to Nielsen, the disability market influences more than a trillion dollars in disposable income — making disability inclusion not only the right thing to do but the economically smart thing to do as well. However, with one-in-five people having a disability in the U.S. today, the lack of representation – just 2.3 percent of characters in the 100 top-grossing films of 2019 and 8 percent in family films – means that millions of people are unable to see themselves reflected in media.
Therefore, the aim of RespectAbility's Sundance conversations is to give filmmakers the tools they need to be more inclusive and accessible – both for disabled crew members and for audiences watching the films. Panelists include a wide variety of disabled filmmakers and allies including Troy Kotsur, who is starring in CODA, which will be premiering at Sundance on Jan. 28, Cheryl Bedford (Women of Color Unite), Ashley Eakin (Single), CJ Jones (Avatar 2, This Close, Baby Driver), Thuc Nguyen (Bitch Pack), Andrew Reid (Asia A, Road to Zion), Michele Spitz (Woman of Her Word), Joey Travolta (Inclusion Films) and more.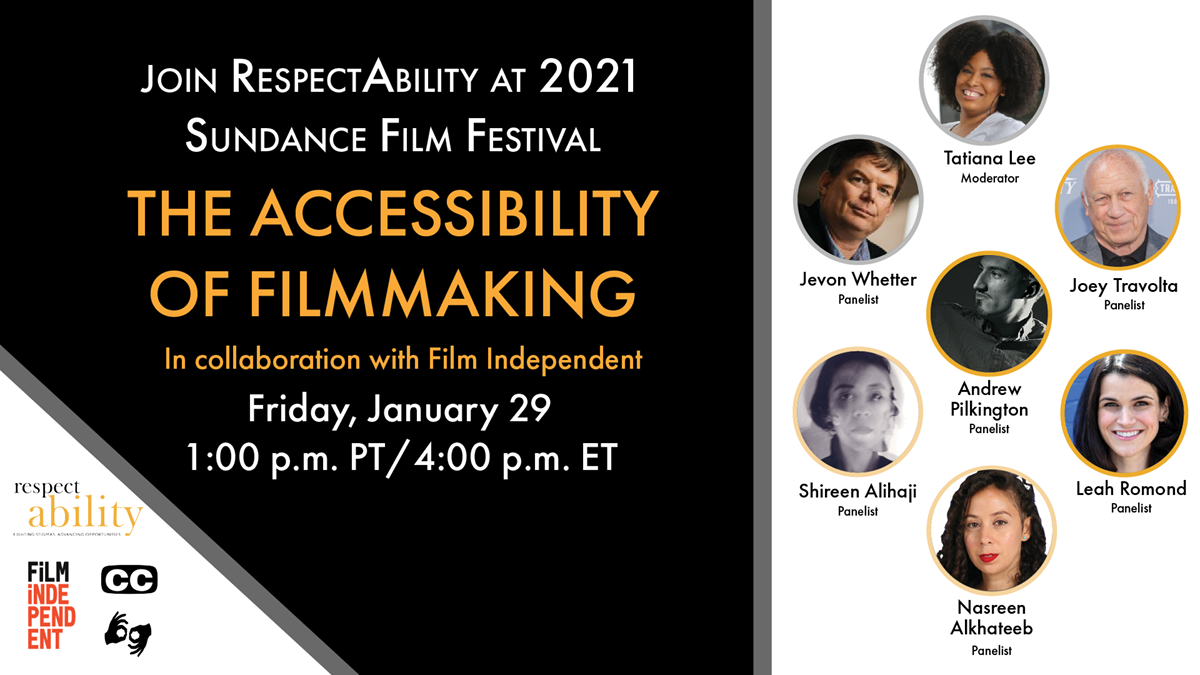 In collaboration with Film Independent, The Accessibility of Filmmaking (Jan. 29, 1:00 p.m. PT) will inform and ensure that not only films are accessible, but that accessibility is kept in mind throughout the entire process. Having people with disabilities behind and in front of the camera makes for better and more inclusive stories, even if the project is not disability related. Introduced by Film Independent's Josh Welsh and moderated by RespectAbility's Tatiana Lee, this panel will cover accessibility touch points throughout the entire filmmaking process, from hiring and casting disabled talent, making film sets accessible, and ensuring that the film itself is accessible. Attendees will hear first-hand from other filmmakers on the festival circuit on how they were able to implement best practices. Panelists include Shireen Alihaji (Blue Veil Films), Nasreen Alkhateeb (All Media Storytelling), Andrew Pilkington (Best Summer Ever), Leah Romond (Best Summer Ever), Joey Travolta (Inclusion Films) and Jevon Whetter (Flash Before the Bang).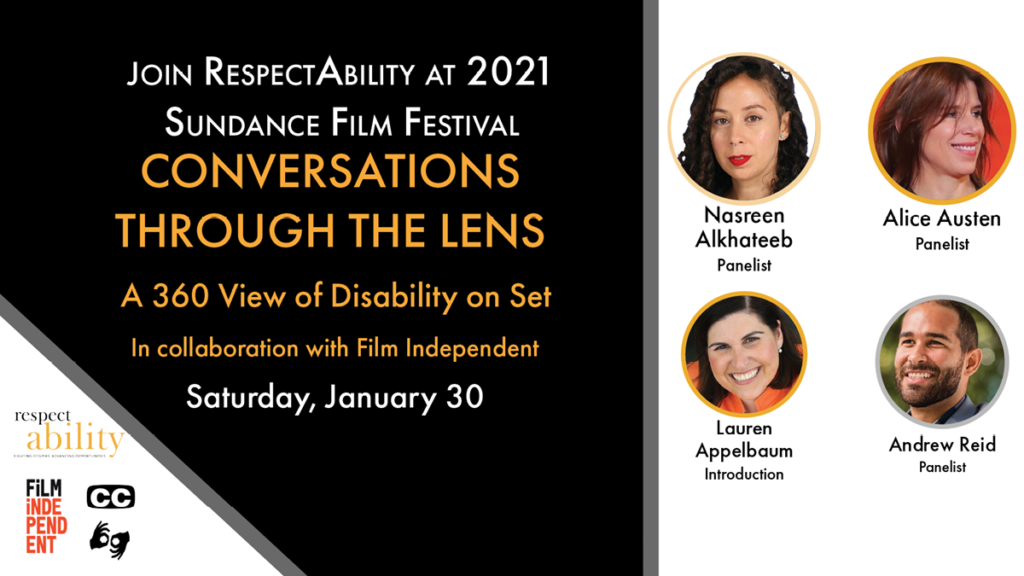 Having proper disability representation behind the camera is vital to ensure equity in Hollywood. As such, Conversations Through the Lens: A 360 View of Disability on Set (Jan. 30, 4:30 p.m. PT), also in collaboration with Film Independent, will offer ample opportunity for directors and producers to learn and ask questions moderated by David Radcliff. Award-winning directors Nasreen Alkhateeb and Andrew Reid, who both acquired disabilities as young adults, and director Shaina Ghuraya who has two films at Slamdance 2021, all have first-hand experience in navigating on-set life with a disability and will share their experiences on and off set. Learn from Alice Austen (Producer, Give Me Liberty) and Hikari (Writer/Producer/Director, 37 Seconds) about what it takes to run a set that welcomes and ensures universal design for crew members and actors with disabilities. This panel will provide a 360 view into what is like to be a filmmaker with a disability and what it takes to improve the Hollywood environment and culture to make everything more accessible.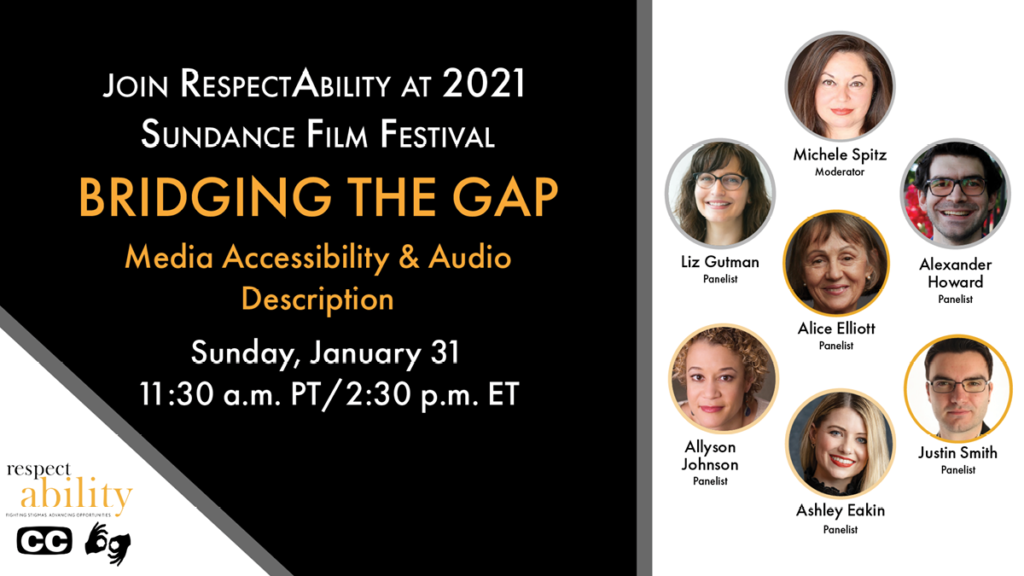 On Sunday (Jan. 31, 11:30 am PT), Michele Spitz (Woman of Her Word) will moderate "Bridging the Gap" – Media Accessibility & Audio Description. The impact, creative power and reach of audio description accessibility assets being included as part of the film deliverables can be very rewarding. Incorporating and embracing an equal audience share mindset provides inclusive access to the extensive efforts and investments of creating media content. Often overlooked is the language of audio description interpreting visual content on screen to accommodate blind and low vision audiences. Equivalent to that is the language of closed captions interpreting dialogue and sound to accommodate Deaf and Hard of Hearing audiences. The future of media content is very exciting as we witness the rapid expansion and movement toward incorporating overall accessibility to ensure entertainment and information is an engaging collective experience shared by all audiences on multiple platforms. Panelists include Ashley Eakin (Writer/Director, Single), Alice Elliott (Academy Award Nominated Documentary Director), Liz Gutman (Head Writer, Audio Description at International Digital Center), Alexander Howard (Audio Description Advocate), Allyson Johnson (Professional Voice Actor) and Justin Smith (Manager, Post Production, IFC Films/AMC Networks).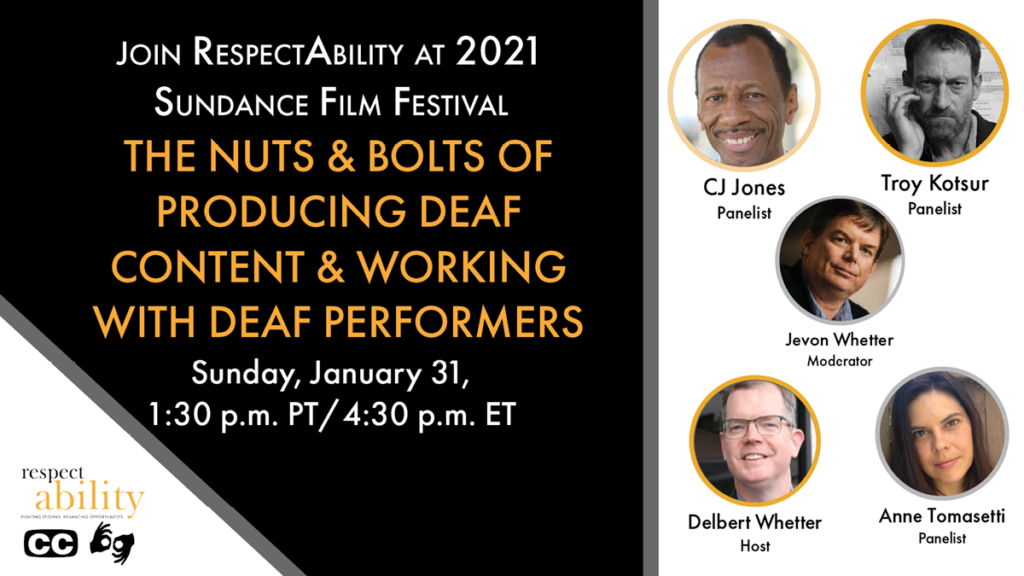 Immediately following, Delbert Whetter, who is deaf and the Chief Operating Officer & Head of Business Affairs of Exodus Film Group, as well as a board member for RespectAbility, will host a session on The Nuts & Bolts of Producing Deaf Content & Working with Deaf Performers (Jan. 31, 1:30 p.m. PT). Presented in ASL with interpreters, learn from experts with lived experiences about producing authentic deaf content and working with deaf performers. Learn more about communication strategies, producing tips, terminology and best practices when working with the deaf community and how to make your filmmaking process as inclusive as possible. Moderated by Jevon Whetter (Writer/Director, Flash Before the Bang), panelists include CJ Jones (Actor, Avatar 2, This Close, Baby Driver), Troy Kotsur (Actor, CODA, Flash Before the Bang) and Anne Tomasetti (ASL Dialogue Coach, CODA).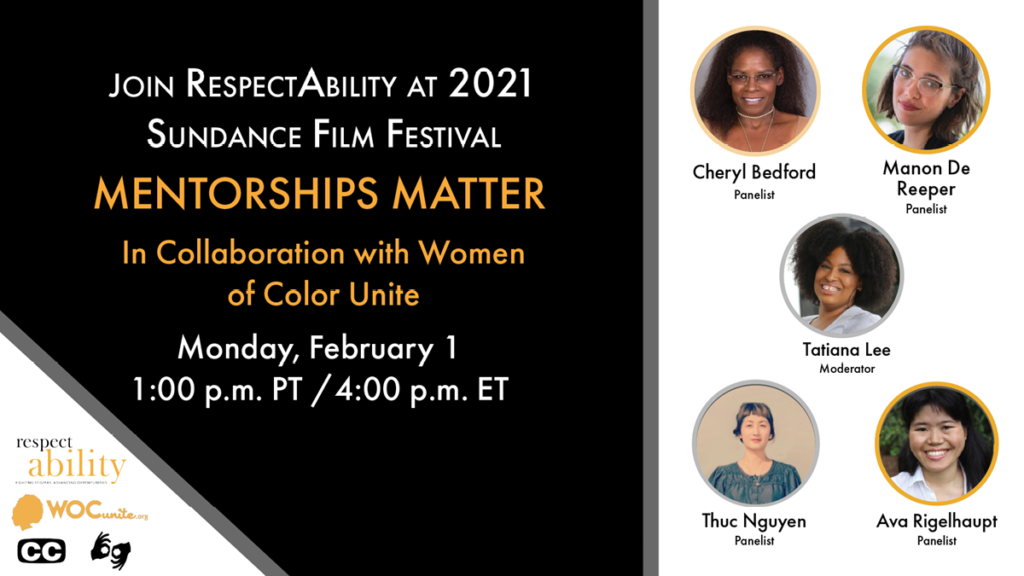 Closing out the series, learn about a new mentorship program #Startwith8Hollywood, which is enabling women of color opportunities to break through the gates, with Mentorships Matter (Feb. 1, 1:00 p.m. PT).  Learn from women of color with disabilities who have taken part in the program and why mentorships are key for individuals from multiple-marginalized backgrounds to succeed. Moderated by RespectAbility's Tatiana Lee, panelists include Cheryl Bedford (Women of Color Unite), Manon De Reeper (Women of Color Unite), Thuc Nguyen (Bitch Pack), Sheryl J. Anderson (Showrunner, Steel Magnolias, and #Startwith8Hollywood Mentor), and Ava Rigelhaupt and Diana Romero, both RespectAbility Lab Alumni and #Startwith8Hollywood Mentees.
Each of the events will include live captions as well as ASL interpreters. RespectAbility welcomes additional accommodation requests as well.
"What we see and hear on screen influences how we act in real life," added Appelbaum. "The entertainment industry has an opportunity to help remove the stigmas that currently exist about interacting with individuals with disabilities. Including disabled filmmakers will help ensure more authentic disability representation on camera, which goes a long way in educating viewers. To learn tips on making your content more accessible, visit us on Sundance's Digital Main Street."
The Festival has ensured disability is part of its content from several films in 2019 – including Moonlight Sonata, Give Me Liberty and Bedlam – as well as Crip Camp and The Reason I Jump in 2020, among others. This year, several films feature disability in the plot, including CODA, Amy Tan, 4 Feet High, Forever and Wiggle Room, among others. RespectAbility also will have a team of disabled film critics reviewing films throughout the 2021 Festival.
The Festival, which prides itself in showcasing a diverse array of voices in independent film, will take place from January 28 – February 3 online as well as in several satellite sites.