#ADA30 Summit 2020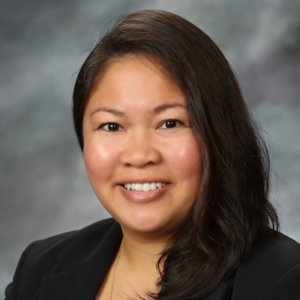 Stephanie Lomibao is a member of the Environmental, Social and Governance (ESG) team and serves as a program manager for the Bank of America Charitable Foundation. As part of the enterprise program and strategy team, Stephanie helps deliver the bank's ESG philanthropic initiatives and integrate these programs across global enterprise platforms including volunteerism and thought leadership. In her role, Stephanie also helps develop and implement the philanthropic platform that focuses on the economic mobility needs of individuals and families which includes hunger relief, services for the homeless, workforce development through social enterprises, as well as better money habits (financial education). The portfolio of global grantees she manages includes partners that provide programs and services for the formerly incarcerated, opportunity youth, disability, and other diverse communities.
Prior to joining Bank of America in 2009, Stephanie was fund development director for New Economics for Women (NEW) in Los Angeles, California where she was responsible for the fundraising and funder relationship cultivation to support NEW's programs and services. Stephanie also previously served as vice president, regional manager of volunteerism and events for Washington Mutual where she provided regional oversight of community development service goals tied to the bank's Community Reinvestment Act federal requirements and signature employee volunteer projects and initiatives through Washington Mutual's Committed Active Neighbors (CAN) employee volunteer program from Central to Southern California.
Stephanie brings over 19 years of professional experience from the nonprofit, private, and public sectors, beginning her career at California State University Fullerton's University Advancement Foundation where she managed accounts payable, donor data, and development staff training. Stephanie earned her dual bachelor's degree in business marketing and public administration from California State University (CSU) Fullerton, where she participated in the CSU California State Capitol Internship Program, and her master's degree in public policy with an emphasis in philanthropy from the University of Southern California where she co-authored "The reality of race neutral admission for minority students at the University of California: Turning the tide or turning them away?" (2004) as a research assistant at the Tomas Rivera Policy Institute.
In 2015 Stephanie was named one of the Global 100 most influential Filipinas by the Filipina Women's Network. She is currently board chair for Central City Neighborhood Partners, serves on the Association for Corporate Citizenship Professionals national board of directors, steering committee for the Asian America Pacific Islanders in Philanthropy Los Angeles Chapter, and is executive committeeperson for the American Legion Auxiliary Unit 472.