#ADA30 Summit 2020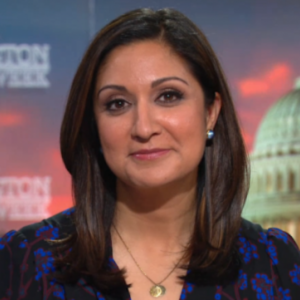 Amna Nawaz is the senior national correspondent and primary substitute anchor for PBS NewsHour since April 2018.
Prior to joining the NewsHour, Nawaz was an anchor and correspondent at ABC News where she anchored election, national political and breaking news coverage from 2015 to 2018. She also reported the documentary, "Roberts County: A Year in the Most Pro-Trump Town," and hosted the podcast series, "Uncomfortable."
Earlier, she worked at NBC, where her work appeared on NBC Nightly News, The Today Show, Dateline NBC, MSNBC, and MSNBC.com. She was NBC's Islamabad Bureau Chief and Correspondent for several years, reporting from the Pakistan and Afghanistan region. She was the first foreign journalist allowed inside North Waziristan, bordering Pakistan and Afghanistan, entering the global hub of Al Qaeda and Taliban activity, and also covered the Taliban attack on Malala Yusufzai, the US raid on Osama bin Laden's compound, and a series of reports on US drone strikes.
Nawaz was the founder and managing editor for "NBC Asian America" a multi-platform effort designed to elevate the voices and issues of the Asian American and Pacific Islander communities. She reported for the network's investigative unit, covering the US housing crisis and the BP oil spill, and also covered such major stories as the election and inauguration of Barack Obama, the earthquake in Haiti, and Hurricane Katrina.
Nawaz began her career as a Nightline Fellow at ABC News. When the Sept. 11 attacks happened just weeks into her new job, Nawaz was given the opportunity to work on one of the most important news events in recent times, which set the precedent for the rest of her career.
Nawaz received an International Reporting Project fellowship in 2009. She has received a number of awards, including an Emmy Award for the NBC News Special "Inside the Obama White House" and a Society for Features Journalism Award. She earned a bachelor's degree from the University of Pennsylvania and a master's degree from the London School of Economics.
She lives with her husband and two daughters in the Washington, D.C. area.