#ADA30 Summit 2020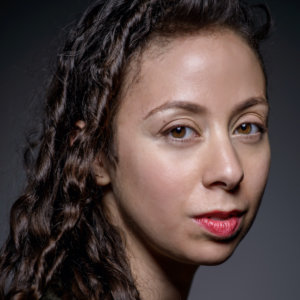 Nasreen Alkhateeb is an award-winning filmmaker whose work amplifies under-represented voices. By illuminating racial injustice, Disability inequity, marginalized youth, melting ice, women peacekeepers, and the construction of the largest telescope NASA has ever attempted, Nasreen thrives as a leader on diverse storytelling projects. Nasreen has a plethora of lenses she sees the world through. Her ability to motivate audiences is a direct result of being a person with multiple marginalized identities: BIPOC, multi-heritage, Black, Iraqi, Disabled, and 1st Generation.
In 2020, Nasreen was chosen as the Lead Cinematographer for Kamala Harris' successful Vice Presidential campaign, and Oprah's EMMY award series Uncomfortable Conversations with a Black Man. In 2019, she executive produced East of the River that screened the Tribeca Film Festival and Slamdance, and she directed two campaigns for NASA and the Women's March, in addition to lensing two narrative films highlighting LGBTQ and Disabled lead characters. In 2016, Nasreen was awarded Cinematographer of the Year by NASA for her coverage of Operation IceBridge.
Nasreen has participated in the SUNDANCE Film Festival and developed programing for AFI DOCS, the Nantucket Film Festival, the Brooklyn International Film Festival, CINE, TIVA, and the EMMYS.  She is a fellow of The Disruptors, a fellow of Sundance's Accessible Futures Intensive, and a mentee of the American Society of Cinematographers.
Speaking engagements: Disney's The Power of Inclusion Summit, TED, AwesomeCon, StoryCode, Filmgate Miami, Light City Baltimore, NASA Women in Action, Pratt at Manhattan Mornings, The George Washington University, WPOW at Ohio University, and Pratt Institute
Her content has been shared on: Apple+, OWN, NASA, Netflix, Amazon, FX, IFC, BBC, NPR, UNITED NATIONS, SXSW, AMC, Discovery, and WITNESS