#ADA30 Summit 2020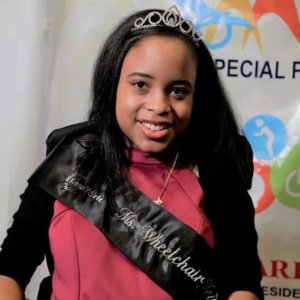 Ketrina ("Trina") Hazell (she, her) is the former Ms. Wheelchair NY 2018. She resides in Brooklyn, NY. Hazell's platform is to bring self-advocacy into schools and make them more inclusive. A strong self-advocate, motivational speaker, blogger and college student, Hazell graduated from Partners in Policymaking in 2014. Hazell is the founder of her own advocacy group called Voices of Power. She is affiliated with many disability-related organizations. Hazell serves on many disability related councils.
In January 2020 Hazell began working for the Regional Center for Workforce Transformation (RCWT) as the self-advocacy lead for Region 4 in NYC. This RCWT is one of several RCWTs that are regional collaborations between service providers, Direct Support Professionals (DSPs), people who receive services and other stakeholders in the field of intellectual and developmental disabilities. The RCWTs are coordinated by the New York Alliance for Inclusion & Innovation (New York Alliance) through funding provided by New York State Office for People with Developmental Disabilities (OPWDD).
Hazell is very involved in her local community. She has volunteered as a tutor with Reading Partners and as an assistant with ADAPT Community Network, which is the leading human service not-for-profit and a pioneer in providing cutting edge programs and services for people with disabilities in New York. Hazell has supported its mission in several capacities. Hazell also has been a guest writer for YAI (Young Adult Institute)'s Self-Advocacy Newsletter. YAI supports more than 20,000 people in the I/DD Community in the NY/NJ area, and offers more than 300 programs for people of all ages.
Hazell's motto is to make disability visible, empower others to discover their voices, and give hope to families in the disability community through sharing her journey.